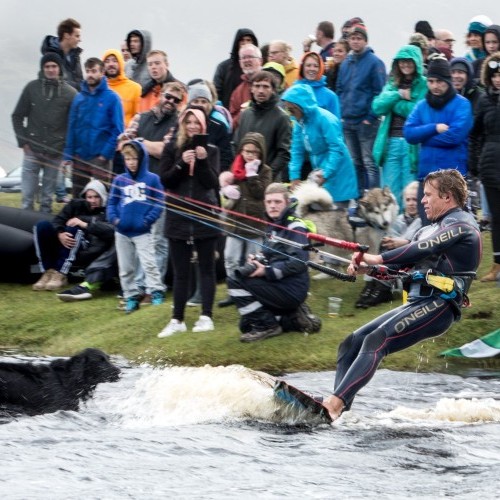 Why Visit?
Ireland is a hidden gem for kitesurfing. There are amazing conditions for kiting in Ireland and unique spots. It's such a shame that it goes so unnoticed. Home to the 'Battle of the Lake' competition and Pure Magic Kite School; the small island offers both awesome wave riding on the beach and flat water 100 meters on the lake! In one session you can ride two disciplines which is fantastic! Ireland has so much to offer regarding good wind conditions, amazing beaches, scenery and of course the friendly passionate people! Just remember to pack your winter suit, it can be pretty cold.
Wind and Weather
Achill is famous for its dynamic weather conditions. The wind is always blowing! The only downside to the island is that it's cold, but it's worth it for the kiting!
Getting Around
Generally, people rent a car or campervan to travel around; they are easy to rent these and not that expensive. The bus service is reliable in Ireland, and some buses go to the island daily.
Food and Drink
You definitely won't struggle to find good beer and whiskey in Ireland! Achill islands Atlantic location makes it famous for its delicious seafood. There is also a huge sheep population in the area making lamb another speciality. You'll find all sorts of quaint local farmers markets and restaurants and cafes to sample the local cuisine.
Nightlife
Well, it's Ireland, there's pretty much a pub on every corner! There are a lot of nice bars offering live music and traditional Irish music which is my favourite thing about Achill island. You submerge yourself in the culture when you walk into a bar here. Pure Magic host the 'Battle of the Lake' in the summer season. This is an Irish kite festival; people come from all over the country for a jam-packed weekend of lots of kiting, SUP, windsurfing and of course partying on the beach. Many pro riders come to visit that weekend. This year we had special guests Ruben Lenten and Kevin Langree! It's not one to miss!
No Wind?
There is so much to see on Achill Island. The beaches are amazing, and if you drive through the hills, you can see some outstanding cliffs and coastline, including Croaghaun, the third highest Clifford Europe. You can go for a surf on Keel Beach, SUP or take a fishing trip. You won't be bored here!
Internet
At the Pure Magic Lodge, there is free wifi. The reception on the island is good; I never had a problem with 4G.
Accommodation
Pure Magic Lodge is highly recommended, but there are plenty of other hotels on the island, as well as cottages to rent. There are many places to stay here, and as the area isn't so big, so you're never too far from the kitesurfing spot.
Featured


On the west coast of Lithuania, lies Palanga, a popular spot on the Baltic Sea for kiteboarding, landboarding, SUPing and surfing. 18 kilometres long and up to 300 meters wide of sandy beaches, is the busiest summer resort in Lithuania. The conditions can be quiet choppy and wavey especially if the wind blows from the west, northwest or southwest, (the…


Boracay is a tropical island located in the centre of the Philippines. This small paradise is just seven kilometres long and one kilometre wide at its narrowest point. The beginning of the tourist boom started in the late '70s when a German writer published a book about the Philippines describing Boracay's exceptional beauty. In addition to its natural values, Boracay has…


You'll be able to find wind, waves, and an epic adventure in Kaliantan. It's a spot that's likely to go boom on the tourist radar in the next few years so get in quick while it's still uncrowded. Kaliantan is located in southern Lombok; an enchanting coastal region that is prosperous with white sand beaches, palm trees, and local culture.…
Teresa is a kiter from Ireland and started kiting as a hobby when she was 14 and has now made it her full time commitment! Recently she joined the CrazyFly kites team and is excited to travel and train hard to push the limits in freestyle riding where her passion lies. Her favourite spots include El Gouna in Egypt and Lo Stagnone in Sicily but nothing beats her home spot at Achill Island in Ireland!
Been to Achill Island? What did you think?
Where are the Best Kitesurfing Beaches in Achill Island?
Keel Lake offers a safe spot to practice kitesurfing before taking to the swells of Keel beach. It is also one of the top spots for flat water. Achill Island is one windiest spot's in Ireland; it is unusual to go for prolonged periods (either in winter or summer) without suitable winds which prevail from the South West and blow side on-shore on Keel beach. As well as short period local swell. Keel lake can become a little shallow in dry periods during the summer, and sometimes weed growth can cause problems. Summertime temperatures mean 3mm suits are good, but wintertime needs 5mm and gloves, hoods and boots!
Wind: side/on-shore (can vary)
Waves: None
Shorebreak: None
Keep beach is recommended for wave riding and more advanced rider as the currents can be quite hazardous. In the Wintertime, there are consistent, deep ocean swell. The beach is stunning and guarantees a thrilling session!
Wind: side/on-shore (can vary)
Waves: Yes
Shorebreak: None
When is the Best Time to go Kitesurfing in Achill Island?
The windy months to go kitesurfing in Achill Island are March, April, May, September, October
Statistics
Kitesurfing Hotels and Accommodation in Achill Island
Do you know a good kitesurfing school here? Submit it below.
Kitesurfing Videos and News in Achill Island