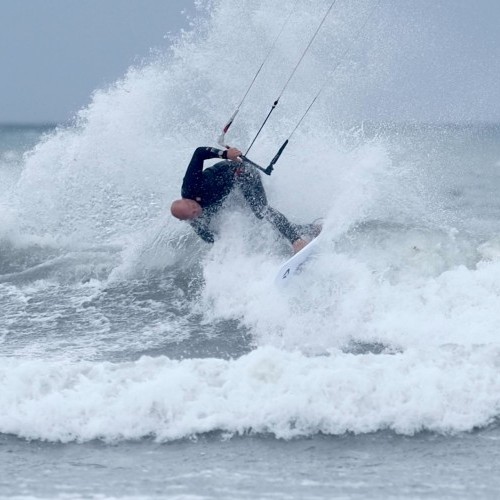 Why Visit?
You might wonder what's so special about Brandon Bay; all I can say is it's magical, and the views are absolutely stunning. Get this on your bucket list, especially if you're into wave kiting or surfing.
The area offers a plethora of places to visit within a really small area. The bay itself is located near Castlegregory, a quaint village on the Dingle Peninsula.
The area is visually stunning; it reminds me of New Zealand, with large green mountains rising from the sea, nestled in between the peninsula and the bay itself. It's not your regular holiday destination; you aren't guaranteed wind, waves, or even sunshine; the latter is often hard to come by. However, it's this changing of conditions that make it so unique. Every day is different; you can ride multiple spots on various crafts, often having 3-4 sessions a day. Regardless of the weather, I promise you; you'll have fun.
It's not just the phenomenal kitesurfing and surfing, the friendliness of the Irish people or the Guinness at night in the pub. Everything combines, and just looking out at the bay and seeing the view is almost unbelievable. I've been here quite a few times, and I'll keep coming back, perhaps even more regularly.
Wind and Weather
It's pretty wild here on the west coast of Ireland - especially if you visit in Autumn or Spring, as those are when the wind and waves are most promising. Make sure you pack a jacket and waterproof boots and be prepared for anything. It's a frontal location, with systems coming in off the Atlantic Sea, that means big swells in the Autumn, Winter and Spring. Winds will vary in direction and strength, but SW is the prevailing direction; it's worth remembering thanks to the shape of the peninsula, it is always cross-shore somewhere. You can move to different beaches to get your desired conditions. So if you want to cross off, no worries; at the same time, somewhere will be crossed and cross on; it's just a case of checking the wind and looking at the shape of the bay to choose the best spot for your style of riding.
Generally, a weekend isn't long enough to explore all the amazing places and get the most out of your trip to Ireland. I'd always recommend coming here for at least a week to ensure a good chance of wind. In the summer, wind and swell can be hit or miss. If the wind isn't on your side, there's always something to do, plenty of stunning walks and cool places to visit are around every corner. Plus there is always the pub!
Getting local knowledge is always beneficial, and I highly recommend you link up with Ryan Coote. He has lived here for so long; he knows the area like the back of his hand. If you've never been, it would be worth booking a trip with him through http://www.kitesurfireland.ie. I guarantee you will have a good time and score all the best conditions too.
Jamie Knox is also a helpful point of contact to get in touch with. He's one of the old-school windsurfers from back in the day. He set up Jamie Knox Watersports, so if you want to learn to windsurf or wing, ensure you get in touch with him. He also owns a shop in Maharees, which is excellent if you ever need spares or help with gear.
Getting Around
You'll need a car if you're planning to kitesurf in Ireland. The best kite spots, in particular, are often hidden away from public transport routes, so you'll want to find them yourself. You can either drive from the UK or Europe or fly in and rent a car. Flying will hamper your gear, and it's worth having all the toys here...
Food and Drink
You may have heard of Spillane's even if you've never been there before; this famous bar serves fantastic food and is usually the hub for all watersports enthusiasts in the evening. It's not just about Spillane's; be sure to go for a pint in the Green Room; while they don't serve food, they will order pizza for you. Fitzgerald's in Castlegregory is well worth a visit for more of a local feel, and Natterjacks if you fancy a fun evening at the weekend. While it's not a high-density population out here, there's always something fun to do for evening entertainment; there are also lots of like-minded watersports enthusiasts to meet and hang out with.
No Wind?
You can go surfing, paddle boarding, and walk up and down the mountains while looking out at the ocean. It's just one of the most stunning places I've ever been to. It reminds me a little bit of New Zealand, and it's just these huge, great big hills, an absolute feast for the eyes!
Internet
If your Airbnb has a good WiFi setup, it can be excellent. But, of course, some are better, so it's worth asking if you need it while you are there. The mobile network on the peninsula is pretty good as well, with a good 4G signal almost everywhere. Of course, in reality, you won't need the Internet since you'll spend your days on the water and your nights drinking Guinness...
Accommodation
In terms of accommodation, Airbnb is going to be your best friend! Several places are available for rent here. In Castlegregory, there is a supermarket, a restaurant and a couple of pubs; there are also a couple of caravan parks. So have a look around and see what you can find in terms of where to stay. It's worth bearing in mind that many people remain in the Maharees, close to a couple of the main spots and the infamous Spillane's Bar and Restaurant.
IKSURFMAG publishing Editor Rou Chater recently spent a week in Brandon Bay; watch the full video here.
Videos
Featured
If you're looking for a summer kitesurf destination with never ending wind, then Rhodes is the place to be. Kremasti is a very nice village in the north of the island which is not so touristic and where the IKO/VDWS licenced Air Riders Kite Pro Center is stocked with the latest North Kiteboarding gear. Going there is like visiting your kite family, the…
Copenhagen, Denmark's capital, sits on the coastal islands of Zealand and Amager. It's linked to Malmo in southern Sweden by the Öresund Bridge. There are more than 20 different kite spots within one hour of Copenhagen. Sydvestpynten is the name of the most famous spot and is no more than 20 minutes outside of the city centre by car. Denmark in…
Barbados offers conditions ideal for all water sports lovers. Consistently howling trade winds with beautiful, warm turquoise water and clean waves make it a playground for kitesurfers, stand-up paddle boarders, surfers, sailors, scuba divers and freedivers. Regardless of your kiteboarding style, Barbados offers conditions for all, from freestyle, freeriding and wave riding. Many visitors get hooked on the island because…
Rou has been kiting since the sports inception and has been working as an editor and tester for magazines since 2004. He started IKSURFMAG with his brother in 2006 and has tested hundreds of different kites and travelled all over the world to kitesurf. He's a walking encyclopedia of all things kite and is just as passionate about the sport today as he was when he first started!
Been to Brandon Bay? What did you think?
Where are the Best Kitesurfing Beaches in Brandon Bay?
Fermoyle can be good if the waves are huge and you want it to be a tamer as it's sheltered by Brandon's head, but the winds are a little gustier because they come over the mountains and through the valley.
Wind: NW, W, WWS
Waves: Yes
Shorebreak: Yes
You can get a vehicle onto the beach, and that's quite a nice treat in this day and age to be able to park on a beach and rig up from the boot of your vehicle and then go kite surfing and then drive off the beach at the end. The waves will always be a little bigger here than Fermoyle, it's a beach break with good sandbars creating good shape.
Wind: W, SW
Waves: Yes
Shorebreak: Yes
The parking is limited at Gowlane, and unless you've got a four-by-four, you can't get a two-wheel drive vehicle on the beach because the sands are a little bit softer. It's generally a step up again in wave size here, so if it's small, it's a good spot to check for decent swell.
Wind: W, SW
Waves: Yes
Shorebreak: Yes
Mossies is incredible when it's working, but it takes quite a lot for the conditions to line up. It's a reef that can pick up huge right-handers on a good day, you can get endless turns and ride from the point all the way into the bay. It can be fickle though, so f you score a good Mossies day, make the most of it!
Wind: N, NE, NW
Waves: Yes
Shorebreak: Yes
Right at the tip of the peninsular is Candeehy Beach; just past the Green Room Pub, you can park on the road and climb over the rocks to the sand. Works well when the waves are huge, and you want some shelter or if you want a smaller bay to learn in. Perfect for winging too.
Wind: NW, W
Waves: Yes/Smaller
Shorebreak: Yes
If you want to get away from the waves and have some flat water fun, this is the spot totally protected from the Atlantic swells. It is where Jamie Knox has his windsurf and wing school. It's an easy launch and a fun spot to get away from the mayhem on the other side of the peninsular.
Wind: NW, N, NE, SE, S, SW
Waves: No
Shorebreak: No
When is the Best Time to go Kitesurfing in Brandon Bay?
The windy months to go kitesurfing in Brandon Bay are January, February, March, April, October, November, December
Statistics
Do you know a good kitesurfing school here?
Kitesurfing Videos and News in Brandon Bay