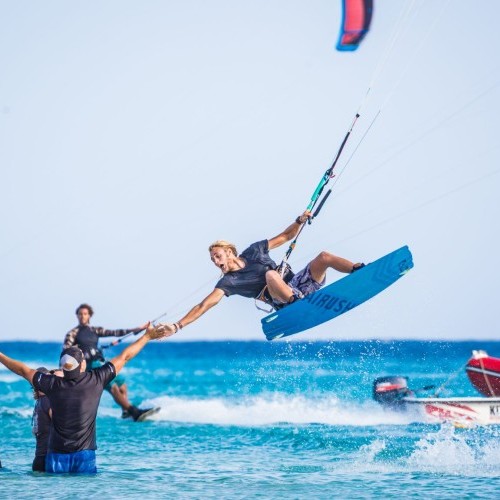 Kitemanera 2017 Delivered Epic Stoke And A Few Surprises
Fri 2nd Jun, 2017 @ 12:00 am
The Kitemanera 2017 festival in Bonaire, Dutch Caribbean was an exciting weekend celebrating all things kiteboarding. Downwinders, freestyle competitions and a costume race were some of the highlights. Continue reading the event wrap-up, provided by Kitemanera, below.
Following a kick-off party and fashion show at Windhoek Resort on Friday night, gray clouds and temperamental wind welcomed participants to the opening day of Kitemanera 2017 on Saturday, May 27th at Atlantis Kite Beach. But, in typical Bonaire style, the skies cleared and the island's famed trade winds kicked in just in time for the start of the event's signature Costume Race.
One hundred and twenty-five riders, representing 13 countries and 5 continents, hit the water and created an impressive visual for spectators on the beach. From Edward Scissorhands and the Pope to the Silver Surfer and a pair of colorful jellyfish, there was no shortage of costume creativity sailing across the Caribbean Sea. Even the pros got in on the action. Youri Zoon, Lasse Walker and Annabel van Westerop were all there, sporting their most creative looks. Kitemanera 2017 kicked off in colorful style.
Then, it was on to the competitions. The best amateur riders from around the world competed in freestyle and big air showdowns in front of hundreds of fans on the beach. Competitive heats showed off riders' best moves, and the best of the best advanced to the finals. There, the pros joined in for some friendly competition and wowed the crowds along the way. Day one wrapped up with a stunning sunset, followed by the Kitemanera Unhooked party at Spice Beach Club later that night.
Day two featured the traditional downwinder. Over 75 riders, including all the pros, took part in a fun 10-mile (17 km) downwind ride from Atlantis Kite Beach to No Name Beach on Klein Bonaire. Meanwhile, the annual Monster Race around Klein Bonaire also took place. This long-distance race challenged foil board riders' talent, speed and endurance as they battled for the podium from Atlantis Kite Beach, around Klein Bonaire and back to the starting point.
Kitemanera 2017 wrapped up with a reggae band party and prize ceremony at Spice Beach Club on Sunday night. And in keeping with its pledge to support local island causes, Kitemanera donated $1,100 to this year's charitable partner, Coral Restoration Foundation Bonaire.
Final Results
Best Costume Carla Verheggen (Edward Scissorhands)

Costume Race 1st Place – Peter Tuinman (NL)
2nd Place – Elias (Venezuela)
3rd Place – Dayana Cadenas (Venezuela)

Bon-Aire (Men's) 1st Place – Peter Tuinman (Bonaire)
2nd Place – Christian Zweers (Bonaire)
3rd Place – Rens van der Schoot (NL)

Bon-Aire (Women's) 1st Place – Joyce Chantal Stor (Bonaire)
2nd Place – Audrey Groenenboom (Bonaire)
3rd Place – Stephanie van den Boorn (NL)

Freestyle (Men's) 1st Place – Christian Zweers (Bonaire)
2nd Place – Rens van der Schoot (NL)
3rd Place – Oscar Armstrong (South Africa)

Freestyle (Women's) 1st Place – Zwaantje Kooij (Bonaire)
2nd Place – Stephanie van den Boorn (NL)
3rd Place – Cecile Knitel (Bonaire)

Monster Race 1st Place – Luis Fernando Padrino (Venezuela)
2nd Place – Pieter C. Zweers (Bonaire)
3rd Place – JP-Pieter (Aruba)

Best Local Talent Marit Zijlstra (Bonaire)

Kids' Competition Max Maijer (Aruba)
A huge thanks to all Kitemanera sponsors, including Claro, Fly Your Dreams Foundation, Windhoek Resort, Kiteboarding Bonaire, WeShare Bonaire, Bonaire Kiteschool, HBN Law, Beach Vibes, Island Girl Writing, Hole Clothing, Tourism Corporation Bonaire, Sundance Air Venezuela, Lieuwe Boards, Waxed, Caribe Watersports, Epic Tours, Island Tribe, Kite City, Harlem Kitesurfing, Kitesurfshop.NL, Casa Calexico, VKM, Courtyard by Marriott, Asterion Development, BHM Bonaire, Spice Beach Club, Eden Beach, Rocargo Services, Caribe Car Rental, Phish Phaktory, City Shop, Bistro de Paris, YOR Cleaning, Mezza, Capriccio, Gaia Pro Media Solutions, Fundacion Orellana, North Kiteboarding Benelux & Krus Kora Bonaire.
Featured in this Post
Comments