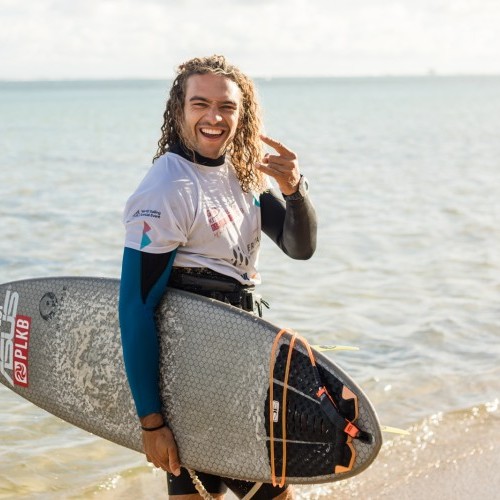 GKA Kite World Cup Mauritius: Day Two
Sat 7th Sep, 2019 @ 5:45 pm
Forces conspire against the conclusion of men's Kite-Surf round one singles! No further action to report on day two (Saturday) at the GKA Kite World Cup Mauritius. Lighter winds in the morning and a bigger swell meant the freestyle riders were released as the race crew wanted to try to complete the remaining eight heats (running two at a time) of the men's Kite-Surf first round of their single-elimination heats in the waves.
The forecast, however, looks promising, and this is a long ten-day waiting period.
The winds filled in more in the afternoon and race director Juan Antonio Aragon held the contest open until almost the last shred of workable daylight in the hope of running something. A particular characteristic of the reef here at Bel Ombre is that, although it picks up any small swell and turns it into good waves, there comes the point at which the swell actually becomes too big and the faces rise quickly but then closeout sharply.
Some riders rode the spot, but in the end the 14-knot onshore wind, stronger currents and greater swell meant that it just wasn't consistent enough for riders to be able to smoothly ride out their bottom turns with line tension and as much control as the previous round one heats that were completed yesterday in much better cross-shore conditions.
Yesterdays Highlight Video
Win a Custom Designed Ozone Twin Tip this issue in our FREE subscriber prize draw.
The remaining heats of the men's Kite-Surf single elimination are as follows:
HEAT 5A Francesco Capuzzo (ITA) Vs Louis Marvin (MRU)
HEAT 5B Nicola Abadjiev (BUL) Vs Roderick Pijls (NED)
HEAT 6A Jan Marcos Riveras (DR) Vs Daniel Kux (MRU)
HEAT 6B Luke Millard (AUS) Vs Raoni Lemos (BRA)
HEAT 7A Kiko Roig Torres (ESP) Vs Alessandro D'Ambrosio (ZAR)
HEAT 7B Toni Ciliberto (ITA) Vs Jeremy Chan (MRU)
HEAT 8A Airton Cozzolino (ITA / CV) Vs Brendon Labonne (MRU)
HEAT 8B Graham Harney (CAN) V Jorn Donat (GER)
Sunday's forecast still looks like it's going to be onshore winds, but stronger and with a bigger swell further compromising the length of wave rides, so it's likely that the focus will switch to the Freestyle riders taking their turn to shine on the inside lagoon close to the beach.
Skipper's meeting is scheduled for 08.30am Sunday.
There are two live event pages for the week: Freestyle or Kite-Surf depending on which discipline is running at the time, where you'll find the live ticker of heat info and the live scores over the coming days. Find out more, right here!
Saturday 7th September 2019
Location: Bel Ombre, Mauritius at C-Beach Club / Kite Globing
Words: Jim Gaunt
Photos: Ydwer van der Heide and Svetlana Romantsova
Video: Mintautas Grigas
Featured in this Post
Comments