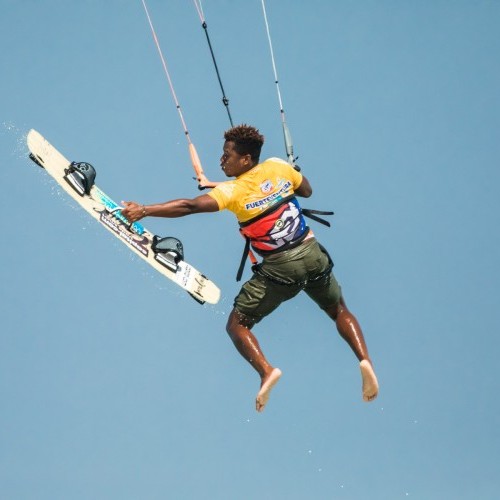 GKA Freestyle World Cup Fuerteventura – Day Four
Wed 24th Jul, 2019 @ 12:08 am
Today was an all-time first in competitive kite sports as kiteboarders, and strapless freestylers joined forces in the GKA Fuerteventura Big Air Invitational. The plan was simple: two teams of four – consisting of two twintip riders and two strapless freestylers – would go head to head in a battle for the skies to see who had the best big air ability.
Of course, the dynamics of going big on a regular kiteboard as opposed to a strapless surfboard are very different, but the essence of airtime is the same, and the riders' scores would mostly depend on how high they went, as opposed to the technicality of their tricks.
Each rider was allowed 15 trick attempts (with the top four counting), and they would compete in two-man heats until the final, which would be a four-man heat. Kiteboarders would compete against one another, as would strapless riders, and then in the final, they'd all be on the water together. It was going to be a show!
Round One
Lewis Crathern was a standout rider in the opening round. He was arguably the most experienced big air specialist taking part, and he was going huge on an 11-metre kite. His front roll board-off was one of highest jumps of the day, and a sent dangle-pass out the back clinched the win for him against Joselito Del Rosario.
Reece Myerscough was on fire as well. He beat Pedro Matos in a very tight heat, and his riding was some of the best we've ever seen from him in a non-wave riding event. He won that heat (by a single point!) with a faultless rotated tic-tac finger flip, which was as smooth as you like.
Round Two
The wind was ramping up to past 30 knots by this point, and the round began with an exciting showdown between Lewis and Oswald Smith. Lewis was going for more classic big air moves, while Oswald was opting for his customary freestyle-infused riding.
Ozzie stuck some nice handle passes, including a big shifty frontside 3, but Lewis was going way higher, and his boogie loop out the back was legit!
Kiko Roig was supremely dialled into the conditions (and they weren't easy), and he hammered big rotation after big rotation close to shore to beat Pedro Matos in their round two heat.
As the last round loomed, it was down to the teams to decide between them who would represent them in the finals. In the end, each team put forward their highest-scoring riders of round two and then it was game on!
Kiko Roig Torres and Joselito Del Rosario would represent Team A, and Carlos Mario and Pedro Matos would represent Team B.
The Final
Carlos opened with four high scores which gave his team a healthy lead and Joselito was going big too, but he couldn't match Mario for height and smoothness of execution.
However, this heat would be decided by the combined scores of both the strapless rider and the kiteboarder representing their team and that meant that Joselito would have a helping hand from Kiko, the top strapless freestyler in the competition. Kiko could see he'd need to up the ante if they were going to win, and he stomped a kiteloop tic-tac front roll to even up the scores so that, with only a few minutes on the clock, there was now just 1.1 points between the teams.
Carlos had his team on the beach, keeping him updated, so he knew what was needed. A big double-front board-off from him added to their overall tally, but Joselito and Kiko were stomping trick after trick, and the scores were stacking up.
A kiteloop from Pedro Matos might have made all the difference, but that's a tall order in gusty wind and choppy water, and it wasn't to be. Kiko and Joselito had amassed the points they needed, and they won the final for 'Team A'!
GKA Fuerteventura Big Air Invitational Winners Team A
Joselito Del Rosario (DOM)
Kiko Roig Torres (ESP)
Oswald Smith (RSA)
Reece Myerscough (CAN)
The riders will be back at it tomorrow afternoon for a freestyle expression session from 14:30 onwards, stay tuned for updates.
The event will be live-streamed on the event page tomorrow.
Just in case you missed the Men's finals yesterday, we've got you covered!
Win a Commander Twin Tip by Eleveight, CORE's all-new Link harness, or an ultra-light board bag from Prolimit this issue in our FREE subscriber prize draw.
Report: Matt Pearce / All photos: Svetlana Romantsova / Video: Adam Sims
Wed 24th Jul, 2019 @ 12:08 am
Featured in this Post
Comments