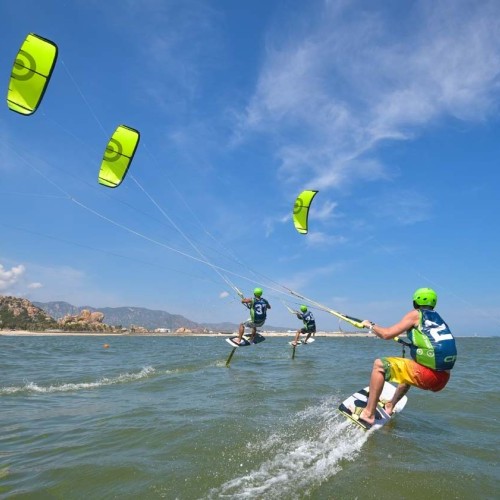 British CR:X Kite Race Series Weekend #3 – Southend-On-Sea
Fri 29th Jun, 2018 @ 9:00 am
CR:X is an innovative, versatile kite racing platform that features a convertible board that can be switched between fin and foil modes. Multiple modes mean that the same set of hardware can be used for beginner or more advanced foil races or in changing weather conditions.
A full fleet race in big winds at British CR:X Kite Race Series Weekend #3 – Southend-On-Sea
Win a Commander Twin Tip by Eleveight, CORE's all-new Link harness, or an ultra-light board bag from Prolimit this issue in our FREE subscriber prize draw.

Newquay, UK – 25 April 2018
Weekend #3 of the British CR:X Kite Racing Series at Southend-On-Sea Hosted by Essex Kitesurfing Club was a cracker!
The action started on Saturday with a fantastic forecast, 20 riders registered so a full fleet was set to race TwinTip KiteCross. The high action took place with 16 races run giving every competitor a chance to race multiple times. Guys and girls were racing on the 10m and 13m kites on a simplified course with a start/finish line, jumps on the way out, gybe round a pin and jumps on the way back. The racing was fast, furious and a lot of fun.

After the break, a windward/leeward course was set for Foil racing. With the high winds, choppy seas and guys racing round on 7m kites, the decision was to run a time trial race allowing the competitors to master the course in a safer fashion.
The day was rounded off with an epic BBQ and party hosted by Essex Kite Park who pulled out all the stops to make the visitors from across the country very welcome.
"Watching everyone race KiteCross was so much fun, the action was intense and very close. What we have shown today is how together we can race in an easy format that is open to everyone. We want to welcome more kiters, sailors, windsurfers and aspiring Olympic racers into the class and will be looking to run training over the coming months. A massive thank you to Essex Kitesurfing Club and Essex Kite Park for being such good hosts." Jack Ridel – Chairman British CR:X Class Association

With unfavorable tide conditions for further Foil racing and a complete set of TT KiteCross results, the decision by the committee and riders was to forgo any additional racing on Sunday to allow competitors to free ride or travel home. Many headed to Hayling Island to ride together and further master their Foil skills.
Huge thanks go to Essex Kitesurfing Club for helping organize the event and series sponsors, Restube, NP Surf, OneDesign Racing UK and NeilPryde for their continued support.
"It was fantastic for our club to host a CR:X race weekend, our members thoroughly enjoyed themselves we welcome racers from across the country to Southend which always delivers the wind! By racing CR:X we can build a community of water lovers and we are already talking about how to make next year bigger and better. Thanks, British CR:X for a fantastic weekend." Simon Mudd – Chairman – Essex Kitesurfing Club
Additional thanks go to Russell Farrington for editing the video which really captures the fun and excitement of a weekend racing CR:X!
Results:
TT KiteCross
1st – Russell Farrington – Bournemouth and Poole Kitesurf Club
2nd – Mark Spencer – British Army Kitesurfing
3rd – Adam Farrington – Bournemouth and Poole Kitesurf Club
4th – James Gore – Shoreham Kiters
Foil Time Trial
1st – Russell Farrington – Bournemouth and Poole Kitesurf Club
2nd – Adam Farrington – Bournemouth and Poole Kitesurf Club
3rd – James Gore – Shoreham Kiters
4th – Dean Mackintosh – Essex Kitesurfing Club
RESTUBE Award – Andrew Fawkes
Inter-Club Competition
1st – Bournemouth and Kitesurf Club
2nd – British Army Kitesurfing
3rd – Shoreham Kiters
4th – Essex Kitesurfing Club
The next Race Weekend is set for September 29th/30that Hayling Island so you had all best get practicing over the summer.
For more information on British CR:X, please click here.
Featured in this Post
Comments