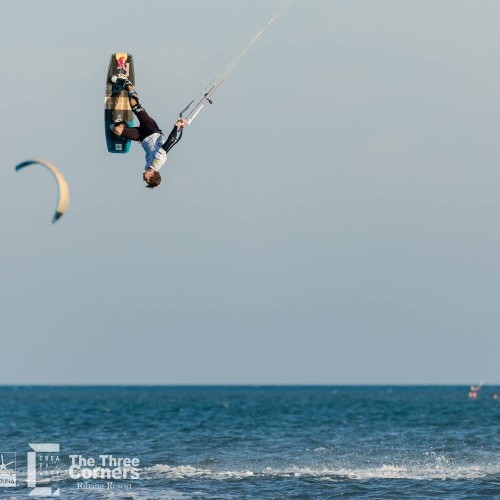 Elite League Day 2 Action At The El Gouna RRD Centre Kiteboarding World Cup
Fri 10th Nov, 2017 @ 3:00 am
World Kiteboarding League Elite League action continued at the 2017 El Gouna RRD Centre Kiteboarding World Cup with crucial heats for both the men and women. The Day 2 heats sent some riders through to the semi-finals while others were eliminated. Find out details about the day with this report, provided by the WKL.
Another day of wind and sunshine in El Gouna, Egypt. Day 2 of the Elite League allowed for the completion of Round 2 for the Women and Round 3 for the Men. The wind commenced with strong conditions in the early morning of 20 to 25 knots and dropped in the early afternoon.
Women's Round 2
The first heat of the day was Heat 5 for the ladies saw two French riders, Maureen Castelle and Pauline Valesa, keep a safe lead ahead of their competitors throughout the duration of the heat. Dutch riders Isabeau Galiart and Lidwij Hartog struggled to maintain their composure during this second round of competition, which meant that it was Valesa and Castelle who advanced to the semi-finals.
Rita Arnaus started Heat 6 with a look of solid determination, eager to replicate her incredible performance in Akyaka, and things seemed to heading the right way when she landed an outstanding Hinterberger Mobe scoring her 9.1 points. However, she encountered some difficulties with the remainder of her trick attempts, and unfortunately did not advance any further in the competition, much to her disappointment. Vera Klabbers from the Netherlands had a difficult start but managed to regain some good traction, but unfortunately not enough for her to advance to the next round. Local wildcard Nathalie Lambrecht put on a great show, riding well and landing 5 of her 7 trick attempts, and this consistency allowed her to qualify for the semi-finals, much to the delight of her friends and family who were on the beach to support her. Danish Champion Therese Taabbel had a fantastic heat, feeling good from start to finish, and allowing her to advance after finishing in 1st position.
Men's Round 3
Heat 9 was a tense battle between the new up-and-coming riders Christian Tio and Maxim Chabloz, who faced former World Champion Alex Pastor and Current No3 Set Teixeira. Maxime opened the heat with full confidence landing a nice Back Mobe 5. He continued riding consistently well throughout, but couldn't pull out high enough scores to let him advance. Christian Tio sat at the top of the scoreboard for much of the heat, but was knocked down to 3rd place at the very last moment by Set Teixeira who landed a massive Heart Attack 5 as his last trick and jumped from 4th to 1st, much to his satisfaction. Alex Pastor, who managed to ride an impressive heat despite still being in pain from his hard crash yesterday, advanced to the semi-finals in 2nd place. It was a very intense heat with the new generation fighting hard, but finally it was experience and consistency that paid off for Teixeira and Pastor.
Heat 10 saw Simone Lamusse from Mauritius struggle to find his composure. Despite starting off well, he crashed 4 of his trick attempts and that meant that he did not advance. Liam Whaley sat comfortably in 2nd position for much of the heat, until he crashed his last 3 trick attempts, which opened a door of opportunity for Stefan Spiessberger. Stefan had a lot pressure, needing at least 8.23 points for his last trick if he wanted to advance, and unfortunately he was unable to pull it off. Whaley advances to the semi-finals, together with Carlos Mario who crashed only once, and managed an incredible KGB7 scoring 9.27 points.
It was stop and go for Heat 11, as the heat was postponed for one hour after the 4th round of tricks due to the decreasing wind conditions. However, the wind returned, and Arthur Guillebert was in fine form from the start. However, he crashed two trick attempts at the end of the heat which pushed him out the top two. Posito Martinez returned to the heat riding full power and performed an aggressive BS317 scoring 8.63 points. It was up to Alex Neto from Brazil to respond, and he did so with an amazing Slim 7, scoring 8.83 points and boosting him up to 1st position. Hadlow rose to the occasion with a Slim 7 of his own, also giving him a nice score of 8.1 points, but it was Posito Martinez who managed to perform a 317 on his last trick attempt, catapulting him up into 2nd place, and leaving no room for Hadlow or Guillebert to advance. Neto and Martinez secured their spots in tomorrow's semi-finals.
Val Garat from France rode an outstanding heat for Heat 12. He had a solid lead during the start, and rode with power and confidence, landing every single one of his 7 trick attempts, including an outstanding KGB7 that scored him 9.13 points as his very last trick. Sadly though, he got knocked down to 3rd place by Dominican powerhouse Adeuri Corniel, who came through with great determination, landing an incredible Slim7 on his last trick, scoring 8.67 and landing him in the top position right at the end of the heat, much to the disappointment of Garat, who had fought hard for the spot. Luis Alberto Cruz was on fire throughout the heat, performing several high-scoring tricks including a Backside 317, and he was ecstatic to be passing through to the Semi-finals together with his fellow Dominican, Corniel. Nicolas Delmas rode well for such a tough heat, but several crashes meant that he missed out on his chance to advance.
It was a day of enthralling action, with each heat leaving the spectators and followers of the live stream on the edge of their seats. Tomorrow we will be back with more, with the first possible start at 8.30am.
Fri 10th Nov, 2017 @ 3:00 am
Featured in this Post
Comments