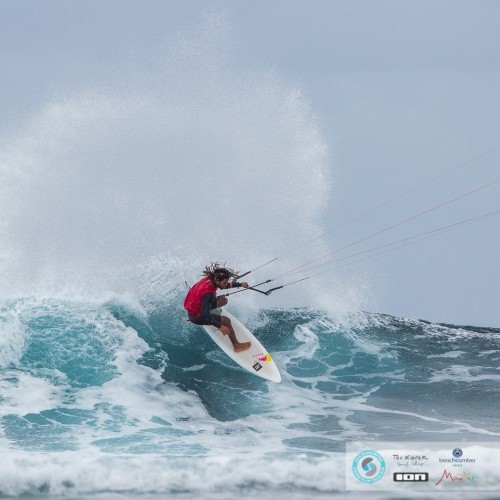 Mauritius Kitesurfing Pro Day Two Wrap Up
Thu 8th Sep, 2016 @ 12:00 am
Day two was another one for the books at the Mauritius Kitesurfing Pro at infamous One Eye. The level of competition was tight, as riders battled through the ladder with hopes to qualify for the final. Check out the report from the GKA, complete with a photo gallery from Toby Bromwich, following.
Day two at the GKA Wave & Strapless Freestyle round 3 in Mauritius saw non-stop action from the start of the day to sundown. The day started nearly halfway through round one, then whipped through round two which was the dingle round for those riders who finished in second and third in round one, then it was onto round three where the biggest news was the championship leader Airton Cozzolino was dumped out of the contest by local Jeremy Chan! There was barely time to catch a breath as the action continued thick and fast as One Eye continued to blow savagely hot, or cooler at times – during certain 15-minute heats riders had to scratch around and show their technicality on some smaller waves to do enough to get through. But generally, it was all on!
Jeremy Chan's heroic run came to an end in the quarters against Patri McLaughlin, but as Toby Bromwich spent all day on the reef collecting mesmeric moments, let's let the photos do the talking!
The GKA Wave & Strapless Freestyle Tour will see a mix of freestyle and wave events run in 2016, eventually resulting in the crowning of a GKA Wave & Strapless Freestyle Rider of the Year. After Mauritius the tour moves to Dakhla, Morocco in October and Fortaleza, Brazil in November.
For more news, please follow the GKA:
Facebook
Instagram

Featured in this Post
Comments