Giovanelli and Piscopo crowned European Slalom Champions 2012
The 2012 Slalom European Championships came to an end today in Gizzeria, Italy, with two Italians taking the victory. Lorenzo Giovanelli (Temavento/Slingshot) and Maria Ruth Piscopo (Ozone/Brunotti) are the European Champions 2012 !
The final day of competition kicked of with mirror flat water and boiling temperatures around 40 degree, and there was only little hope for any action on the water. But finally at 14:30 a slight seebreaze kicked in, and the course was adjusted to the arriving wind.
Competition went underway at 15:15 with a half fleet race, and after the womens final the race committee was forced to postpone further starts as the wind shifted to the right and picked up to 20 knots average. Riders came out on smaller kites now to show some amazing action in the mens loosers and winners final.
It came down to the usual fight of the top guys, with Riccardo Nobile (ITA, Ozone/RRD) being black flagged in the mens final causing a general recall. The re-run of the final heat was won by Giovanelli ahead of Bruno Sroka (FRA, Aguera/Cabrinha) and Julien Kerneur (FRA, RRD). In the womens final it was Mathilde Serin (FRA, Naish) taking victory this time ahead of Vanina Puteri (ITA, RRD) and Piscopo.
The final elimination of the event came down to a full fleet race for both men and women, and in howling winds the riders made their way from the outside straight up to the beach crowded with masses of spectators enjoying the sunshine and hot temperatures. It was up to Bruno Sroka to take the last bullet of the competition with Giovanelli in second and Luca Marcis (ITA, RRD) in third.
Over in the womens fleet, it was Piscopo crwoning her European Championship title with a final win ahead of Ariane Imbert (FRA, North) and Serin.
Comeptition came to a close with a fantastic prize giving directly in front of Gizzeria Lido at the Hang Loose Beach in front of hundreds of enthusastic spectators.
Final Standings after 12 eliminations and 4 discards:
Men
1. Lorenzo Giovanelli (ITA, Temavento/Slingshot) – 9.1 points
2. Julien Kerneur (FRA, RRD) – 14.1 points
3. Bruno Sroka (FRA, Cabrinha/Aguera) – 15.1 points
Women
1. Maria Ruth Piscopo (ITA, Brunotti/Ozone) – 5.6 points
2. Mathilde Serin (FRA, Naish) – 16.7 points
3. Ariane Imbert (FRA, North) – 21.0 points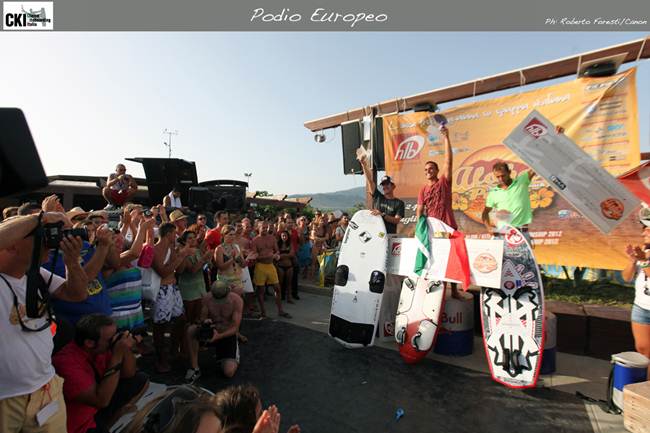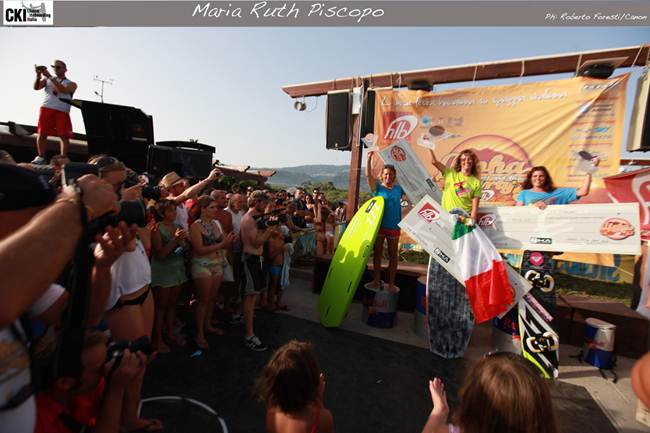 Full results: http://www.internationalkiteboarding.org/images/documents/results/slalomeuropeans2012.pdf
Mon 30th Jul, 2012 @ 8:30 pm
Featured in this Post
Comments