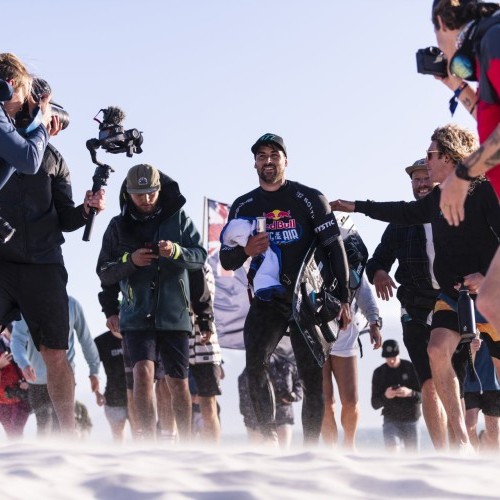 Marc Jacobs: All Hail the King!
Features / Mon 22nd Nov, 2021 @ 9:00 am
The sand has settled after an epic weekend of wind in Cape Town, South Africa. The much-awaited 2021 Red Bull King of the Air started and finished with no shortage of surprises. With a nail-bitingly close battle that had us on the edge of our seats until the last minute, no surprise was more welcome than the triumphant win by our new Kiwi King, Marc Jacobs! Read all about it!
Kiwi kiteboarder takes crown in world's most prestigious kiteboarding event.
NZ professional kiteboarder Marc Jacobs edges out three-time champion Langeree to win the Red Bull King of the Air 2021.
By Victoria Stuart, 22 NOVEMBER 2021
Kiwi Marc Jacobs celebrated his 32nd birthday in style when he beat three-time champion Kevin Langeree and rookie Stig Hoefnagel in an action-packed final to secure the Red Bull King of the Air 2021 title in Cape Town, South Africa – the most extreme international event in kiteboarding.
Jacobs, who claimed the iconic trophy after 22 heats and six hours of competition spread over the two days, said: "I'm beyond stoked with the win. It's been four years of full-on dedication to make this come true. The fact that it happened on my birthday and that it played out exactly how I envisioned it is just crazy. It feels so good. We had a really good training season in New Zealand from June to October, so coming straight here was perfect timing."
Event Commentator Jim Gaunt said: "It's unbelievable how he has transformed his riding to perform in both directions – left foot forward. Clean, technical, powerful. He just keeps it coming, stomp after stomp after stomp."
After a quarter-final against North Team Rider Tom Bridge, Jacobs came up against Liam Whaley in the semi-finals, with the points playing in his favour. Three-time champion Kevin Langeree narrowly beat the megaloop-master Nick Jacobsen, progressing through to the finals against rookie Hoefnagel and Jacobs.
Jacobs won the event with two Frontroll Contraloop Boardoff, a Boogieloop Double Rotation and a very high overall Impression Score of 9.08, to gain a total score of 32.28.
The fact that he pulled off 16 landed tricks versus his competitors nine put pressure on his competitors early in the heat. He rode with incredible power and precision.
Jacobs said: "I completely changed my game plan two years ago, it's taken hard work and dedication. I'm no-one special, I just worked my ass off". 12 x NZ Kiteboarding Champion, Jacobs competed on the World Freestyle Tour for 10 years before turning his skills to Big Air. This was his 5th King of the Air Contest.
Jacobs is an International Team Rider for Auckland-based North Kiteboarding, and spends a most of his time testing with the North Product Team here on the constantly windy coasts of Aotearoa, New Zealand. North Product Manager Uli Sommerlatt said: "Marc has trained so hard for this and shown so much dedication and commitment. He's the full package! Well deserved, what an athlete. When he won he brought tears to my eyes."
Brand Director Mike Raper agrees: "Marc is a passionate kiteboarder who is also extremely humble. He has dedicated his life to kiteboarding and NZ should be so incredibly proud of this amazing athlete. I know Marc's recently been working with a sports psychologist, which has helped him to visualise the win. We're so excited to see where he takes it next."
Not only did Marc take a well-deserved win, it was also his birthday, and only three days before he flew out for the competition, he married his sweetheart Sophie. The wedding took place in the Waikato during lockdown, so her terminally ill Mum could be there for the wedding day. Marc is returning to New Zealand to MIQ for two weeks on 5 December. The NZ kiteboarding community has suggested making the 21st November "Marc Jacobs Kite Day" – a NZ public holiday.
RESULTS
1.Marc Jacobs (NZ)
2.Kevin Langeree (NED)
3.Stig Hoefnagel (NED)
Mystic Move of the Day
Liam Whaley (ESP): Frontroll kite loop board-off.
For more information and details on how to win a limited edition Atmos board, visit North's Red Bull King of the Air Event Page HERE.
Watch the Red Bull King of the Air 2021 replay HERE. (Final heat at 3h22min)
Editor at IKSURFMAG, Crystal Veness hails from Canada but is based in South Africa. When she isn't busy kitesurfing or reporting on the latest industry news for the mag, she is kicking back somewhere at a windy kite beach or working on creative media projects.
Featured in this Post
Comments