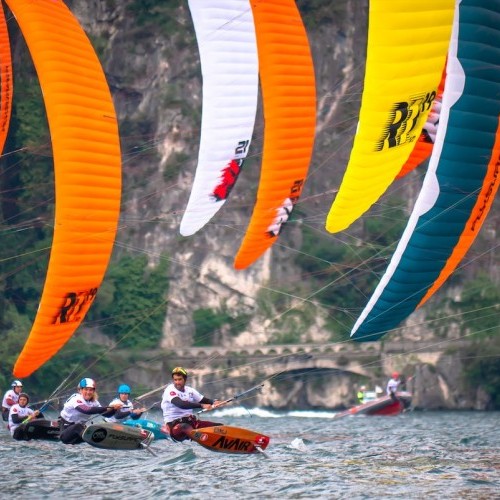 2019 Pascucci Formula Kite World Championships – Day 4
Sun 5th May, 2019 @ 3:00 pm
Win a Set of Quobba Fins this issue in our FREE subscriber prize draw.
The current men's and women's title holders, France's Nico Parlier and the US's Daniela Moroz, are sitting in pole position to retain their crowns after a scintillating penultimate day of hydrofoil racing at the 2019 Pascucci Formula Kite Worlds fought out in Italy.
But the pair both stumbled in several races under stiff challenges from ever-faster kitefoil rivals. The slips blotted their previously-perfect records at the world championships being contested on Lago di Garda with its breath-taking mountain backcloth.
In near-perfect foiling conditions, in breezes that built during the afternoon from 6kts to around 11kts, Britain's returning Olly Bridge picked up a bullet and a second in his day's four races to leave him second overall.
It was a bold move that landed him the vital win in his day's final race. He gybed early on the last downwind leg and surged past Parlier and fellow countryman Connor Bainbridge as they were preoccupied battling one another for the lead.
Bainbridge was still able to hold the third spot overall that he had begun the day with, courtesy of a hard-fought bullet, a second and third-place finishes in what he admitted was fastest and toughest kitefoil fleet ever assembled.
For Moroz, still just 18 and tilting at her fourth successive Formula Kite World title, her day was slightly mixed when she opened with two second-placed finishes, losing out to Russia's Elena Kalinina, 21, in each case.
The former world champion inflicted fatal damage on her US rival when she twice opted for a gutsy port-tack start to give her the advantage of the better pressure and "lift" under the spectacular cliffs on the right side of the track.
In the first instance, Kalinina made the bold move stick when she was able to pass ahead of the 30-strong women's fleet and cruised to victory after two high-octane laps of the trapezoid course.
But the second time she tried the same manoeuvre, she lost the advantage and had to duck behind the fleet at the start line. Still, the advantage on the right side of the course earned her a hundreds-of-metres lead, and she was able to hold off Moroz's relentless pace, winning by a whisker after a drag-race to the line and a photo-finish.
The uncharacteristic defeats lit a fire under Moroz, and she translated that anger into two convincing wins in her day's final two races in the five days of competition at the Campione Univela-hosted Worlds—supported by Regione Lombardia.
After the opening four-race qualifying series that was disrupted by storms off Campione del Garda, the 87 men were seeded in "gold", "silver" and "bronze" flights, while the women battled in their separate series.
Parlier carried a slight points advantage in the closing two days' finals' series but was all too aware that Bridge and Bainbridge were breathing down down his neck and the slightest slip could cost dearly.
Bainbridge immediately put down a marker with a well-earned win in day four's opening race and kept up the pressure. But he, too, faltered when he placed 11th in his day's second race, though he was able to discard the score.
"It was great," said Bainbridge. "That's the hardest fleet ever in hydrofoil. It was so tight, and I got pushed out to the side in one race, and it put me down the order. It just feels faster, and everyone is closer than ever. Olly Bridge has been out for four months and comes back with a vengeance which is great to see."
Bridge himself was more circumspect but pleased with his lightning pace and the move that secured his victory over his closest rivals in the last race.
"Everyone's doing well now," said Bridge. "Before I came here, I hadn't concentrated or trained, so I didn't come with any expectations. But I'm still going well, which I'm happy with."
Kalinina, too, was pleased to have finally stolen a march on Moroz but was under no illusions that she needed all her experience to outwit her rival's undoubtedly superior pace.
"Daniela Moroz is just faster than me, so I had to do something, like catch a big wind shift by going to the right of the course," said Kalinina. "It was fun racing, and I'm happy to use some tactics and strategy. That's when it becomes more challenging. It's great."
2019 Formula Kite Worlds top five men after four Final Series races (two carry forward, one discard)
1 Nico Parlier (FRA) 8.0pts
2 Olly Bridge (GBR) 12.0pts
3 Connor Bainbridge (GBR) 12.0pts
4 Théo de Ramecourt (FRA) 16.0pts
5 Toni Vodisek (SLO) 29.0pts
2019 Formula Kite Worlds top five women after seven races (two discards)
1 Daniela Moroz (USA) 5.0pts
2 Elena Kalinina (RUS) 8.0pts
3 Breiana Whitehead (AUS) 19.0pts
4 Kirstyn O'Brien (USA) 23.0pts
5 Alexia Fancelli (FRA) 23.0pts
To view the full results, please click here.
Featured in this Post
Comments