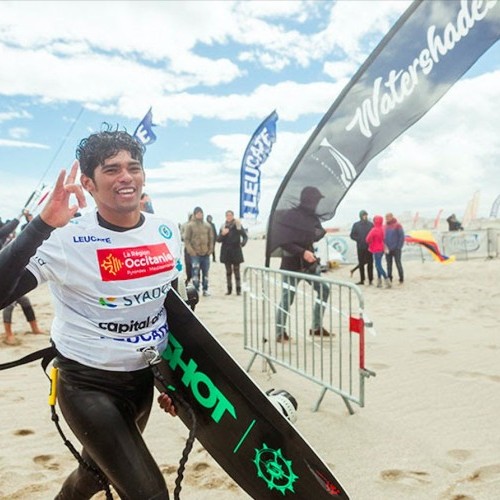 GKA Freestyle World Cup Leucate 2019 – Day 6
Thu 25th Apr, 2019 @ 9:00 pm
What a final! Carlos Mario summons another level, and Francesa Bagnoli takes her first world cup win – Find out more, right here!
Men
At the very end of the men's final on Thursday, with his very last trick, we watched Carlos Mario rob brave Swiss rider Maxime Chabloz of his first event win. The Brazilian 4 x World Champion had pulled around his performance, which began yesterday with his lowest heat score in memory, and climaxed with him winning the event by just 0.81!
The GKA Freestyle World Cup format sees riders taking it in turns to perform seven tricks with their four best tricks (from different tricks families) counting. Carlos 'Bebe' Mario needed just 4.07 from that last trick to claim the first position, but in the often mental wind conditions at Port Leucate, we'd consistently seen throughout the day that was no easy feat. He landed a front blind mobe – not a big scorer – and was awarded 4.87. Ouch.
Carlos had won his semifinal heat before even attempting his seventh trick, but this was no smooth event win for the Brazilian, and the 2019 field looks packed with podium hungry performers.
A particular standout was 16-year-old Valentin Rodriguez from Colombia who romped through the event, until just running out of steam and ended up crashing several times in the final. He claimed third step on the podium, just ahead of Italian Gianmaria Coccoluto.
Women
The women started their competition business with just the final left to contest. Double World Champion, 14-year-old Brazilian Mikaili Sol, had scraped into the final yesterday, but would undoubtedly have re-grouped mentally and physically overnight. Pippa van Iersel from Holland had been riding with her usual enigmatic full-power approach on her way to the final and was already excited about the prospect of bringing kite loops into her heat. Van Iersel, Bagnoli and Leon have all reached finals before, but all were searching for their first event wins.
Pippa crucially crashed a big kite loop attempt and probably ruled that as she never quite recovered, finishing fourth in the end. Francesca Bagnoli played a good game, stayed consistent and managed an 8.6 scoring slim chance in the final. On the strength of her consistency throughout the event, she earned her win in tough conditions.
Going into her last trick attempt, Mikaili found herself on just 3.53 points for a meagre front roll and an S-bend – she was 14.19 points behind Bagnoli who still had another trick to come. First place was impossible, but Mikaili could still take second. She managed to pull out the highest women's trick score of the whole competition, with a 9.3 for a heart attack and must have been questioning why she only managed to produce that so late in the event! All the best champions need to lose at some point, but the next event is a high wind mixed freestyle / big air format in Gran Canaria in June, so again, might present other riders an opportunity. Let's see!
Final props go to Spaniard Claudia Leon who kept her nose clean throughout the competition, plugging away in difficult circumstances to find landings and rose to the occasion with a 6.59 score for a blind judge on her last trick. It was the third-best trick score of the final and delivered a deserved first podium finish of her career.
Read the full heat stories, find links to yesterday's highlight video, the live stream archive and more, right here!
Words: Jim Gaunt | Photos by Svetlana Romantsova
Featured in this Post
Comments