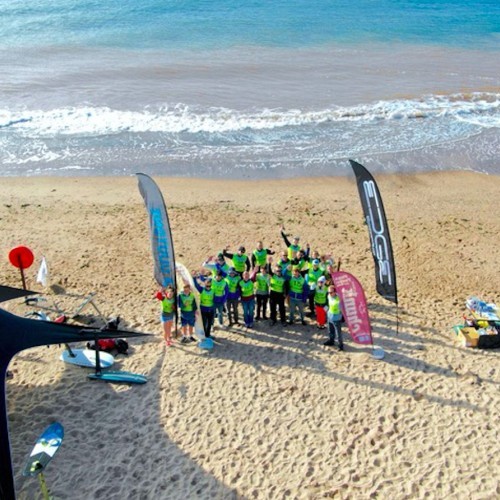 Riders Battle It Out In The 8th EDGE Race Cup
Wed 3rd Oct, 2018 @ 9:00 pm
The weekend of the 29th and 30th September saw the 8th annual Edge Race Cup, sponsored by Grenadier Estates, took place in Exmouth, Devon. Over 30 riders registered for the event with some of the top-ranked riders in the world competing.
Saturday saw an incredible day with warm sunshine and an unfavourable wind quadrant to bring any sea breeze effect. However, the competitors and spectators enjoyed the warmth of September on Exmouth Beach while some of the younger kiters got out on the water to practice.
Now an Olympic sport for 2024, Kitesurfing is attracting great interest. Sports UK in association with the British Sailing Team and British Kitesurfing Association has started a talent programme to introduce more young Female kiters to the sport. A pathway for youngsters to prove they have the right mind and skill set, talent and commitment to go all the way to bring the first kitesurfing gold medal back to GB waters.  The Edge Race Cup was the first weekend that the programme was in place. 15 members of the new team were put through their paces either learning to hydrofoil or learning to race for the first time.
Chunks of Devon, our local sponsor provided racers with the delicacy steak pasties between races, with Duotone, Ozone & Flysurfer brands provided demos of the latest equipment.
Saturday evening the riders convened at the evening party at Grapevine where the locally brewed beer' Crossed Anchors' was on tap.
Sunday saw fantastic conditions, The arrival of a northerly front brought colder temperatures & increasing wind throughout the day. Bright blue skies with steady southerly winds. 2 races for Gold Fleet in 8knots were sailed and it was clear that the top 3 riders who have been competing on the world tour this year were in a different league. Close racing between current European Champion, age 19 Guy Bridge and his older brother – age 21- Olly Bridge while Connor Bainbridge from Portland often in the middle of them. A brief Pasty – donated by Chunks of Devon was followed by a strengthening breeze which allowed the silver & gold Fleets to race together. A larger fleet and winds 12- 15knots this was a huge spectacle to follow as the kites raced at over 40knots around the course. The front of the fleet was this time dominated by older brother, Olly Bridge who went with a bigger kite allowing him to sail deeper and gain over his younger brother. Meanwhile, Connor had gear failure and was struggling to keep his performance for the afternoon's racing.
The silver fleet was dominated by Russel Farrington who was riding strapless for the whole day. The battle for the top 5 was tight between local riders James Bainbridge, Damian Francais and Nick Ajderian showing their huge improvement over the last year.
With a more competitive woman's fleet, it was 15 years old from Exmouth Community college, Rachael Hooper riding in her 1st Hydrofoil event and completing all 5 races ahead of all of the other girls and many of the men. Finishing 1st in the youth and Woman plus 6th overall in the silver fleet. An incredible performance from one of the Edge Youth Academy team.
A sunset Prize giving and a huge thank you to all of the support we have had that made this kitesurfing event in Exmouth a great success:
Grenadier Estates, Chunks of Devon, Crossed Anchors Brewery, British Kitesurf Association, FatFace, Mystic, Duotone, ION, Maxtrack, OllyBars, Red Bull UK & Baxter Bradford Photography.
Final Results
Men's Gold
1st Olly Bridge
2nd Guy Bridge
3rd Connor Bainbridge
Open Silver
1st Russell Farrington
2nd James Bainbridge
3rd Damian Francais
Woman
1st Rachael Hooper
2nd Franchesca Maini
3rd Emma Wolstenholme
Masters
1st Benjamin Verniers
2nd Lee (Pasty) Harvey
3rd Russel Farrington
Youth
1st Racahel Hooper
2nd Adam Farrington
3rd Mattia Maini
To find out more about EDGE Water Sports please click here.
Featured in this Post
Comments