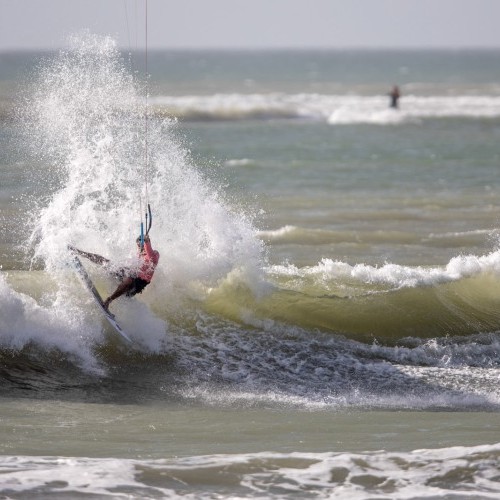 Airton And Jalou Hold On! GKA Dakhla Result
Sun 29th Apr, 2018 @ 12:00 am
The double elimination heats at the GKA Kite-Surf Tour in Dakhla brought drama and excitement. Competitors fought hard to better their ranking. While there were upsets in the ladder, the top spot on the podium again went to Airton and Jalou. Find out how all the action went down by reading the full report below, provided by the GKA with images by Ydwer van der Heide.
Win a Custom Designed Ozone Twin Tip this issue in our FREE subscriber prize draw.
It's been an action packed few days in Dakhla and by the end of Friday, the third full day of competition, the winners of the GKA Dakhla were crowned – single and now double elimination winners Airton Cozzolino and Jalou Langeree had come out on top!
Their wins came at the end of a nail-biting, fast-paced few days that saw the riders get through nine and a half hours of single eliminations on the first day of competition. The following day, they trimmed the field of riders down to just eight competitors in each division and then, on Friday, the remaining riders would battle it out in a last ditch attempt to climb up the table.
The riders who already had their podium positions after the single elimination knew they'd have some talented riders coming up and trying to knock them down. We were sure of some shake-ups.
The day began with the women hitting the water for the opening heats. Olga Agniezska succumbed to Marie Gautron in the first heat and then Olivia Jenkins clinched a victory over Dakhla resident Kirsty Jones and went through to face Marie in the next heat.
Marie is an experienced competitor and well-versed in the Dakhla conditions but Olivia took the heat and then it was down to just five riders in the division; Olivia and the existing top four from the single eliminations – Jalou, Moona, Ines and Carla.
Then the women's heats were paused as the men took to the stage and this was when Jan Marcos Riveras reembarked on his meteoric rise up the double eliminations ladder after an early exit in the singles on day two. He met Paulino Pereira in the first round who, like Jan Marcos, can perform at a high level both in the waves and in strapless freestyle. Jan Marcos rose to the occasion though and it seems like the harder an opponent he faced in the doubles the harder he rode himself.
After that, Pedro Matos met Sebastian Ribeiro in the next elimination heat. Sebastian and Pedro are friends, and Sebastian even speaks of watching Pedro making his first rides on a kiteboard, so they know each other's game inside out. Pedro is more than capable of upsetting someone's game plan too but Sebastian was on fire, displaying a level of wave riding ability that some people believe is unmatched on the tour right now.
His strapless freestyle level is also on the up and he was landing some challenging tricks including 360 shuvits, toeside 360s and some huge boosted backrolls off the lip and that gave him the edge over Pedro to take the win.
From then on, men's and women's heats would run back to back to give riders a break between the rounds. Sebastian stopped Jan Marcos' heroic drive up the table in a tight heat and then Carla Herrera Oria, the best female strapless freestyle rider on the tour right now, beat Olivia Jenkins to secure her fourth place position. She'd be facing Ines Correia next in a bid for third place.
Then came a first in GKA KSWT history in which Matchu Lopes and Sebastian Ribeiro finished their heats with the exact same score – 13.3 points each. That's never before happened on the tour before and it was clearly an insanely close heat. Sebastian was on fire in the waves, doing floaters over breaking sections and slamming into the most hollow points while Matchu's strapless freestyle was through the roof.
Matchu actually did a trick never seen before in competition; a front roll rodeo to toeside with a revert to finish but most of Sebastian's points had been for wave riding and, as priority was being given to that discipline on the day, tour rules dictated that the win was his by default.
A bitter pill to swallow for Matchu, but Sebastian would go on to face Mitu next after Ines Correia dispatched Carla Herrera Oria in the women's division.
Sebastian met Mitu Monteiro next and the sheer amount of heats that the Brazilian had battled through in the last couple of days might have finally taken their toll – he just couldn't rise to Mitu. They were closely matched in the waves, but Mitu is one of the best strapless freestylers on the tour and he crammed in the wave rides before blending low angle technical moves and bigger aerials to take the win.
Then came a clash of gigantic proportions between Keahi and Mitu for a place in the final against Airton. Mitu was blazing on all cylinders, but Keahi was consistent with his cool, calculated wave riding and fluid freestyle and he just tipped the balance in his favour. The final was now set and it would be Airton and Keahi competing their third final of the season so far.
Airton struck early with a barrage of tricks while Keahi seemed a little more focused on seeking out waves and that strategy was starting to pay off for him at first. He then shifted focus to freestyle tricks, landing a surface handlepass and even going for an air pass but he missed it and, in the faltering winds, he soon found himself downwind away from the main break. This meant he wasn't able to hack back up and accumulate anymore of those crucial wave riding points while Airton was steadily racking them up. Airton then sealed the deal with a flat-3 pass and Keahi would have no time to answer back. Airton had done it!
What followed was one of most tense moments of the day – the women's final. This being a double elimination, if Jalou won the heat against Moona then she'd win the event but, if Moona clawed back a victory, then there'd be a rematch. And that's exactly what happened!
Moona and Jalou were standing together after their heat when they were told that they'd be going again and Jalou's response was nothing short of stoic. She nodded her head, re-buckled her harness and walked back to her kite. The fire was burning, she was in it for the win.
The heat began with Moona scoring a beautiful wave on the inside, smashing a fluid hack off the lip. Jalou came back with a powered backhand slice on the next set wave. At one point, Moona seemed to be getting more waves, although Jalou was really making the ones she caught count but it was impossible to call and Moona, who's the smaller of the two riders, was coping better with the fading winds. Was she about to snatch Jalou's event win from her at the last moment?
As the riders assembled on the podium the news came through – Jalou had done it and she was justifiably stoked. It wasn't just because she'd taken her first event win of the year, but also because it was her birthday and Moona, who was gracious in defeat, told Jalou that her win was a birthday present from her fellow competitors!
So the main event is now done and dusted and Airton's just made it two from two on this year's tour! Jalou has denied Moona the chance of doing the same and opened up the table in the women's division and the positions below the top riders have now shifted, too.
Tomorrow, the plan is to run an expression session off the point at Westpoint Dakhla Hotel.
Check out the final standings after today's double eliminations and the updated tour rankings below!
Podiums
Men's
GKA Kite-Surf World Tour Dakhla 2018 Finals – Men's Podium
1: Airton Cozzolino (CV)
2: Keahi de Aboitiz (AUS)
3: Mitu Monteiro (CV)
4: Sebastian Ribeiro (BRA)

Women's
GKA Kite-Surf World Tour Dakhla 2018 Finals – Women's Podium
1: Jalou Langeree (NL)
2: Moona Whyte (USA)
3: Ines Correia (PT)
4: Carla Herrera Oria (ESP)
DAY FOUR DOUBLE ELIMINATION HEAT RESULTS
Current championship rankings after two events, Cape Verde and Morocco.
See the full GKA Kite-Surf World Tour 2018 schedule at: global-kitesports.org/events/gka-kite-surf-world-tour
Featured in this Post
Comments