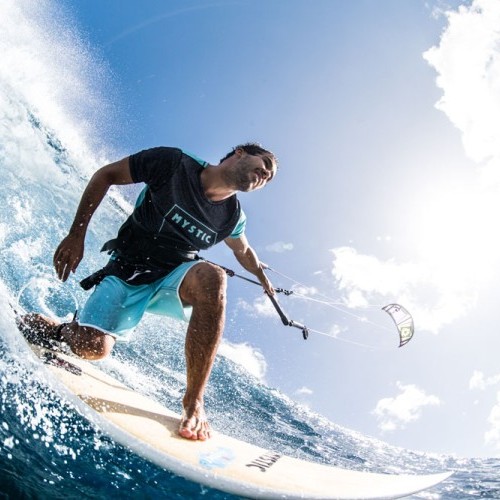 Mystic Welcome to 2016! – Kite
Wed 17th Feb, 2016 @ 6:00 pm
Win a Commander Twin Tip by Eleveight, CORE's all-new Link harness, or an ultra-light board bag from Prolimit this issue in our FREE subscriber prize draw.
Check it out; Mystic, winner of no less than four of our Best Accessories Brand awards, have just launched their 2016 collection including the all new Legend Harness! Not only is there a slick edit from Tahiti we have all the links and information right here! Full PR follows:
"It is with pure excitement and great enthusiasm that we present to you the new Mystic collection for 2016. The search for improvements continues more than ever before and without exaggerating, we are taking it another step forward to break all existing boundaries."
Looking for the true waterman spirit there was only one destination, the dream destination… Tahiti, French Polynesia. The legendary wave Teahupoo gave us the shivers at first sight, but was conquered in style by our fantastic team riders Boujmaa Guilloul, Guilly Brandao, Jalou Langeree, Robby Swift and even freestyler Marc Jacobs jumped around there. What a wave, what a massive wave, no wonder Teahupoo is called 'The Wall of Skulls'.
To conquer your own challenges, whether it is your first wave, your first attempt, first gybe or first jump, Mystic has got your back. We believe that you have to be able to rely on your gear at all times. Mystic brings helmets and impact vests to protect you from impact and take the punch for you. We have board and travel bags to guide you all over the world, great looking harnesses made to stand out, and wetsuits to keep you warm and protected whilst making you look fierce and stylish.
Brand new to the collection is the Legend harness. A super lightweight harness made out of a single layer, the Mystic Flymold. The Mystic R&D team developed a material with the ideal density to give perfect body grip with or without a wetsuit. Internally, the Mystic Flyweb makes sure that the force of the kite is evenly distributed over the Flymold, which preserves your energy so you can enjoy your session even longer. The Legend harness is a one of a kind harness, which combines simplicity together with a new construction method; a revolutionary step in kite and windsurfing.
Next to that we bring a top notch Stand Up Paddle collection, very technically designed and specially engineered to fit different weather types. Not only will the various layers help to keep you warm, the perforated fabric ensures breathability and therefore keeps you fresh and focussed.
We bring a mind-blowing apparel collection, fit for on the water, on the beach and everything in between. Who ever said that you cannot wear the best products and look stylish on the water at the same time is mistaken. Mystic creates just that. With matching quick dry tops, bikini's, boardshorts and harnesses you will look your best every session. There will be plenty of room to play around.
"We would like to thank everyone who believes in Mystic, our team riders who are our true ambassadors all over the world and all the people who love to be out on the water and push the sports. We would also like to thank Air Tahiti Nui for taking us there safely."

"Take risks as nothing can substitute experience. Face fear to experience the unknown…"
Welcome to 2016!
http://www.mysticboarding.com/
Featured in this Post
Comments