Pastor and Pulido Win The Single Elimination in Fuerteventura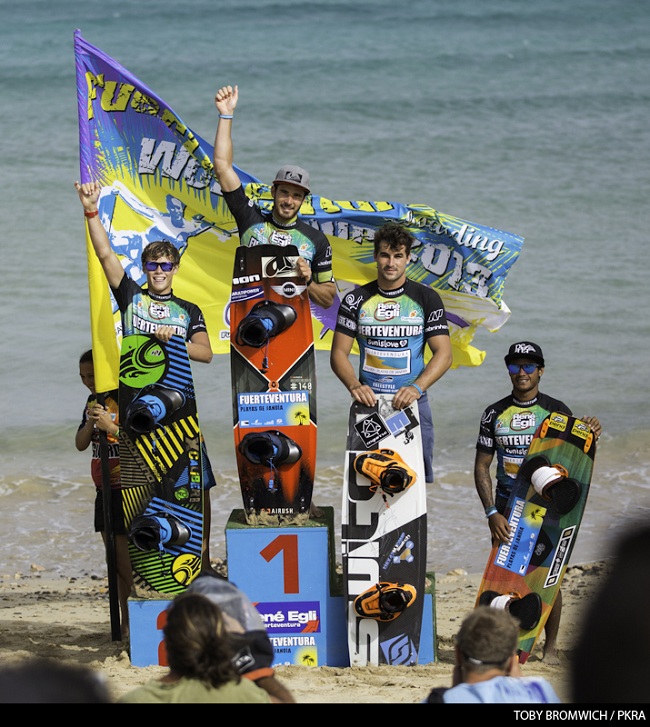 Gisela Pulido and Alex Pastor are the winners of the single elimination at the PKRA freestyle World Cup in Fuerteventura. With perfect 9 to 10 meter weather and flat water, the riders could not have asked for better conditions in Fuerteventura for the single elimination. The two full ladders of men and women were run for a total of six hours of freestyle. Alexander Neto and Sergey Borisov are just a few of the riders that had amazing heats and Liam Whaley made his first PKRA final. Karolina Winkowska was injured and left Gisela Pulido without her two nemeses, but Annabel Van Westrop and Victoria Rosinska had some great heats to get to the podium.
The final between Alex pastor and Liam Whaley was very close with the two riders landing similar tricks, but Alex Pastor was a little more powerful to win the single. Alex took an early lead with a nice S-mobe, BJ3, back mobe 5 and double s-bend pass 3, but Liam almost caught Alex in the dying minutes of the heat with a 720 back mobe and near perfect S-3. Alex is a few points closer to his goal of being world champion but will have to defend against many potential contenders in the double elimination.
Watch the replay of the final HERE.
The women's final was dominated by Gisela Pulido who landed a 313, blind judge 3, S-mobe and air back to blind. Annabel Van Westerop did all she could in her first final with an S-1, BJ and air back to blind but it was not enough to defeat Gisela. Gisela will have to defend her position in the single against the possible return of Karolina Winkowska in the double elimination.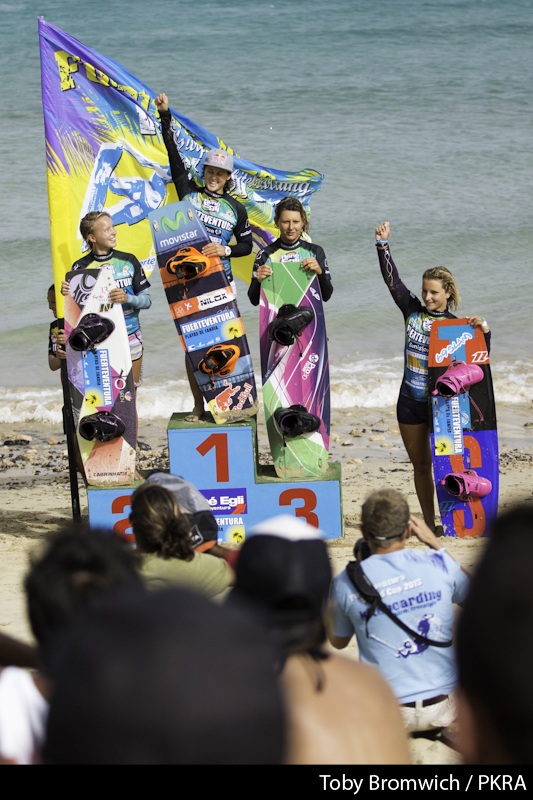 Watch the replay of the final HERE.
The battle for third place between Marc Jacobs and Eudazio Da Silva took a very strange twist when Eudazio crashed his first trick, then came back to the beach to change kites, this took a few minutes and when he finally came back to the water landed six tricks in a matter of seconds and closed the gap with Marc Jacobs, but Marc's powerful riding had done enough damage already to secure a 3rd place finish. The women's battle for the last podium spot was between Paula Novotna and Victora Rosinska a polish rider that trains in Fuerteventura. This proved to be a key factor in getting just a slight edge over Novotna to get the last podium spot.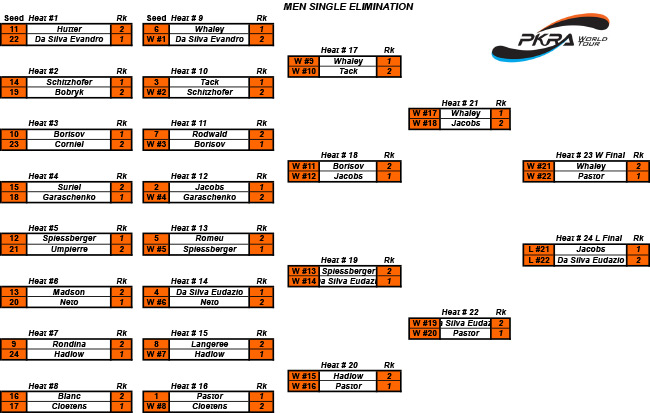 The men's quarterfinal heats were all the exciting with the riders like Borisov landing some of the biggest tricks with the most power that were thrown today, but could not land enough to upset Jacobs. Tack did not find his rhythm and Whaley was riding extremely well. Hadlow came up against Alex Pastor who was on fire and could do nothing to slow down the Spaniard. He had some very clean and well executed tricks, but Pastor was more aggressive. Da Silva defeated Stefan who was only able to land four tricks out of five possible needed to get a maximum score.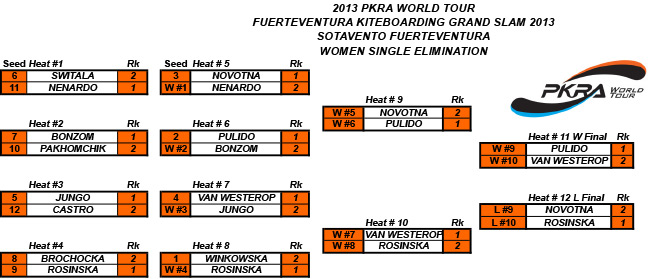 In the earlier rounds Alexander Neto had a great heat with a 34.27 that was the third highest score of the day only behind Pastor who had a 35.47 against hadlow and Liams 34.47. Alex Pastor also had the highest scoring move of the day with a double S-bend pass 3 that scored an 8.40. Reno lost to his team mate Stefan and said he was "lucky in love, but not at Play".
The double elimination's will start tomorrow at 12 o'clock and will finish Saturday afternoon. This will give the opportunities for many riders to move back up in the rankings over the next two days. This will give the riders ample time to rest while moving back up the doubles ladder. The main challenges will come from the wind that is forecasted to be picking up tomorrow and Saturday, with gusts forecasted into the 40 knots. With winds like this, we can expect some pretty amazing riding and a few big air tricks.
All the score, from all the heats, are posted online at http://www.live.prokitetour.com along with the replays of almost all the heats. So if you like to go watch your favorite riders and see how you would score them, you can do it online. Make sure you follow us on Facebook and Twitter for the latest news and updates and watch the live to see who will claim the 100th PKRA event victory.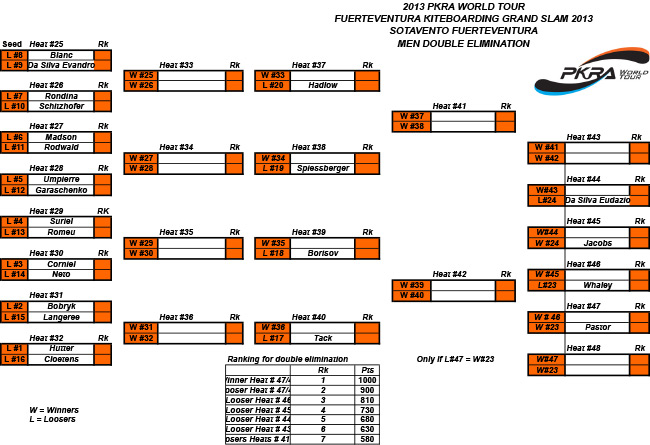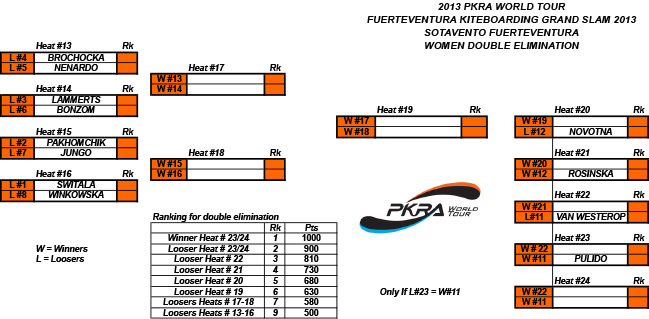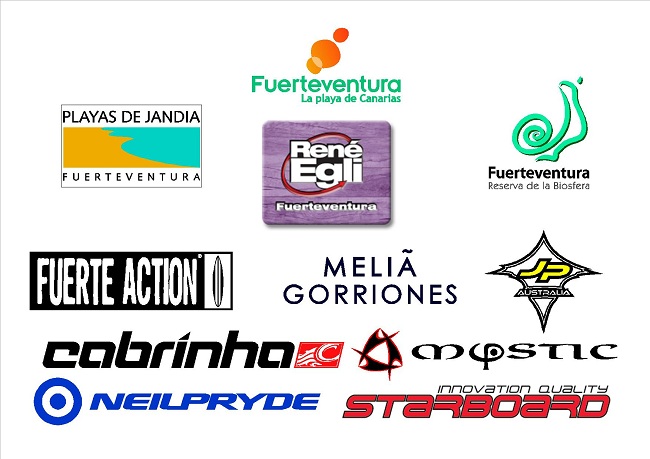 Featured in this Post
Comments