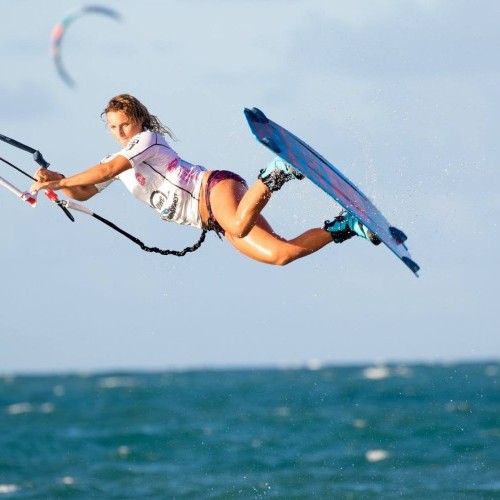 Paula Novotna On The World Kiteboarding League
Features / Fri 26th Aug, 2016 @ 1:00 pm
A few weeks ago the first event of the new World Kiteboarding League took place in Cabarete in the Dominican Republic, supported by MaiTai Global this was the first event of a new tour run by the riders for the riders. After all the bullsh!t from last year's events and all the arguing over the winter it was great to see this event get off the ground. Heralding a totally new format of competition, that the riders wanted to push, there were a lot of changes to get used to. We asked seasoned World Tour professional Paula Novotna to write us a full report on the event and find out what the riders made of it too…
What has been happening in the freestyle kiteboarding competition world is sad, but I am very happy to say that a few riders managed to create the Riders Union, together with current tour manager Danny Galliart. We created the World Kiteboarding League and now we are stronger than anybody else. Our vision for the tour is for riders, by riders. There is only one freestyle kiteboarding tour, the World Kiteboarding League.
So, what we are trying to do now after all the problems we've had in the past with the freestyle "world tour" is to run a tour for riders, by riders. We have a riders union and together with our tour manager Danny Galliart we created World Kiteboarding League – the tour with only winners. Thanks to Susi Mai, we were able to run our first event in Cabarete, together with MaiTai Global and the sponsors that made this event happen. Big thanks to Clean Ocean Project, Millennium resort, OWC, Breathometer, Soloshot and Skycatch. Also, thanks to the GKA (Global Kiteboarding Association) for supporting this event and being on our side.
We have changed everything we didn't like about the tour in the past. We want the people following us to understand what we are doing. We have a new system for judging and competing that has turned out very well. We managed to have a high-quality live stream, Case Production from the UK did a great job.
How did the riders like it?
I would like to say and thanks to all the riders for supporting what we are doing and staying on the same page. Every single rider in Cabarete was involved and was able to help out. It is our tour, that means we make it happen and we do our best to make it professional to attract more people to kitesurfing. We want to make kitesurfing spectacular and we are on a good road to achieving this.
What about the format?
We have an amazing new competition format that turned out very well. Many riders were scared to make the change, but in the end, we decided to give it a try. How we used to compete for many years was not perfect, especially for the audience on the beach, with the results and so on. There was a big issue with athletes losing or winning by luck or a because of a good draw in the ladder. Also, the people watching were very confused because the contests were difficult to follow, and it was hard to understand who was winning.
The new format allows spectators follow who is leading and understand what we are actually doing on the water because they can see the score right in front of their eyes on the beach on a big screen. Each heat is either with 6 people or 4 people. Every rider has 7 trick attempts with their 4 best tricks counting for their overall score. Each rider has 1 minute to perform his or her trick. Once he or she is done and the score comes up, the next rider follows. A massive screen and a commentator help spectators to understand who is leading and also the riders can see if we have to risk more to win. When it comes to the end of the heat, we know who is leading and who will advance to the next round straight away. This format works perfectly with the finals as the results are very close and exciting!
Already at our first event, we managed to have a high-quality live stream and people from all around the world were able to follow on the internet. A few riders helped commentate throughout the event. We had a great audience, and people liked it a lot. We already have some improvements to make for next event, I am looking forward to that!
You placed 2nd, congratulations! Have you been training a lot for this event?
Honestly, when I arrived in Cabarete I was surprised by the shore break and choppy water. I was not exactly training for these conditions as I love flat water and I like to train in flat water spots. I was scared to do my freestyle tricks in these conditions as I injured myself 2.5 years ago in the same conditions, and every time I was going for a trick I had a stop in my head. No, it's choppy, no there is a wave coming. So, it was very difficult, I had to fight with myself and work a lot on my mental game. I had to forget everything and go for it. In the beginning of the event, I was having difficulties and fighting with myself to land tricks. Every day I was getting more familiar with the spot and getting better on the water. In the end, I put everything together and made it to the top.
How was it to be in the finals?
Yes, it was amazing, sharing the final with the top girls. I am incredibly happy with my second place and I'm motivated to train and achieve more podiums in the future. Coming to Cabarete, I knew I could make it to the podium, but seeing the conditions and also how good the girls were riding, I knew it would be difficult. The finals were amazing, the girls were riding so well and we had a great audience on the beach. It was a spectacular show! After the woman's final was the men's final, which was awesome to watch. If you have time you should come watch us in Germany or follow the live stream! I can promise you, you will enjoy it a lot. We already have made some improvements since the last event, so tune into worldkiteboardingleague.com.
Which girls rode well in the Cabarete event?
Bruna Kajiya was riding smooth and with power. I guess she is used to these conditions. I admire her, she is my good friend, and having the opportunity to compete against such a talent is amazing. I hope one day I will make it to the top as well. Other riders who surprised me were Hannah Whiteley, who was riding very consistent in these conditions, as well as Estefania Rosa from Brazil. Sharing a final with these ladies was really great! I must also mention Rita Arnaus and Therese Taabbel who are riding awesome and landing sick tricks as well. Therese is always going super big and pushing the level higher!
Here are a few questions from Bruna Kajiya about the event:
How did you find the new format?
I love the new format, it ran smooth from day one and it felt good straight away. It's so much more exciting for competitors and spectators.
Why is the new format better for the audience?
It's better for the audience because they know who's winning at all times. With live scoring, this makes it very exciting to follow and cheer for your favorite riders.
How did you find the first stop?
This first stop ran incredibly, for the very first time. It's amazing how easy it was to adapt to the format and it was so interesting and exciting to compete in it!
Are all the riders involved?
The KRU is a riders initiative, so all the riders are involved and working together for a better tour in order to show the greatness of the sport and our vision.
What was better compared with the old system, or what you didn't like?
The benefits of this format are the real-time results. For a rider, real-time results are crucial in a heat, so we know exactly what we need to score to win.
Fri 26th Aug, 2016 @ 1:00 pm
Paula Novotna has been riding on the world tour for a few years now, she comes from a watersports loving family and grew up in the Czech Republic. These days she travels the world following the wind and the competition circuit. She is one of the most talented freestyle kitesurfers on the planet and she really wants to see the woman's side of the sport progress even further...
Featured in this Post
Comments