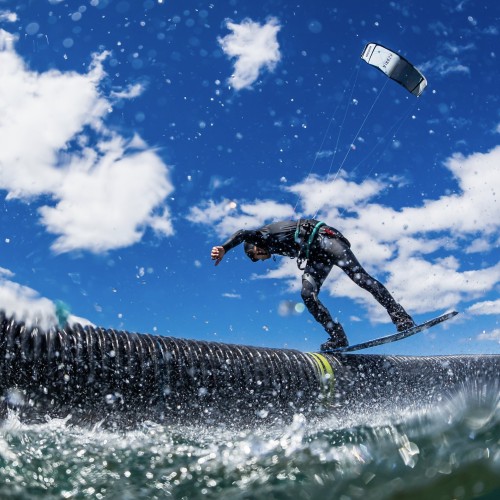 KPL Patagonia: The Return of the Tour
Features / Mon 10th Apr, 2023 @ 3:00 pm
The Kite Park League is back in action, and the first event of this calendar year happened in February in Argentinian Patagonia. Park rider Ramiro Gallart worked hard to bring this event to his home country for a first-of-its-kind competition in this incredible scenery. Read all about it in Rami's event recap with stunning photography by Andre Magarao!
KPL Patagonia: The Return of the Tour
As some may have seen, the Kite Park League came back into action in 2022 with a different event known as the KPL Team Battle, which happened late last summer in Hood River, Oregon. The idea was to bring all the park frothers back to Hood River, share the stoke of this discipline we love, and prepare ourselves for the upcoming year.
After the KPL Team Battle, we started shaping the tour for 2023. We planned to have two qualifiers, one in Patagonia (Argentina) and one in Sicily (Italy), followed by the KPL Team Battle in Hood River (USA) and the Grand Finale in Taiba (Brazil). While plotting the tour, our primary focus was that we were doing this to promote and ensure the continuity of this discipline. With this in mind, we chose the locations that best fulfil that goal.
Win a Commander Twin Tip by Eleveight, CORE's all-new Link harness, or an ultra-light board bag from Prolimit this issue in our FREE subscriber prize draw.
In the last couple of years, the park riding scene was kept mainly inside North America, making it difficult for new riders from other countries to try it. That's why we chose Argentina and Italy as our two qualifiers locations; we wanted to give talented riders from South America and Europe a chance to try the format and discipline and create more hype from people in these areas. We kept the KPL Team Battle in the calendar as it showed great success in 2022, and Hood River is a great place to push park riding with the most technical setups while remaining loyal to our origins. Lastly, we couldn't choose a better spot to crown the champion than Northern Brazil, which is close to everyone, has the best conditions, and is a must for every rider on their calendar.
It's been a few years already since I've wanted to bring all the park riders together in Argentina, for various reasons, but mainly so they could experience the hype and froth for park and wakestyle riding in Argentina; this community is ready to put in the work to make it all happen.
The spot that we chose to hold the event was Villa La Angostura in Patagonia, and it was very special for me to organize a park event there because it's really connected to the reason I got into park. I first visited this spot on a road trip with Brandon Scheid, Sensi Graves, and Vincent Bergeron; during that trip, I got the chance to hit a feature with a kite for the first time, and they all pushed me to visit Hood River and do a Wildcard video for the Triple S Invitational, which is how it all started.
Soon after we confirmed the event and got the permits approved, we assembled from all over the country to prepare everything for the event, and it was a true example of teamwork. El Benjamin Blachowicz, our welder expert, came from Rosario, Santi Cisneros from Tucuma, Matias Lee from Mar del Plata, Mariano Cuevas, Justo Morando, and myself from Buenos Aires, and on our way there, we even picked up Rygo and Kristen from the airport to join us on this 18-hour drive.
After one week of intense work, the park was set, the features were out, and the hype level was through the roof! All the competitors started arriving, and we received them with a huge traditional Argentinian Asado. The family vibes were predominant.
Back to the event! The spot is on an island in the Bahia Manzano area; it's quite a unique spot as it's rare to find flat water that is relatively shallow in these outstanding and untouched lakes. Thanks to its location, the wind gets smooth because it's in the middle of the lake, as far as it can be from the mountain line, leaving the mountains just as a backdrop, which feature in a lot of the stunning shots Andre Magarao took during the event.
Riders came from everywhere in Europe, North America and South America; the event was a vibe! During the week, we mixed days for media and training, and when the conditions were prime, we would compete. The event format consisted of three attempts and one pass from every rider on each feature, and the best score on each counted towards the overall score. The first of each heat went straight to the final, and 2nd 3rd and 4th went into the semifinal, while 5th and 6th were eliminated.
Our finalists from the women's division were Kristen Cooper (USA), Adela Mendoza (ARG) and Lara Berrio (ARG). From the men's division, Noè Font (SPN), Chad Porter (USA), Ramiro Gallart (ARG), and Eric Rienstra (USA) were the winners in their respective heats in the first round, passing straight to the final. Our semifinal winners, who also earned themselves a spot in the final, were Lucas Muzio (ARG) and Mariano Cuevas (ARG). The conditions varied a lot during the final, and the riders needed to adapt; this was a determining factor in the final results. We saw some great moves from Stale FS7, BS4 out of the features, double flips and some very nice style on the rails.
After sunset, the final results came out at the awards ceremony with some great live music. The final positions were as follows:
Women's Division
1st Kristen Cooper
2nd Adela Mendoza
3rd Lara Berrio
Men's Division
1st Noè Font
2nd Ramiro Gallart
3rd Eric Rienstra
4th Lucas Muzio
5th Chad Porter
6th Mariano Cuevas
To share a short recap of the final, Noè Font showed us why he is called baby Jesus, as he is not only born on the 25th of December but can also land the most technical tricks under pressure, even when conditions get really difficult. A personal highlight from myself is that after overcoming a major injury last year, I'm ready to fight again for that first position. I feel good with my knee even after landing the biggest 7 of the event!
Eric Rienstra showed that his experience and technicality are still there, securing that third spot for himself and showing us a great variety of tricks and inverts as only he can do. With Lucas Muzio, one thing is for sure: every time we hear about him, it's good news; this time wasn't because of his backmobe 7 or having one of the best styles of freestyle, which he does, but because he showed us that his style and commitment is not limited to one discipline! Lucas absolutely destroyed the park with his unique style.
Chad came all the way from the United States to show us that it is about time that double flips become a standard, throwing double tantrums and double half cabs from the kickers. And, lastly, Mariano, who came into the scene a bit late, showed us that nothing could stop him from becoming a top competitor, performing with consistency and style.
It was tough to pick a winner from the women's division, as the results were super close. In the end, Kristen took the lead with those 270s into the incline, but Lara and Ade surprised everyone with great runs, making it hard to believe it was their first time competing on rails!!
We are all super eager for what's to come and can't wait to see what all the European riders have ready to show us in the next stop in Sicily!
Lastly, I want to thank all the sponsors that made this event possible:
Airush Duotone F-One
GPX Store Ride Engine Redbull
Corona Second Wind Pure CBD
Wenear AAK Cavok
Words: Ramiro Gallart
Photos: Andre Magarao
Editor at IKSURFMAG, Crystal Veness hails from Canada but is based in South Africa. When she isn't busy kitesurfing or reporting on the latest industry news for the mag, she is kicking back somewhere at a windy kite beach or working on creative media projects.
Featured in this Post
Comments