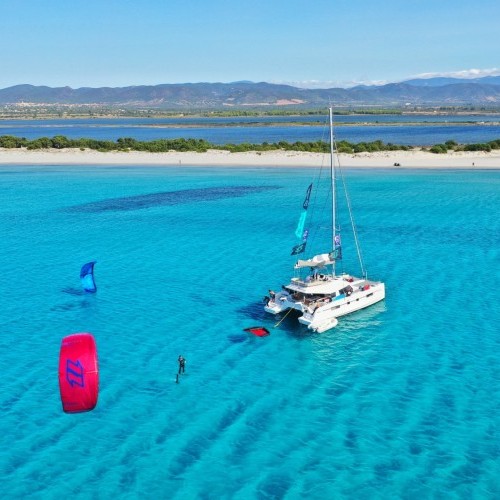 The Ultimate Kite Adventure on a Sailing Catamaran – The Action Cruise
Features / Mon 6th Mar, 2023 @ 12:00 pm
If you're struggling to make it through the chilly winter season, you're not alone! With short days, not nearly enough sunshine, and a severe lack of kite sessions, it's no wonder many of us kiters are getting itchy feet. In fact, you may already be on the lookout for your next kite adventure! If that's the case, you've come to the right place.
Sailing and kiting is an ideal combination, and a Kite & Sail Camp is the perfect way to escape on your next summer getaway. What could beat exploring a new location for a week with a crew of like-minded sailors and kiters, all as excited as you are to get on the water, land that new trick, and enjoy life to the fullest?!
The Action Cruise team offers kite cruises to Greece, Sardinia & Corse, Grenadines, and Antigua & Barbuda. Those that are looking for an exciting new experience that lines up with the coming summer season in the Northern Hemisphere will be most interested in the Greece and Sardinia Kite & Sail Camps, which occur between May and October. Greece is the ideal location for those chasing summer, with sailing dates from early July to early September. Those that are keen to avoid the summer crowds will appreciate Sardinia & Corse in May/June and September/October.
So, what does a week of kite & sail on board a sailing catamaran look like? Well, you're on board a spacious ship with a dedicated crew there to ensure you are entertained and well-fed. Your camp coaches will be working with you to level up your kiting (and winging!) skills while teaching you the technique for kiting from a boat, riding in unusual spots, downwinding, kiting in the open sea, and more. They even include media analysis as part of the camp experience, so you have all the assets you need to improve your level!
Safety is, of course, a priority on board, and your crew will be there to ensure you have assistance if you need it! When you're ready to relax on board, you can learn the basics of sailing. While there are very few no wind days in the season, especially if you are hydrofoiling, there's always plenty to do when the wind isn't blowing! There's wakefoiling and wakeboarding (for lighter riders), paddle boarding, exploring the islands, small hikes and treks, or just relaxing and swimming around the boat. Whatever the weather, the action is always flowing!
Did we mention that you'll be sailing through incredible locations, surrounded by epic scenery, with plenty of opportunities to experience and explore the local culture? It's an unforgettable experience that offers everything the adventurous kiter could want and more!
You may have a few questions, and we're here to help answer them!
Frequently Asked Questions
What should my kiting skill level be?
Kiters of ALL skill levels are welcome to join The Action Cruise. However, kiters that are not at an intermediate or advanced level should declare their ability in advance and will be required to take beginner lessons or supervised sessions. You can join without these additional requirements provided you are able to consistently do the following in all wind directions and conditions: ride upwind, control the kite on land, body drag upwind, relaunch the kite from the water, body drag to recover a lost board, and self-land the kite with the chicken loop quick release.
What kind of boat are we on?
This will depend on which destination you choose! If you are joining the 6-day Kite – Wing and Sail Camp in North Sardinia and South Corse, you will be aboard a beautiful Nautitech 46 Fly Bridge Catamaran with up to 7 kiters, with plenty of space to spread out, rig your gear and relax! For those joining the 7-day Kite – Wing and Sail Camp in the Greek Cyclades, you'll be living large on the Lagoon 500 Fly Bridge Catamaran with up to 9 kiters!
What if I've never kited from a boat before?
Not to worry! Part of being on board with The Action Cruise includes working with qualified kite instructors, who will teach you the ins and outs of how to kite from a sailing boat, what to do when riding in unconventional kite spots, and how to handle the open sea. Of course, you will have the assistance of your instructors whenever needed, and there will always be a tender/rescue boat on the water to help if you have any difficulties!
What can I expect from a Kite & Sail Camp in Greece?
Get ready for a stunning summer in Greece, where you'll experience the local Meltemi wind, a strong and reliable wind that assures endless opportunities to kite. You can expect 15-30 knots of wind and water conditions that suit a shorty wetsuit. If you're a beginner, a 3mm full suit and booties are recommended.
In Greece, your adventure starts in Paros, and you and your crew will sail through the islands of the central Cyclades in search of the best conditions. You'll ride in spots like Paros, Antiparos, the Small Cyclades, Mykonos, Rinia, Milos, and any other spots you and your crew discover along the way. If the wind isn't cooperating, your experienced crew will sail to Peloponnese, where the west wind will be on your side. As always, Mother Nature is in charge, and The Action Cruise will choose the route for your week based on what will offer the best conditions for kiting and adventuring!
What is unique about a Kite & Sail Camp in Sardinia?
Sardinia is known for its Mistral wind, which delivers days on end of 15-35 knots strong and reliable wind in the North Sardinia and South Corse area. If the Mistral isn't working, there is often east or southeast wind in secret spots, and your crew will help you find it! You'll want to bring a 3-4mm full suit for this camp in case of cooler weather and water.
Your adventure begins in Cannigione, where you will board your catamaran and set sail towards your first kite session. The Action Cruise crew members will guide you through Tavolara, La Maddalena, Porto Pollo, South Corse, and the Strait of Bonifacio, wind and weather dependent. You can be sure to experience incredible sceneries and some unforgettable sessions with the crew!
What if it's not windy?!
Kiting and winging aren't the only activities available on board The Action Cruise! On light wind days, the boats are equipped with SUP, wakeboard (for light riders only), and wakefoil equipment, so you can still spend the low wind days on the water. Off the water, you can go walking and hiking on the islands. After all, you will be in an exciting and stunning country with so much to see and do both on the water and on land. There are plenty of opportunities to explore this beautiful environment!
What's included in a Kite & Sail Camp?
• Coaching & Training on how to kite and wing from a sailing boat and managing unconventional kite spots, kite and wing downwind, open sea passages and IKO Safety Procedures
• Spot Guidance and Rescue
• 3 Crew Members managing Sailing and Kiting activities and Food
• Photos and Videos, Drone, Reflex, Gopro 360 to improve kiting level through media analysis
• Breakfast, Lunch, Dinner
• SUP
• Wakefoil and Wakeboard (light riders) on light wind days
• Safety Boat for Rescue and Assistance
• The Action Cruise Annual Membership
What extras can I anticipate?
• Travel costs to and from the departure port
• Kite and wing equipment, if needed
• Beginner lessons and supervised sessions, if needed
• Dinners on land
• Alcoholic beverages
• Any personal spending or additional meals or beverages on land
Can I come as a solo traveller?
Absolutely! What better way to make new friends than to join a boat full of passionate kiters and wingers? Solo travellers are welcome and have the option of staying in either a small solo cabin or sharing a cabin with another solo guest.
Can I request a kite and sail camp with the entire catamaran reserved for my group?
Groups of up to 7 in Sardinia and 9 in Greece are able to sail with The Action Cruise and will have a crew of 3 on board to ensure their every need is taken care of!
How do I sign up?!
Click here to head over to The Action Cruise website to find out how you can join one of this summer's Kite & Sail Camps!
Kite & Sail Camp 2023 Dates
SARDINIA 1) 14 MAY – 20 MAY
SARDINIA 2) 21 MAY – 27 MAY
SARDINIA 3) 28 MAY – 03 JUN
GREECE 1) 04 JUL – 11 JUL
GREECE 2) 12 JUL – 19 JUL
GREECE 3) 20 JUL – 27 JUL
GREECE 4) 28 JUL – 04 AUG
GREECE 5) 05 AUG – 12 AUG
GREECE 6) 14 AUG – 21 AUG
GREECE 7) 22 AUG – 29 AUG
GREECE 8) 30 AUG – 06 SEP
SARDINIA 4) 24 SEP – 30 SEP
SARDINIA 5) 01 OCT – 07 OCT
SARDINIA 6) 08 OCT – 14 OCT
To learn more about The Action Cruise, visit their website and follow them on Facebook and Instagram.
Editor at IKSURFMAG, Crystal Veness hails from Canada but is based in South Africa. When she isn't busy kitesurfing or reporting on the latest industry news for the mag, she is kicking back somewhere at a windy kite beach or working on creative media projects.
Featured in this Post
Comments