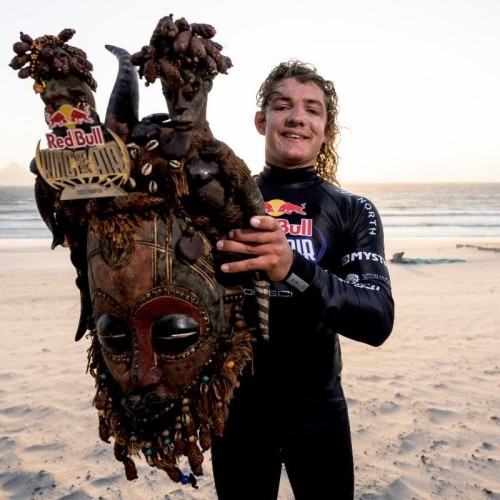 Cabrinha Welcomes a King – Lorenzo Casati
Thu 1st Dec, 2022 @ 9:00 am
There is no doubt you watched the whole thing or highlights from one of the most epic Red Bull King of The Air competitions in kiteboarding history. The event is remembered for its epic conditions and the fact that all three finalists were teenagers. It was dominated by one person, who Cabrinha is extremely proud of, together with his brother to join the Cabrinha Family. Welcome, Lorenzo and Leonardo Casati!
Lorenzo needs no introduction, his win at the KOTA event showed the world where the Big Air direction is going, and with Cabrinha, he will continue to lead and dominate in that area and also target the Strapless World Title. He is extremely excited to finally be able to announce his start with Cabrinha.
"I talked with the Cabrinha team and shared with them the same enthusiasm and ideas about the future. Together we are going to be able to push the design of kites, boards and the sport to the next level". – Lorenzo Casati
Leonardo is the younger brother who is already dominating the youth competition scene on a global level. The current GKA Strapless Jr. Champion and the World Junior U14 Champion in freestyle and big air, he will be showcasing his skills in the surf and in the air.
The Casati's join the rest of the Cabrinha International Big Air team of Stijn Mul, Camdyn Kellet, Cameron Westman and Hannah Whiteley, and they will be in Capetown, riding, shooting and competing over the next month. They will also be joined by Pat Goodman for an exclusive first showing of the all-new Kite that brought these riders to the brand and will take them to the next level; The Nitro. The date of the public show will be announced soon, so keep your eyes out.
Here is a comment from Pat about the Cabrinha Big Air Program:
"Seeing this new generation of riders bringing big air kitesurfing to a completely new level of extremity is so exciting! Unbelievable what they are achieving now! It is so great to be a part of it and see the sport go full circle and get back to the roots of why we were drawn into the sport in the first place. With a totally new line-up of talented and fearless big air team riders combined with the new Nitro Big Air kite, Cabrinha is ready to "redefine" big air kiteboarding once again!"
The Nitro is just one of the new kites coming from Cabrinha in the January 18th launch, so get ready for the market to be shaken up and for Cabrinha to dominate the skies.
Head over to Cabrinha to find out more!
Featured in this Post
Comments