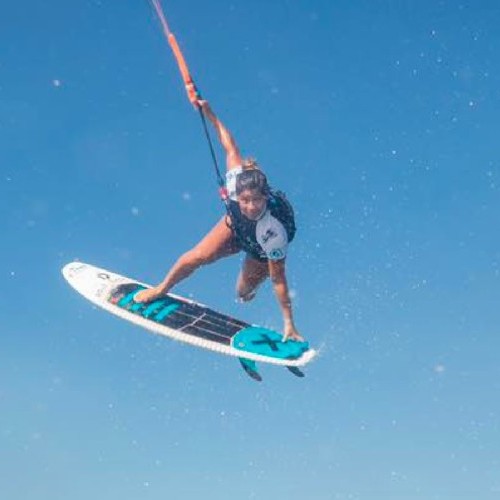 GKA Kite-Surf Prea 2019 – Women's Single Eliminations
Thu 14th Nov, 2019 @ 8:20 pm
What can be said about the 15-year-old three-time Freestyle World Champion who two weeks ago decided to train to compete in her first strapless freestyle event at the GKA Kite-Surf World Cup Brazil at her home spot in Prea?!
Mikaili came through an all-Brazilian final against Brazilian TV star Marcela Witt who is something of a strapless freestyle specialist herself, as we saw at this event last year.
In the semi-final, Mikaili also beat Carla Herrera-Oria – the Spanish rider who has already done enough to be crowned World Champion in this Kite-Surf discipline on the GKA Kite-Surf World Tour.
Semi-final 1
Marcela Witt (BRA) V Charlotte Carpentier (FRA)
The Brazilian powered her way past the French regular tour rider with a demonstration of greater height and power. She frequently travels to Prea to train, and Marcela's front rolls are some of the best we've seen in the competition (aside from Mikaili today of course) and she reached a superb 30.89 points, including an 8.8 score for a front roll one footer; a tough trick.
Charlotte couldn't answer back.
Marcela wins and goes through to the final: 30.89 to 13.43
Semi-final 2
Carla Herrera-Oria V Mikaili Sol (BRA)
What a situation – Carla already GKA Kite-Surf World Champion 2019 (this discipline) and Mikaili, the already GKA Freestyle World Champion (twin-tip) against each other. Only one could make the final!
Amazingly, in her third ever heat of strapless competition Mikaili was visually getting better and better, with three scores in the nine-point range, plus an 8.67 (which didn't count as it was in the same category as her other bigger front roll). The highest score for her was a 9.5 for very big and controlled back roll rodeo. We've never seen these scores in women's strapless freestyle!
Carla lacked the overall height of Mikaili but managed a pretty decent best trick with a back roll rodeo, rewarded with just 6.43, however. The Spaniard's end of heat score would otherwise be pretty much an event winning score, but not when Mikaili is now riding strapless!
Mikaili goes through to the final: 38.27 to 24.83
Women's single-elimination final:
Mikaili Sol (BRA) V Marcela Witt (BRA)
What has been fantastic today is watching Mikaili's progression heat to heat, and she's opened up in precisely the same way, with a front roll – and this time she gets a 10 – so big, clean, stylish and controlled. That's a new benchmark for female strapless riding.
Marcela hadn't fluked her way into this final and has already said she'll be doing more stops on tour next year. She crashed her first two trick attempts but then landed a front roll board off and a front roll.
We've seen Marcela string her ten allowed trick attempts together very quickly so far today and she was already two tricks ahead of Mikaili, but the world champion was soon back on par, and after four tricks each was ahead by 23.73 to 12.1.
The remaining third of the final quietened off with a series of crashes, but one footer completed Mikaili's five counting trick scores.
This wasn't the highest scoring heat that either of these women had managed today, but was still exciting between the two smiling Brazilians and Mikaili Sol completed a perfect first appearance in strapless freestyle competition!
Mikaili Sol wins the women's single elimination: 32.23 to 22.87
Mini-final
Carla Herrera-Oria (ESP) V Charlotte Carpentier (FRA)
Carla Herrera-Oria re-set her gauge after losing to Mikaili in the semis and went back to her ultra-consistent mode, once again amassing her usual mid-20-point heat score with a varied display of rolls, board varials and big straight airs.
Charlotte's lower altitude board flips filled out her scoresheet, so she demonstrated a variety of trick families, but couldn't compete in the judge's eyes in terms of height and power.
Carla finishes third in the women's single elimination, winning this heat 23.04 to 15.91.
Women's Single Elimination result:
1 Mikaili Sol (BRA)
2 Marcela Witt (BRA)
3 Carla Herrera-Oria (ESP)
4 Charlotte Carpentier (FRA)
Click here to follow more action on the live event page.
Thursday 14th November
Prea, Brazil
Words: Jim Gaunt
Photo: Svetlana Romantsova
Featured in this Post
Comments