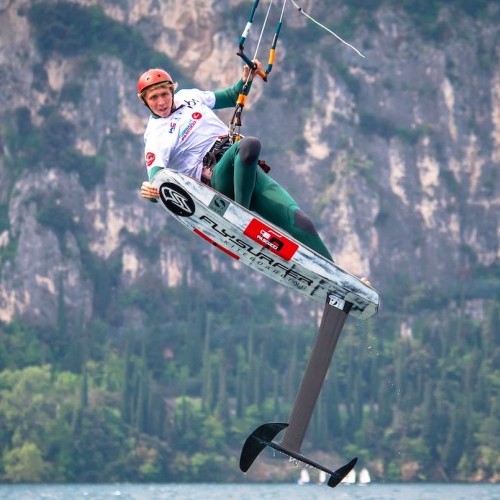 2019 Pascucci Formula Kite World Championships – Special Test Event
Fri 3rd May, 2019 @ 9:00 pm
Win a Custom Designed Ozone Twin Tip this issue in our FREE subscriber prize draw.
A special test event to trial the new mixed relay race format that will be used when kiteboarding makes its historic debut at the Paris 2024 Olympic Games saw the US's reigning Formula Kite world champion Daniela Moroz and partner Evan Heffernan top the standings. The pair edged out France's Alexia Fancelli and former world champion Maxime Nocher by just one point in a day of thrillingly close race action on northern Italy's breath-taking Lago di Garda on the sidelines of the 2019 Pascucci Formula Kite World Championships.
With all the world's fastest kiteboarders gathered to contest the world championships—hosted by Campione Univela and supported by Regione Lombardia—most who could muster a mixed team joined the trial for which one day was set aside.
The crop of former world champions teamed with their fellow countrymen added to the drama and intensity of the nail-biting format, with Russia's Elena Kalinina and highly-ranked Denis Taradin taking the third place overall.
In the case of Britain's multiple former world champion Steph Bridge, she teamed up with middle son Guy, the current European Formula Kite champion. Despite their top-notch pedigree, they could only place seventh.
The novel round-robin format involves the man and the woman racing one lap each of the track against half the 22 teams, with the added complexity of a "flying" handover when the second team member begins their lap just as the other finishes.
It certainly spiced up the action when stronger team members handed big leads to their weaker partners, or vice versa, only to see them slip back, or charge to the head of the order. The result was a far greater shuffling of the order that is common even in kitefoil racing.
The adoption of the new mixed team relay format—which will no doubt be refined until 2024—was necessary after kiteboarding was allocated one Olympic medal, coupled with a stipulation that there should be gender parity in the event.
Nonetheless, the prospect of Olympics inclusion has spurred national sailing federations to pour unprecedented resources into kiteboarding in the quest for coveted medals.
The 2019 World Championships off Campione del Garda can already boast the biggest foiling fleet ever assembled, with 87 men and 30 women from 29 countries. But many nations like Britain, France, Poland and China also have funded coaches on the water for their many young racers.
Steph Bridge, long a supporter of kiteboarding's Olympics inclusion, was sold on the mixed relay format even after a chilly afternoon on the water when ten near back-to-back races were contested.
"I enjoyed it," said Bridge. "Of course it's frustrating if you're winning and the other person doesn't do well, but that brings teamwork to the sport, which is something new and very welcome."
Russian Denis Taradin, lucky enough to partner Elena Kalinina, is another convert. "Hands down I'm in love with this new discipline," he said. "It completely changes the dynamic. I've long raced with the guys, but to put girls in the mix changes everything; it's fun!"
Evan Heffernan had the added pressure of teaming with Daniela Moroz and crossing the line early to earn a disqualification, squandering the lead she handed him in their first race. But with a discard, the pair were able to claw back the overall win.
"This format's pretty cool," he said. "The changeovers were very smooth, though we could do better. The races could be a little longer so that they're more tactical and enable you to make up for mistakes, but it was great fun."
Top five Mixed Relay Teams after five round-robin flights (one discard)
1 USA (Daniela Moroz / Evan Heffernan) 6pts
2 FRA (Alexia Fancelli / Maxime Nocher) 7pts
3 RUS (Elena Kalinina / Maxime Nocher) 7pts
4 GER (Leonie Meyer / Florian Gruber) 9pts
5 POL (Julia Damasiewicz / Jakub Jurkowski) 10pts
2019 Formula Kite Worlds top five men after four races (one discard)
1 Nico Parlier (FRA) 3.0pts
2 Olly Bridge (GBR) 4.0pts
3 Connor Bainbridge (GBR) 4.0pts
4 Théo de Ramecourt (FRA) 5.0pts
5 Maxime Nocher (FRA) 5.0pts
2019 Formula Kite Worlds top five women after three races
1 Daniela Moroz (USA) 3.0pts
2 Elena Kalinina (RUS) 6.0pts
3 Breiana Whitehead (AUS) 14.0pts
4 Kirstyn O'Brien (USA) 15.0pts
5 Alexia Fancelli (FRA) 15.0pts
To view the full results, please click here.
Featured in this Post
Comments