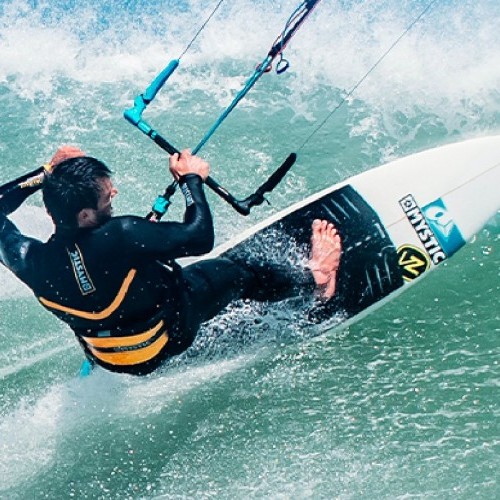 New Mystic Spring/Summer '19 Collection Is Out Now!
Wed 13th Mar, 2019 @ 12:00 am
A season filled with new products and innovations. Let us take you through some highlights!
LEN10 collection
The best of the best, the new LEN10 collection is made for those who want nothing but the best.
Designed and tested together with big air legend Ruben Lenten, slick design meets superior quality. The LEN10 collection begins with a brand new LEN10 zip free wetsuit. The outer lining uses Knitflex, our brand new high-end stretch outer lining which is more durable, fast-drying and looks and feels amazing. Introduced in the LEN10 collection, our design team created Flaremesh, a revolutionary new inner lining with extraordinary stretch, warmth, and comfort. for increased warmth, the flare mesh lining has a heat reflective carbon backing and a high pile for extra insulation and a soft, quick dry feel.
Ruben Lenten: "The new Mystic LEN10 Majestic X harness is the most comfortable and perfect harness I have ever seen and felt. I couldn't believe how snug and nice this harness feels, even without a wetsuit. The harness provides unmatched support and it doesn't move."
It's no surprise that the Majestic X LEN10 is Mystic's top harness. You won't find a more comfortable harness, the Flaremesh on the inside gives extra insulation and a soft touch for riding without a wetsuit. The stiff Bionic Core Frame is extremely stiff while maintaining its diagonal flex, featuring an unequalled carbon construction. To top it off, we've added a LEN10 impact vest, impact boxer, LEN10 HP leash, Ocean Jacket and balaclava. Check them all out on our website.
Majestic Zip free
Our new high-performance zip free wetsuit sets a new standard for comfort. It's 100% M-Flex 2.0, has waterproof stretch taping on the inside, polar lining on the chest and back (full suit only) and it's super easy to get in and out of it. Due to the zip free construction, it's a super flexible suit. Nothing holds you back from doing the sickest tricks! The Majestic zip free is available in a 4/3 full suit and 3/2 longarm shorty.
Gem Bruna and Gem Jalou pro harness
Developed together with Triple Freestyle World Champion Bruna Kajiya and Triple Kitesurf World Champion Jalou Langeree, the Gem Bruna and Gem Jalou return with awesome new graphics, and improved fit and performance. The hardshell harnesses are designed with a specific body mapping to create stiff horizontal support and the orientation of the roving glass fibres allows the wings to flex diagonally. The Gem gives you optimal support and is still able to twist and follow your body.
Jalou's harness is a colourful joy, match it up with a wetsuit out of the Diva Summer Series. The Gem Bruna also has a great new colourway that matches THE styles within the Diva Summer Series collection, and of course Bruna's signature bikini.
Diva Summer Series
It's almost time to put away the full suits and get ready for summer. The Diva summer series allows the ladies to shine like a diamond and will be all they need during their summer travels. The line consists of a longarm shorty, longarm super shorty, neoprene pant, neoprene jacket, crop top, short John and long John. From colourful patterns to stylish black, we've got you covered!
Apparel
Loaded with styles to wear before or after your sessions, or for those down days on the beach or during a hike, our new apparel collection is next level! From jackets, sweats and tees to boardshorts and bikinis, we've got you covered. Easy to mix and also with your water wear products, Mystic will make sure you look as good on the water as on the land! Be sure to check out the new board shorts range; they have all been updated with the M-Fly, a unique shaped closure that keeps the waistband flat and secure. Combined with the motion 3d waistband it's guaranteed to stay comfortably in place. The legend boardshorts is the leader of the boardshort pack, with 4-way stretch, sealed zip pocket, welded seams, and is our most high-performance board short. Check out our full collection on mysticboarding.com
Stay tuned for more exciting news during the season. We will launch our revolutionary new spreader bar end of April!
Click here to view more Mystic products.
Featured in this Post
Comments