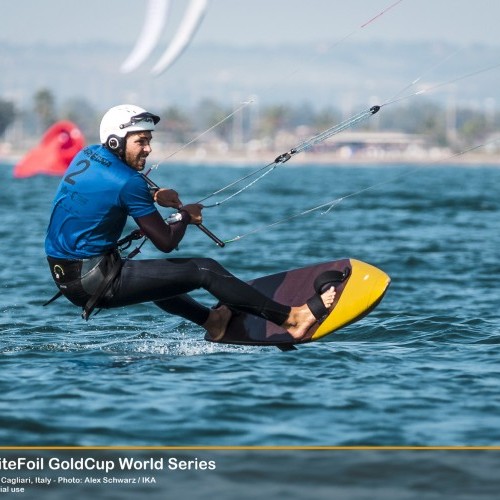 Nocher Crowned at KiteFoil World Series Final as Parlier Takes Sardinia Grand Slam
Mon 22nd Oct, 2018 @ 12:00 pm
Congratulation Maxime Nocher and Kirstyn O'Brien! With Maxime finishing 2nd here at the KiteFoil Gold Cup Final in Sardinia, behind Regatta winner Nicolas Parlier, he takes the title as World Champion 2018. For the girls, Daniela Moroz won the Kite Gold Cup Final this week, but Kirstyn had enough series point to still take the world title.
Win a Custom Designed Ozone Twin Tip this issue in our FREE subscriber prize draw.
Monaco's Maxime Nocher trumpeted his comeback when he lifted the KiteFoil world champion's crown after a stuttering World Series final fought out on the Italian resort island of Sardinia.
Nocher added to his haul of world titles at the climax of the three-stop International Kiteboarding Association (IKA) KiteFoil World Series, with a second podium spot at the Sardinia Kiteboard Grand Slam that earned him the tour's best overall racer.
"It's very nice," said Nocher. "I'm really happy to come back after the last year. I still have a lot of work to do, but I'm going to come back stronger next year. Now I know my weaknesses and I'll have to be even faster."
The three-times Formula Kite world champion was bested at the series-closing Sardinia event by bitter rival, France's Nico Parlier. He took the win and a share of the €20,000 prize money at the five-day competition dogged by fickle breezes.
"I'm pleased with the result here and I'm pleased with my racing," said Parlier. "I managed to stay in the lead and beat Maxime Nocher. We were tied on points, but I was able to stay ahead of him and take the win."
Britain's Guy Bridge took a bullet with superlative racing in the only race of the final day on the track off Cagliari's Poetto Beach, leaving both Nocher and Parlier in his wake in the smooth waters under the Sella del Diavolo (Devil's Saddle) promontory.
The British teenager notched up two bullets, but a critical lack of wind throughout the four days of competition that allowed just four races in all meant that he was unable to discard a poor early score for a disqualification for a tangle.
Fellow countryman Connor Bainbridge finished the Sardinia finale in the fourth spot just behind Germany's Florian Gruber. But it was enough for him to take the KiteFoil World Series' second podium spot after strong performances in the back-to-back stops in China last month, marking his leap up the rankings.
"I came here to finish on a high," he said. "This season's been great for me. What changed for me was that I got my head down and worked hard—an extra hour on the water or in the gym. So it's worked out. I'm really looking forward to what's to come."
The women's KiteFoil World Series title was taken by Kirstyn O'Brien (USA), after she alone competed at all three stops, ahead of Daniela Moroz (USA) and Elena Kalinina (RUS). The late cancellation of the planned final in Oman meant racers could not discard a score from any event.
O'Brien made a last minute decision to switch plans and compete in Cagliari after the Oman event fell through, one that paid off for her when she lifted the title.
"It's very surreal for me," said O'Brien. "I know if we'd had another stage in the World Series the competition would have been really tough."
Moroz, the triple Formula Kite world champion, topped the women's podium at the Sardinia Grand Slam ahead of Britain's Steph Bridge. The American teenager was pleased with the performance that saw her finish a remarkable thirteenth overall, racing among the strong mixed fleet.
"The first day went quite well, but after that wasn't quite a good as I wanted," said Moroz. "But now this gives me the motivation to keep training this winter and come back really strong next year. I was just happy to be here. We've had a fun week even though we got a little unlucky with the wind."
2018 KiteFoil World Series—Men
1 Maxime Nocher (MON) 299 pts
2 Connor Bainbridge (GBR) 290 pts
3 Théo de Ramecourt (FRA) 289 pts
2018 KiteFoil World Series—Women
1 Kirstyn O'Brien (USA) 209 pts
2 Daniela Moroz (USA) 173 pts
3 Elena Kalinina (RUS) 169 pts
Sardinia Kiteboard Grand Slam—Men
1 Nico Parlier (FRA) 10.0pts
2 Maxime Nocher (MON) 11.0pts
3 Florian Gruber (GER) 20.0pts
Sardinia Kiteboard Grand Slam—Women
1 Daniela Moroz (USA) 56.0pts
2 Steph Bridge (GBR) 133.0pts
3 Nina Arcisz (POL) 157.0pts
To view the full results, please click here.
Featured in this Post
Comments