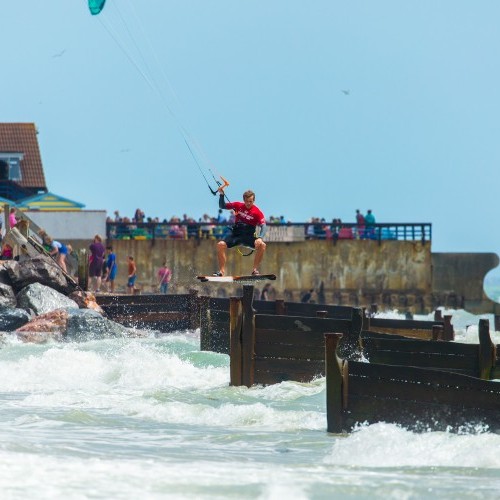 The 2018 Kitesurfing Armada Festival Preview
Thu 7th Jun, 2018 @ 12:00 pm
Are you ready for the 2018 Kitesurfing Armada? Kitesurfing, live music, and good times are coming to the Hayling Island from June 22nd – 24th. This year's festival looks to be bigger than ever. Ryan Mizzen tells us what we can expect. Photos by Eunice Bergin and Aidy Brooks.
The Kitesurfing Armada Festival returns to Hayling Island, on the south coast of England for its sixth year. Taking place from the 22nd – 24th of June, it offers a fantastic weekend of kiting, live music, fundraising, family activities and much more! Not only has it been voted the best UK kitesurfing event for the past three years, but it's also raised over £180,000 for charity. Whether you're taking part in the kitesurfing or watching the live music with a drink in-hand, there's something to keep everyone entertained!
Win a Custom Designed Ozone Twin Tip this issue in our FREE subscriber prize draw.
Kitesurfing
Recreational kitesurfing is available anytime, and you can choose to get involved with events such as big air competitions, pro clinics, foiling, the British Kitesurfing Championships, the Kite SUP Run charity challenge and more! If you're participating in the kitesurfing activities, you'll need to purchase a ticket online here.
In 2016, the Kitesurfing Armada on Hayling Island set a new Guinness World Record, with 423 kitesurfers on the water! If more than 423 kitesurfers are pre-signed up for this year's event, then another world record attempt may take place.
Brands Marquee
The Kitesurfing Armada Festival is the largest kitesurfing event in the UK, which brings together the biggest brands in the industry. It doesn't matter whether you're an experienced kitesurfer, or someone who is keen to find out more about the sport as you'll have plenty of opportunities to speak to experts in the expanded brand marquee.
Music
This year, more bands than ever before will be playing across the indoor and outdoor stages. A silent disco afterparty is another first for the festival! You can find the full band line-up here.
Food and Beverages
Ringwood Brewery have partnered with the Kitesurfing Armada in 2018 and will be serving their ales at the festival. The Bug Bar will also be on hand with summer cocktails. The Big Eats Co will be providing a wide selection of food, including veggie options.
Other Activities
Kitesurfing industry experts and pros will be giving talks throughout the event in a dedicated marquee. You can also catch demonstrations from the pros on the water! This year the festival has teamed up with Action Sports Tour, who will be setting up a BMX track and showcasing their best riders at the festival!
The festival has a dedicated health and wellbeing zone, which includes hot tubs, yoga and massages! There is also a family zone, with face painting and children's activities.
Camping
Camping and campervan tickets for the whole weekend (Friday 11am to Sunday 8pm) can be purchased here. Over half the camping tickets have already been sold, and it's expected that they will sell out once again. So, to avoid disappointment, it's advised to book as soon as possible! It's worth noting that a camping ticket doesn't include participation in kitesurfing activities– a separate ticket is required for kitesurfing.
For the first time this year, Camplight will be at the Kitesurfing Armada. Camplight rent out tents (and many other camping accessories) and will deliver, set-up and take down a tent of any size for you, as well as provide sleeping mats and sleeping bags. You can save the hassle of taking your own tent and rent one in advance from Camplight for an additional fee. Read more here.
Visitors
Everyone is welcome at the Kitesurfing Armada, and tickets are FREE for visitors. You can get your free visitor pass here.
You can find out more on the Kitesurfing Armada website, Facebook and Twitter pages.
Featured in this Post
Comments