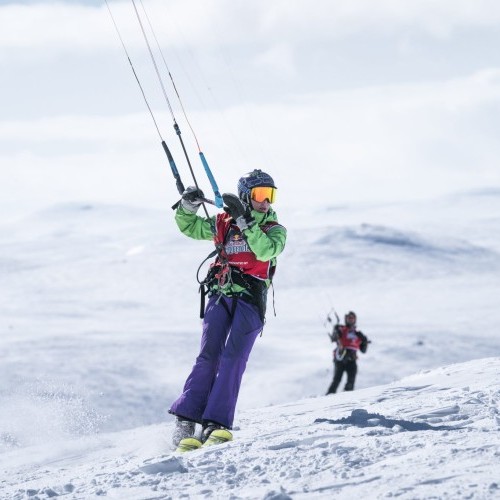 Red Bull Ragnarok 2018 – the toughest race yet…
Features / Fri 13th Apr, 2018 @ 9:00 pm
Having completed the race in 2015 and 2016 I was confident that I could do it again…how wrong I was. With only 3 competitors finishing 5 laps in 5 hours, the 2018 Red Bull Ragnarok was the toughest one yet.
In the months running up to the Ragnarok I made every effort to ensure I was ready to race. I ordered Atomic 218cm world cup downhill skis from an ex professional racer. These skis have a turn radius of 50m so are exceptionally fast in a straight line, they are however very narrow and extremely heavy which makes them difficult to ski with. The Ragnarok really is an endurance race and, in my experience, seriously aerobic – 5 hours of kiting, skating through deep snow and the inevitable trudging back and forth to the kite when re-launching in light or non-existent wind! From the January 1st until the day of the race I ran approximately 80 to 100 miles every week. (I was also in training for the London Marathon which was/is an added incentive to make sure you are in peak physical fitness!)
Travelling to the Hardangervidda National Park from Bergen is truly exceptional.  We passed stunning fjords and extraordinary feats of Norwegian engineering – two of the tunnels even have roundabouts in the middle of them! We arrived with a day to practice ahead of the event. After chatting with a local I discovered this area in Norway was experiencing a record snow season, with the most snow for 10 years.  The road that crosses the national park has many brilliant launch spots; I took my 9m F-One Diablo and tested out my skis for the first time. The powder didn't make it easy, but I was getting the hang of it gradually. At one point I buried my skis in a deep snow drift, double ejecting and falling flat on my face – hilarious had anyone watching I'm sure, but slightly disconcerting when the race itself was only a matter of hours away the next morning. Full concentration would definitely be required for the duration!
The race briefing on Friday morning was filled with both excitement and nerves. The route was set: 100km around a 5 lap course with a time limit of 5 hours. With the wind forecast to drop steadily throughout the day the competitors were keen to get going. Lorries and coaches were loaded up with kites, snow gear and people and off we went!  We arrived at the plateau to find absolutely zero wind: it was going to be a challenging day. Nevertheless, we grab our gear and start hauling it to the launch area.  This would be the first major challenge of the event, dragging four kites, several bar & lines and a pair of skis in knee deep snow was exhausting. At that moment I would have paid good money for a lift on a skidoo!
Miraculously the wind filled in and before we knew it there was a notification that it was 15 minutes to the start. It was blowing close to 20 knots, but I launched my 15m Ozone R1 anyway as I knew the wind was forecast to drop. A bit of a risk, but it definitely paid off. In the past I have jostled for position on the start line even getting tangled once. This year I hung back and entered the start area with speed at 30 seconds to go. As the horn sounded I was just a few places back and tangle free, I considered this an exceptionally good start when there are 350 kites in one place!
Adrenaline was high as we raced to gate 1, the feeling of this race is indescribable. Passing through gate 1 in around 15th place I down-looped my kite and nearly wiped out – clearlystill getting used to those mega skis! Through gate 2 and we were quickly heading towards a cliff, as I ski down it I looked to my left to see a snowboarder had boosted off it and was flying through the air 30 foot up (see this POV edit from that jump: https://www.iksurfmag.com/kitesurfing-news/2018/04/red-bull-ragnarok-2018-in-2-words/ ).
I rounded gate 3 in 8th place, things were going well, the skis felt good and I had just the right amount of power on the 15m. In retrospect that thought process jinxed it for me. Just minutes later a few of us were tacking upwind through a valley and out of nowhere my kite came to a stand still – no wind whatsoever. As I watched my kite fall from the sky I wondered why on earth I kept coming back to this race. I struggled through the rest of lap one doing a mixture of kiting and hiking, finishing the lap in 1 hour 35 minutes.
As I passed back through the start line the wind switched on again so I stuck with the 15m kite. Laps two and three went exceptionally well in 45 minutes & 50 minutes respectively. I was making up for lost ground, and time, and overtaking people throughout these laps. At the start of lap four I checked my watch and knew that if I kept this pace up I could finish the race with time to spare! Frustratingly it was not to be… Lap four was the hardest of them all. My kite dropped another 5 or 6 times and my race ended about a kilometre away from completing the fourth lap. I had placed 15th overall and was completely shattered, my muscles were screaming at me and I was very dehydrated.
The crazy thing about this race is that within just a few hours you are already planning your next attempt. (Steph Bridge once likened it to childbirth!) I started asking myself what could I have done differently? I later found out that the ski winner Florian Gruber had launched a 20 meter kite for laps 2 – 5 and 2nd place Felix Kersten had swapped skis half way through to take advantage of the fresh wax. There is always room for improvement and that's what keeps bringing people back to this incredible event. That, and the sheer determination and enjoyment of a challenge that most others would shy away from. The fact it is set in one of the most breath-taking locations, with a fun and friendly vibe only adds to the attraction. Well done to all of the competitors, you are heroes!
Here's my footage from lap 1: https://www.youtube.com/watch?v=QbtHo6OGsSk&feature=youtu.be
Women's ski

Steph Bridge (GBR)
Frøydis Sjøvold (NOR)
Camilla Ringvold (NOR)

Women's Snowboard

Valeria Garaschenko (RUS)
Marie-Eve Mayland (CAN)
Aija Ambrasa (LAT)

Men's Ski

Florian Gruber (GER)
Felix Kersten (GER)
Jonas Lengwiler (SUI)

Men's Snowboard

Peter Martel (CAN)
Ronny Bollhalder (SUI)
Nikita Solokov (AUT)
Jack is a fanatically keen kiter from the South West of England, he loves riding just about anything with a kite from foil boards to surfboards and everything in between. He's competed in the Red Bull Ragnarok snowkite race on numerous occasions as well as some world class kite racing events. He's our Web Editor for the magazine, as well as one of our testers where his vast knowledge of the sport and different kites and boards comes in handy!
Featured in this Post
Comments