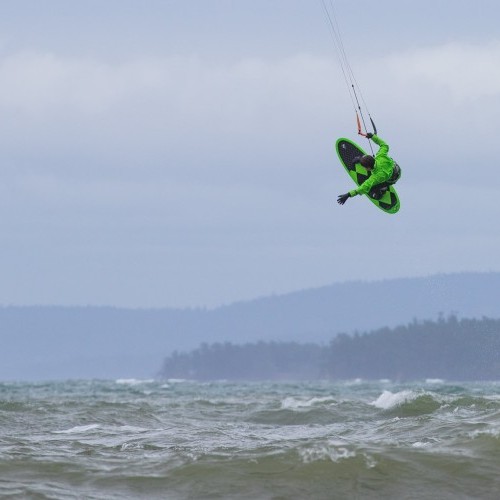 In Focus: Ocean Rodeo 2018 Kites
Features / Tue 10th Apr, 2018 @ 1:00 pm
Are You Next Gen Ready? Ocean Rodeo is proud to announce its Next Generation of kites! The new Roam, Razor, Prodigy, and Flite are all here and ready for your next session of #NoExcuses kiting!
Win a Custom Designed Ozone Twin Tip this issue in our FREE subscriber prize draw.
New Materials, a two pulley system, and innovative weight-saving technology have all been incorporate to critically acclaimed design and a tried tested and true process here on Vancouver Island, Canada to bring to you where ever adventure takes you.
GEN 6 FLITE
Provides high-performance dynamic riding with big lofty jumps even in the lightest of wind

The Flite is the lightest Kite we've ever made, but don't let that make you think it's like every other light wind kite on the market. This kite isn't just built to fly in light wind, it's built to perform. Tested on the rocky Pacific Northwest waters, the Flite's innovative construction still allows riders the chance to ride waves, boost big lofty jumps, and can build immense speed for those on a foil board. The Flite truly is the only high-performance light wind kite
For more information about the GEN 6 FLITE, please click here.
GEN 6 PRODIGY
Designed to be a freeride kite that doesn't compromise performance on waves and light winds

The Prodigy is our way of allowing you to do it all, with just one kite. We've innovatively designed our kite to perform in light winds, be able to take in waves and be able to boost lofty jumps, without having to compromise. Our Moderate Arc and 3 Strut design are what make this kite truly unique and enjoyable by kiters of all riding styles and skill levels.
For more information about the GEN 6 PRODIGY, please click here.
RAZOR C / SLE
Narrow C shaped arc for ultra-fast turning and consistent power

Get ready to #Loopit! The Razor is for those who want the maximum return, unbelievably tight turns, and it's innovative wingtip designs are optimized for mega kite loops. The Razor has been built Northwest Tough with new, lighter and more durable materials. Refined from our 6th generation to provide tighter turns, lightning-quick response, and uncompromising power allows freestyle riders to be more confident that this kite will be the one to unleash their inner beast without a second thought.
For more information about the RAZOR C / SLE, please click here.
ROAM
Dedicated Wave Kite

The Roam's 3 strut, large wingtip design makes it a dedicated wave kite like no other. The thick LE tube, combined with our use of KP-E DACRON and Teijin double ripstop allow this kite to provide session saving water relaunches. The deep foil profile in combination with a moderate arc provides for sharp responsive turns, maximum drift, and low-end power all with a large sheeting range.
For more information about the ROAM, please click here.
Sherpa Tech Bag – Another first from Ocean Rodeo
The Sherpa Kite Bag comes standard with all 2018 kites

We've all been there, draping multiple kite bags, pumps, and boards over every appendage of our bodies. Fumbling our way through rugged terrain in search of that perfect wave or glassy flat.
The Sherpa system makes it easy to connect and stack an unlimited number of kite bags off your back or chest for a perfectly balanced hike in and out.
Free up your hands and arms for effortless climbing. In seconds, stash your board and pump away. Designed for riders who search for the ultimate ride, it's never been easier to find out what's around the next headland.
For more information about Ocean Rodeo products, please click here
Italian/Egyptian Jen Tyler grew up on the sandy beaches of the Red Sea and has been on the IKSURFMAG & Tonic Mag team since 2017.
Featured in this Post
Comments