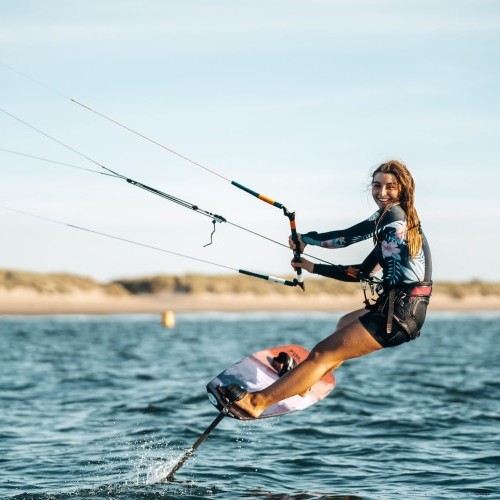 It's Official: Kiteboarding in the Olympic Games Paris 2024
Features / Mon 14th Dec, 2020 @ 9:00 am
With kiteboarding making its Olympic debut in 2018 at the Youth Olympic Games in Buenos Aires, it was only a matter of time before the sport would be added to the agenda at the Olympic Games.
We won't have too much longer to wait, as the Executive Board of the International Olympic Committee (IOC) has approved the Event Programme for the 2024 Olympic Games in Paris, and kiteboarding is on the list!
Kiteboarding will be in the sailing category in the form of mixed relay racing on foils. It is assumed that one male and one female competitor will be selected for each country, and the IOC is committed to equal participation from both genders, as was planned for the Tokyo 2020 Olympics.
French Sailing Federation president, Nicolas Hénard, had this to say:
"We are delighted and pleased with this decision. Kiteboarding is a very current, modern and spectacular discipline. It will attract a young public to our sport. As for the mixed doubles offshore race, we would have liked to have had the same decision. We remain positive, motivated and committed so that in May, the IOC will announce that ocean racing will be the longest event of the Olympic Games, of all times and for all sports. In addition, the 470 is becoming a mixed event. We are thus becoming a sport with perfect equity between men and women with today 3 mixed disciplines, which is unique to the Summer Olympic Games"
This portion of the event will be held in the south of France at the Marina de Marseille.
Foil racers are already hard at work training and participating in events such as the Formula Kite Championships, who have a race format that is expected to be very similar to that in the Olympics. If you plan to be following the debut of kitesurfing in the Paris 2024 Olympics, tuning into some of these Formula Kite events would be a great way to understand how the races work.
Cover photo by Dominik Leitner.
Editor at IKSURFMAG, Crystal Veness hails from Canada but is based in South Africa. When she isn't busy kitesurfing or reporting on the latest industry news for the mag, she is kicking back somewhere at a windy kite beach or working on creative media projects.
Featured in this Post
France
41,428
Germany
19,664
31,617
Comments