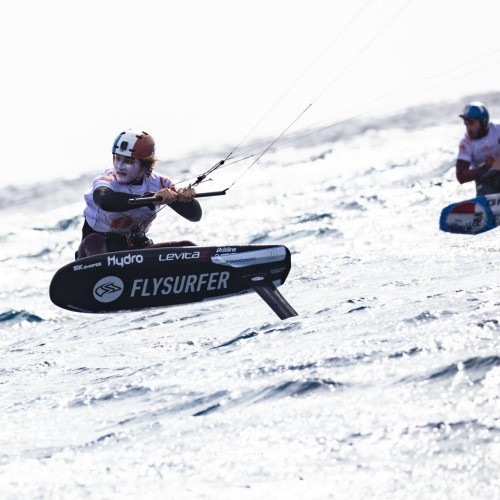 THE GRAND FINALE – 2020 Gran Canaria KiteFoil Open European Championships
Features / Tue 22nd Dec, 2020 @ 12:00 am
Gran Canaria proved to be the premium location for European December sailing once again today, with a perfect 16-20 knot breeze pumping through for the final day of racing. Theo de Ramecourt (FRA) secured the overall win in the open division, with Ellie Aldridge (GBR) taking out the Womens title and Arthur Lhez (FRA) crowned the Under 19 Champion.
Guy Bridge (GBR) led the pack early in the first race of the day but Maxime Nocher (FRA) managed to overtake by the first downwind mark and sailed a higher course on the following upwind, with Theo de Ramecourt sailing a lower, faster course, managing to overtake by the first tack. The lead was extended by the second downwind, with Theo taking a comfortable win in the first race of today over Maxime, with Martin Dolenc (CRO) completing the podium.
Due to the unusual weather conditions over previous days causing the racing to be behind schedule, the Race Committee planned to run six races back-to-back without a break today, supplying water and food to the on water personnel to be available to the riders to ensure they are able to remain competitive.
In a dramatic turn of events, event leader Theo de Ramecourt was back on the beach shortly after the start of the second race of the day, after an incident with another rider. Said de Ramecourt: "I crashed into Alexander [Ehlen] from Monaco and I snapped a bridle so I couldn't go upwind. I managed to come back ashore and thanks to Stan from SK Shapes I managed to fix it and go back out for the next race." Had he been unable to get back out on the water again, there was a very real possibility that his championship would be at risk, however, fortunately he was able to return to the race area and continue racing.
At the completion of that race, being Race 10, all competitors are now eligible to discard their two worst scores, which may have not affected the top of the leaderboard all that much, but caused much bigger changes further down the scoreboard. In the women's rankings, the second discard was most useful to Julia Damasiewicz (POL), who was previously carrying two DSQ's, but now jumps back up the rankings, directly behind Ellie Aldridge (GBR), as the two highest ranked female riders, sitting in 23rd and 24th overall.
"I am feeling the pressure a little bit," commented Aldridge. "She's [Damasiewicz] been right in front of me in quite a few races, it's quite funny how we always find each other on the race course and have some good battles."
With the weather conditions being perfect, the race committee decided to have a short break after Race 11, the third race of the day, having the competitors rest ashore for 20 minutes before heading back out for three more races as the wind remained perfect at 15-20 knots.
In Race 12, Maxime led Theo at the bottom gate, securing his first victory over his compatriot, the only other 1st place score for Maxime coming when Theo was ashore with damage during Race 10. Denis Taradin (RUS) took 3rd place, his third such result in this event, however the rider has unfortunately been plagued with issues at this event, registering three DNC's on his scorecard. With only two discards, he has to carry one of these in his final score, pushing him down the overall ranking.
As a testament to the dominance Theo de Ramecourt has shown at this event, just before rounding the bottom mark to head to the finish of Race 13, Theo had quite a big crash, which cost him approximately 15 seconds. However, Theo had such a lead over the chasing Nocher that he was able to recover and still cross the line 19 seconds ahead of his compatriot.
Overall it was Theo de Ramecourt who sealed the victory after the 14th and final race of the day, with Maxime Nocher securing silver and Guy Bridge completing the podium. "It was really intense on and off the water but I am super stoked I was able to do it," said de Ramecourt. The Open Champion completed the final race using a different, smaller hydrofoil from the same brand, an example of the advantages of the open development nature of the class. He commented"I felt really good with my equipment, I work really closely with the designers, so I decided to go to the smaller one [foil] which I really like. It all worked perfectly! I am really looking forward for (sic.) more events next year!"
In the Under 19 category, it was another Frenchman who placed 1st; Arthur Lhez (FRA). Said Lhez "I am really happy to win the U19 division because this is my last year [as a youth]. The first two days were really tough, mentally and physically, and these last two days were super hard for me. I crashed super hard today and had a big headache but I was always focused and tried to keep smiling and I think that is what made me win!"
Challenging Arthur in the youth categories were Jakub Jurkowski (POL) in 3rd, and Maximilian Maeder (SIN). Maximilian performed brilliantly at this event, finishing 2nd in the Under 19 category and 12th overall. Additionally, he was also competing in the Under 17 and Under 15 category, at just 14 years of age. Said Maeder "It is very exhilarating! I feel that I make way too many mistakes, and I am just a rookie in how to stay at the top. There are a lot of people who can be competitive at the top, but what truly makes the best people the best is they can keep that top spot once they've got it. I don't feel that I have that level of consistency yet, I am too inexperienced, but luck went my way and here I am!"
Jakub has proved to be a promising rider as well, with Maximilian commenting "His nickname is 'Speedy!' He finished behind me here, but knowing how he trains and how dedicated he is, in the future I think he could be a great opponent!"
Finishing in 23rd overall, Ellie Aldridge secured the Womens title, ahead of Julia Damasiewicz, with local crowd favourite Gisela Pulido (ESP) achieving the bronze position. "It was a good event. The first few days were a bit sketchy, the wind was difficult to predict, but today was really good, it felt like proper racing. Some of the other girls were a bit unlucky with protests in the past couple of days, so it gave me a bit of a gap, but today was really fun racing around with them. Even though we are all racing in one fleet, all the top girls are kind of together, so it's really fun to have super tight racing with both Julia and Gisela." said Ellie.
Words: Oliver Hartas
Full results: https://www.kitefoilworldseries.com/sailwave/liveresults.htm
Editor at IKSURFMAG, Crystal Veness hails from Canada but is based in South Africa. When she isn't busy kitesurfing or reporting on the latest industry news for the mag, she is kicking back somewhere at a windy kite beach or working on creative media projects.
Featured in this Post
Spain
77,177
2,594
Comments