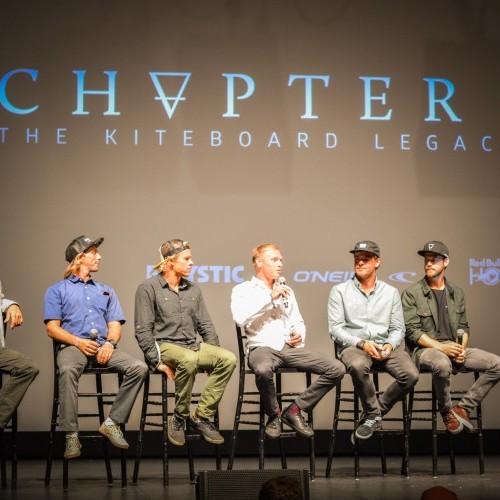 Is This The Biggest Thing That Ever Happened To The Sport Of Kiteboarding?
Features / Sun 25th Sep, 2016 @ 9:00 pm
Chapter One: The Kiteboard Legacy Begins had its world premiere in San Francisco on September 15th, and it was pure magic. It is the first movie of its kind, and unquestionably the biggest project that has ever come from the kiting community.
Chapter One tells the stories of riders, dreamers, competitors, innovators, and passionate individuals in the most beautiful and challenging environments in the world. It is to kiteboarding what The Art of Flight has been to snowboarding. It's a feature length movie packed with stories of discovery, success, struggle, and laughter highlighted by stunning cinematography, artful editing, and a soundtrack that pulls you straight into the moment. Whether you've tried kiteboarding or even heard of it, it's impossible to deny that this film is a quality piece of art.
You know those 4K, slow-motion shots of waves crashing and athletes crushing it with the sunset exploding in the background? The shots that have you gasping for breath? Chapter One is full of them. And it's one after the other after the other. I almost passed out from a chest too full of air, so caught up in a string of incredible moments that I forgot to exhale.
Explore. From the deep connection to nature and waves and water with kiteboarding originals Pete Cabrinha and Robbie Naish in Maui to extreme big air with Aaron Hadlow at the Red Bull King of the Air in Cape Town, South Africa. From a sweet getaway in Indonesia with brother and sister team Kevin and Jalou Langeree, to devastatingly huge waves in Hawaii with Jesse Richman. Leap off the roof of Necker Island's Great House with daredevil Nick Jacobsen, meet freestyle champions Liam Whaley, Carlos Mario, Bruna Kajiya, and Youri Zoon in Brazil, and grind rails with kite park trailblazers Sam Light and Sam Medysky. See a one-of-a-kind kite boat sail under the Golden Gate Bridge in San Francisco with innovator Don Montague.
Well beyond the beautiful vistas and fancy freestyle moves, Chapter One dives into the gut-wrenching journey that megaloop champion and kiteboarding legend Ruben Lenten faced with cancer. From being at the top of his field to noticing a shortness of breath that led to a terrifying diagnosis, you'll fight back tears as you hear about Ruben's difficult journey. You'll see the footage and fear surrounding Lewis Crathern's gnarly crash at the Red Bull King of the Air that left him in a coma for nine days and shook his closest friends, fellow competitors, and the thousands of people watching from the beach and around the world.
We all know that kiting – like everything in life – is a series of highs and lows. There is adrenaline, and there is peace. History and growth. Chapter One tells these honest stories about kiting and the human experience. There are moments in this movie that will capture both kiters and non-kiters, and hopefully, inspire more to join the sport.
So how did the Chapter One movie come about? It started with Eyeforce, the Dutch production company that conceptualized, filmed and produced Chapter One. A few years ago, during the Extreme Tech Challenge hosted at Necker Island, the crew at Eyeforce – who are known for producing the Hidden Lines kiteboarding series – found themselves on a sailboat with the team at WeTransfer, a cloud-based file sharing service with a unique, design-driven interface that were so excited by the idea they couldn't help but get involved. At Necker Island, home of Sir Richard Branson… kiting is the sport of choice amongst entrepreneurs, travelers, and athletes alike. In this ideal environment, the dream of Chapter One began its journey to the big screen.
Eyeforce could not have hoped for a better partner to bring this movie alive. WeTransfer is deeply involved in creative communities, partnering with artists, musicians, and athletes by supporting their crafts and sharing them with the world- a core focus of their company. The Chapter One movie is the biggest sport-related project that WeTransfer has been involved in. Along with WeTransfer, the Red Bull Media House has partnered with the team at Eyeforce to develop this project, which has spanned 2 ½ years, was filmed in 9 countries, with 21 riders, produced 9 terabytes of jaw-dropping footage, and a 7-month editing process. Chapter One was created by a dream team of absolute talent and creativity that bursts out of every scene.
So what's next for kiteboarding?
It's our responsibility as kiters and as people who love this sport to share that passion with others. We have an ideal tool for sharing and expanding our sport in the form of a truly incredible movie. The Chapter One Movie is building that bridge that the curious can tiptoe across to see inside our world. Watch it. Share it.
Chapter One: The Kiteboard Legacy Begins will be available for free on Red Bull TV on October 10th.
QUOTES FROM THE ATHLETES:
"I truly believe everyone is a kitesurfer and most people don't know it yet." – Ruben Lenten
"Chapter One will bring the sport to the next level." – Kevin Langeree
"The Lion King put me in tears only once… this movie put me in tears maybe three times. Definitely two." – Ruben Lenten
"Follow your passion. It will take you everywhere." – Don Montague
"A lot of preparation went into that jump… At least an hour." – Nick Jacobsen (Necker jump)
"I'm so fortunate to have people around me that make me want to enjoy life and live it." – Ruben Lenten
"Overcome what you need to. Overcome and fucking get on with it." – Ruben Lenten
"Follow your passion. As a 12-year-old boy, I was like "What kind of answer is that?" But do what you love to do and become good at it. I found my passion at a pretty early age. A passion for life in general."-Kevin Langeree
On when the kiteboarding life sucks: "Airports." –Don Montague
On tips for people who want to learn: "Grow some balls and get after it." –Ruben Lenten
Editor at IKSURFMAG, Crystal Veness hails from Canada but is based in South Africa. When she isn't busy kitesurfing or reporting on the latest industry news for the mag, she is kicking back somewhere at a windy kite beach or working on creative media projects.
Featured in this Post
58,627
47,797
76,703
Comments