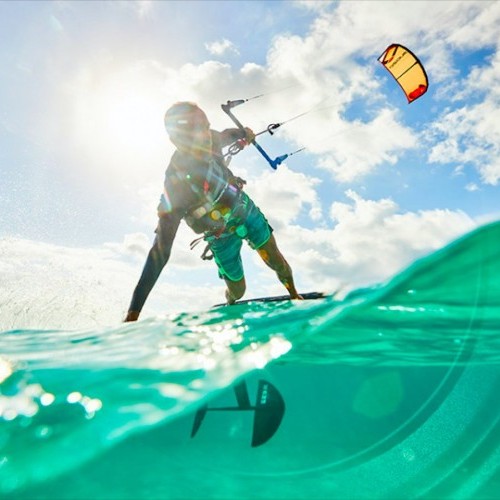 In Focus: Ozone 2020 Product Overview
Features / Sun 5th Jan, 2020 @ 1:30 pm
Inspired by Nature, Diven by the Elements – Ozone is one of the world's leading manufacturers of kites and paragliders, created around a small but dedicated team of passionate riders and pilots. The Ozone team shares the same outstanding passion for nature, exciting sports, and progress. Check out their 2020 line up, right here.
Ozone's 2020 Kites
Catalyst V2
Win a Lieuwe Shotgun Paradise Series Board this issue in our FREE subscriber prize draw.
The first thing you will notice is the V2 is very stable and predictable to launch, land and fly. It has "sheet in and go" power delivery, helping you to get up and ride easily. The wide wind range and progressive de-power let you ride in variable and gusty conditions comfortably. The updated airfoil section produces efficient power even when the kite is at the edge of the wind window, helping you to ride upwind, giving you more time to spend improving your skills!
A huge smile factor comes standard on the Catalyst V2. It is a fun, and easy kite to ride that will make your progression in the sport fast, safe and enjoyable. The predictable power and lift make first jumps a breeze with easy loft, good hang time and smooth landings.
Making life easy the water re-launch is incredibly simple and intuitive due to its unique shape and increased leading edge tube diameter. By simply turning the bar or using the re-launch balls on the leader lines, the kite will easily roll over into the re-launch position ready to take off from the water.
Our time-proven Front Line Flag Out release system is simple and effective; it is the same system featured on our entire water kite range. When the Click-in Loop is released, the kite will flag out to one front line, immediately stopping all power delivery from the kite.
The Catalyst V2 is the choice for anyone getting into the sport or for riders looking for a fun, confidence-inspiring kite with ease of use at its heart.
Features
Fun, easy and intuitive to fly
Large wind range with progressive de-power
Simple and quick re-launch
The kite of choice for entry-level to intermediate riders
For more information on Ozone's Catalyst V2, please click here.
Alpha V1
Win a Lieuwe Shotgun Paradise Series Board this issue in our FREE subscriber prize draw.
Grab a twin tip and go cruising or jumping, enjoy the ride while progressing with ease. You will be surprised at the jumping and looping capabilities of the Alpha; it has a smooth lift and hang-time with precise feedback. The Alpha has great upwind performance thanks to the innovative flat arc design and an efficient high lift airfoil section.
The lightweight design translates to incredible low-end performance making the Alpha a very competitive choice not only for light wind freeriding but also the expanding freeride hydrofoil scene in almost any wind strength. The power to de-power stroke is progressive and dynamic enough to provide smooth lift for transitions and jibes with a foil board.
For high wind foiling in chop or waves, take a small size with shorter lines for loads of fun drifting the kite while carving swells across the wind.
In the surf, the Alpha is perfect for drift style wave riding as it floats with you. The handling is direct and responsive, which allows you to put the kite where you need it. The Alpha is not as dedicated to waves as the Reo, but it still delivers reliable performance in cross-shore to on-shore conditions.
Water re-launch is easy, by simply turning the bar or using the re-launch balls on the leader lines, the kite will roll over into the re-launch position.
Going travelling? Take the Alpha with you, it's incredibly lightweight, packs small and can do anything you want to do on any given day…
The Alpha V1 comes standard with an ultra-lightweight Compressor Bag, perfect for travelling and day-to-day protection for your kite. It is easy to use and compresses a kite to minimal size. Combine with the Technical Bag to fit multiple kites inside one carry bag.
Features
Single strut design
Freeride and travel specialist
Fantastic performance for freeride hydro-foiling
Incredibly lightweight
For more information on Ozone's Alpha V1, please click here.
Reo V5
Win a Lieuwe Shotgun Paradise Series Board this issue in our FREE subscriber prize draw.
The Reo's unique flying characteristics allow you to maximise the potential of every wave, giving you the freedom to smash the lip, clear a section, carve turns or snap in the pocket. Fast direct handling and perfect drift combined with amazing de-power and the ability to absorb gusts means you can choose exactly where you want to place yourself on a wave to make that next move.
The Reo V5 features our innovative Variable Bridle Geometry (VBG). The new bridle settings extend the kites operating range, bringing another level of versatility to this already outstanding design.
Setting 1: The way we know and love the Reo – a balanced and refined feeling from the kite with good forward speed perfect for most conditions, and excelling in cross to cross-off winds. The kite can sit further to the edge of the wind window when de-powered, drifting as you ride down the line. Setting 1 is the upper knot on the VBG Pigtails.
Setting 2: A new feeling and characteristics – the kite sits a little further back in the wind window and tackles onshore conditions with ease. Increased bar pressure improves feeling from the kite when a wave is pushing with the wind. If you prefer a slightly heavier feel, this could be the setting for you. Setting 2 is the lower knot on the VBG Pigtails.
The Reo V5 features our new stronger and lighter strut construction. The wingtip shape has also been refined with our new tapered tip and slim line deflector. We understand the importance of aerodynamics and weight saving especially on a kite where drift is imperative, so every detail has been refined to be as light as possible while maintaining the strength and integrity you expect from an Ozone product.
We've maintained the quick and easy re-launch – by turning the bar or using the Re-launch Balls on the leader lines; the Reo V5 will roll over and take off from the water in an instant. This is especially helpful if you're stuck in the impact zone and need to get out of there fast!
Features
Wave riding specific design
Versatile performance in all conditions
Two-Variable Bridle Geometry settings
Direct handling, huge de-power, insane drift
For more information on Ozone's Reo V5, please click here.
AMP V1
Win a Lieuwe Shotgun Paradise Series Board this issue in our FREE subscriber prize draw.
The design team focused on creating a kite that was both predictable and adaptable for hooked and unhooked riding. The AMP has been developed to grow with you; no longer are the progressive kites for just the Professionals!
Whether you're learning your first un-hooked raley, boosting kite loops, or styling out the advanced park and freestyle manoeuvers, the AMP will keep you in control with the highest level of feedback, predictable turning speed and a similar feeling precisely tuned across all sizes. It is ultra-smooth to fly and provides inspirational confidence to go for it!
The AMP features three unique and easily interchangeable performance settings to complement your skillset and riding needs:
4-Line Bridle Mode Setting 1 – Freeride / Freestyle / Kite Loop
4-Line Bridle Mode Setting 2 – Unhooked Freestyle / Park
5-Line Mode – Unhooked Freestyle / Park (Advanced)
Backline adjustments allow you to tune the AMP to your personal preference further. The attachment closest to the trailing edge provides lighter bar pressure and faster turn speed. The attachment closest to the leading edge offers heavier bar pressure and slower turn speed.
There's no need to feel left behind, join the progression and stay AMP'd!
Features
User-friendly progressive C-kite
Primary focus on being predictable and adaptable
Two-Variable Bridle Geometry settings (4-Line Mode)
5-Line conversion option
For more information on Ozone's AMP V1, please click here.
Edge V10
Win a Lieuwe Shotgun Paradise Series Board this issue in our FREE subscriber prize draw.
If you want to ride fast, send it for massive air and hang time to reach altitudes reserved only for the gods the Edge is for you. Even though it can be seen winning podiums and floats riders high above the water, don't be afraid, this is a user-friendly powerhouse that anyone can handle. Easy to access performance comes naturally through this super-charged free ride kite; it is an explosive high adrenaline machine that will leave you in withdrawal after every session.
Now reaching its 10th version milestone, the Edge is as popular as ever and has been meticulously revised to take you beyond. The Edge V10 is incredibly smooth in the air thanks to refined profile sections and a new wingtip shape. The canopy has increased support and maintains form even in gusty conditions.
The handling reaction time has been improved; it drives faster through turns, making it easier to send it big and maximise satisfaction from your free ride sessions. The bar feeling is smoother and more progressive on the back lines as the kite transitions through the angle of attack range, helping during take-off to perfectly time your jumps.
On the SNOW! Yes, that's right, the Edge V10 is possibly the best inflatable kite in existence for taking advantage of the cold white stuff. It's got speed, power, and the best attribute is how easily you can get air – all you have to do is gain speed, edge hard and send it!
Features
High adrenaline free ride machine
Massive air and hang time
Warp speed riding
Highest performance LEI race kite
For more information on Ozone's Edge V10, please click here.
Zephyr V6
Win a Lieuwe Shotgun Paradise Series Board this issue in our FREE subscriber prize draw.
With an incredible wind range, the Zephyr gives you the possibility to continue riding when the wind increases, this unique attribute sets it apart from competitors.
The sixth version of the Zephyr brings modifications to the profiles, increasing the canopy stability for a smoother feeling in the air. The revised sail tension calculation and a refined bridle set up improve bar feeling and operating range.
Having the power of a 17m kite on-demand with the feedback of a 13m translates to more fun in light winds. The incredibly nimble handling with a tight radius turn, ease of use and the ability to have fun in low winds characterises the Zephyr.
It is perfect for cruising, jumping, air style, honing strapless airs or learning handle passes. The boost is impressive and floaty, with instant power delivery and superior up-wind performance. Re-launch is surprisingly quick and easy considering its size, by merely turning the bar or using the Re-launch Balls on the leader lines the kite smoothly lifts off the water ready for more action.
The Zephyr V6 is the perfect accomplice for when the wind is looking light or unstable; it will get you out enjoying the conditions for any length of time whatever the style you choose to ride. Or if you mainly ride in light wind spots and are looking for an all-round one-kite quiver, this is the kite for you.
Features
Light wind specific
Huge wind range, 6-20 knots
Tight radius turn for great pop and fun
Easy to fly and re-launch even in light winds
For more information on Ozone's Zephyr V6, please click here.
Hyperlink V2
Win a Lieuwe Shotgun Paradise Series Board this issue in our FREE subscriber prize draw.
With unparalleled stability, lighter weight improved handling and bar feeling the V2 design takes it to the next level. It excels on all surfaces, with our innovative valve design it can be set up for the water, snow and land, as a Closed Cell or Open Cell kite.
The Hyperlink V2 features an all-new material combined with a durable, airtight and lightweight double rip-stop for the upper and lower surfaces. The new material has a unique formulated coating to help shed water, improving flying characteristics and water re-launch. The Hyperlink V2 is durable and strong while being as lightweight as the V1 Ultralight version.
The Hyperlink V2 is a mid aspect ratio design incorporating a minimalist bridle set up, ensuring the kite is user-friendly for those leaping inflatable to foil kites. Our latest bridle calculation enhances load distribution and combined with a new arc improves the overall performance of the Hyperlink V2. The handling is sharper with a refined bar feeling that is closer to the feel of an inflatable kite.
Our new valve design and position with a new internal structure increases inflation efficiency. Newly designed drainage valves at both wingtips seal to keep the air in and open up when water needs to drain out.
The ability to safely self-land a kite on the snow or land is a crucial feature when adventuring the backcountry or high mountain areas. We have completely re-designed the Hyperlink V2 internal structure and inflate valves to incorporate our industry-leading Internal Re-Ride Release System – the same system featured on our dedicated Snowkites.
A true multipurpose foil kite with a new feeling of freedom, the Hyperlink V2 covers almost every aspect of Kiting. Freeride, hydrofoil, boost and float, air style or unhooked, backcountry snow missions, you name it, and it delivers!
Features
The most versatile foil kite on the market
State of the art design technology
The new lightweight, airtight and durable double rip-stop material
4-Line Closed Cell and 5-Line Open Cell modes
Industry Leading Internal Re-Ride Release System (Open Cell Mode)
For more information on Ozone's Hyperlink V2, please click here.
Ozone's 2020 Twintip Boards
Base V1
Win a Lieuwe Shotgun Paradise Series Board this issue in our FREE subscriber prize draw.
It is intuitive and comfortable to ride; the Base V1 will speed your progression from the first stages of learning through to getting airborne! An optimised mix of a progressive freeride outline and a single concave bottom shape transitioning to flat towards the tips provides control and stability in all conditions
The moderate to low rocker line facilitates early planing and makes upwind riding easy. The Base V1 offers an ultra-smooth ride thanks to the forgiving medium-soft flex pattern keeping you comfortable even in choppy conditions.
With the Base V1, you will have more time to spend concentrating on improving your skills, allowing you to master your first turns quickly, carves and jumps!
Features
Intuitive and comfortable to ride
Easy upwind riding
Medium-Low Rocker and Medium-Soft Flex
Progression for Entry level to Intermediate riders
For more information on Ozone's Base V1, please click here.
Code V2
Win a Lieuwe Shotgun Paradise Series Board this issue in our FREE subscriber prize draw.
The Code V2 maintains the progressive outline and medium rocker of the V1, as well as the double concave bottom shape developed specifically for Intermediate to Advanced free riders. This perfected combination provides a smooth ride in choppy conditions and powerful carving performance.
New spine style channels at the tips increase edge hold and control for higher boosting and improved upwind performance. The Code V2 has incredible control in choppy water and remains ultra smooth underfoot.
An updated flex pattern absorbs and controls fast landings, making engaged big air and kiteloops forgiving on touch down. In overpowered conditions, the swallow tip design combined with the new channels helps the board maintain an edge allowing perfect load up for big boosts.
The Code V2 has excellent carving performance as it flows effortlessly from rail to rail. It's stable in fast power carves and provides a very fluid direct onward drive. The board gains speed fast and drives hard upwind, delivering great response.
One of the main frustrations riders have on the water is the amount of spray they get in the face, the Code V2 addresses this problem and practically eliminates spray!
We love to see people enjoying themselves on the water, our aim with the Code V2 is to make riding even more engaging and easy to handle. The Code V2 fits a diverse range of riding styles and levels from free riding, cruising, big air, freestyle and unhooked freestyle. Equally at home in flat water, chop and waves, it's a high performing all-rounder that comes alive the second it hits the water.
Features
All Round Freeride Performance
Medium Rocker and Medium Flex
Progressive Outline with Amazing Control
Intermediate to Advanced Free Riders
For more information on Ozone's Code V2, please click here.
Torque V1
Win a Lieuwe Shotgun Paradise Series Board this issue in our FREE subscriber prize draw.
Providing uncompromised performance for freeriders and freestylers, the Torque is ultra-smooth and responsive, delivering explosive performance with amazing flex and hold to stick your landings.
The Torque carries the optimum width from the centre to the tips, the square tip outline allows for straighter rails that have more surface area to load up against for an insane pop experience, whether you are boosting airs with straps or throwing unhooked moves with boots.
The medium flex and rocker is a combination of the best of both worlds; soft landing and great upwind drive. A precisely tuned quad concave hull combats chop and keep the board tracking sharply.
The feeling, stability and predictability of the Torque mean it has never been so easy to progress in all aspects of twin tip riding, send it and see!
Features
All Round Freeride and Freestyle Performance
Medium Rocker and Medium Flex
Square Tip Outline with Amazing Pop and Control
Intermediate to Advanced Riders
For more information on Ozone's Torque V1, please click here.
Infinity V1
Win a Lieuwe Shotgun Paradise Series Board this issue in our FREE subscriber prize draw.
Alive with speed and manoeuvrability, the Infinity V1 redefines what we think of as a light wind board. It is livelier, lighter and smaller than other light wind specific boards on the market – the Infinity motivates progression! It has range too; as the wind increases, the Infinity remains smooth and controllable to ride thanks to its unique hybrid freeride-light wind outline.
Designed with a double concave bottom shape going flat towards channelled tips and optimised rocker line. This combination provides early planning, continuous board speed through lulls and impressive upwind performance. The Infinity rides high on the water for comfort in chop and ease of rolling into a turn.
Off centred inserts relieve stress on ankles while edging to ride upwind, this also allows for an easy load and pop in light breezes. The Infinity's cohesive flex pattern provides control when loading up for bigger airs, and the progressive flex towards the tips helps absorb landings smoothly.
Ideally suited for twin-tip riders who want simply to cruise, freeriders searching for a high-end light wind performance, all the way to freestyle addicts aspiring to throw unhooked tricks in a breeze. Don't find yourself sitting in desperation on the beach, take the Infinity and tear it up!
Features
Performance Lightwind
Classic twin-tip feeling
Impressive upwind drive
All rider levels
For more information on Ozone's Infinity V1, please click here.
The Plank V1
The biggest struggle students have after learning to body drag is to water start and edge correctly. The Plank's large surface area and square outline combined with a moderate to low rocker assure early planing and predictable board handling. With a single concave bottom shape, the Plank is smooth to ride and versatile for many conditions.
Off centred foot strap inserts increase comfort while edging and the inside heel edge fins provide extra tracking grip to reduce the board from slipping out when a student is learning basic edge control.
We have designed a helpful wind window diagram on the top side for instructors and students to reference during a lesson and serves as a reminder for students throughout their course.
The Plank comes with our V2 footpads and straps that are quick and easy to adjust, saving time when switching between students. The board handle is sturdy with a textured grip for added ease of use.
The Plank will have students smiling and hooked on the sport from their very first try. It is the perfect tool for developing the necessary skills to progress to the next level.
Features
Large surface area and square outline
Early planning and predictable board handling
Moderate to the low rocker with a single concave bottom shape
Helpful wind window diagram on the top side for instructors and students
For more information on Ozone's Plank V1, please click here.
Wings
The Wasp V1
Win a Lieuwe Shotgun Paradise Series Board this issue in our FREE subscriber prize draw.
The WASP is a Kite Wing that crosses easily from water, land or snow. It offers easy power for anything that rolls, slides, planes or glides. Use it with your Skateboard, Mountain Board, Skis, Snowboard, SUP, Windsurf or Foil board. Simple, quick and a whole load of fun!
We concentrated on making the WASP easy to fly and handle. The large size Leading Edge creates stability and reduces flex; it also helps develop power at low speeds to get you moving sooner. The enlarged strut provides direct angle of attack control, as flex is minimal, offering a solid and controlled feeling.
We kept the aspect ratio low to have a wing that has grunt and to keep the tips from catching the water. The wingtips have a layer of scuff protection for riding on snow or land, although it is best to keep the wing off the ground!
Multiple Power Handles on the Leading Edge and Strut have been positioned to cover many options, providing maximum control and comfort while riding. The streamline De-Power Handle at the front of the Leading Edge completely de-powers the wing for total control when carving downwind in swell or when carrying the wing.
On the water, the WASP has been developed riding SUP, Windsurf and Foil boards. The simple nature of the wing makes it suitable for riding any board that has enough volume to support your weight on the water. In strong wind conditions and with developed skills, it is also possible to ride with smaller volume hydrofoil boards.
On the land or snow, the minimal wind is required to harness the natural energy to enjoy a different feeling of propulsion.
Optional Waist Leash
The waist leash is an optional accessory for the WASP. It is one size fits all (rider and wing) and comes recommended from our design team for all WASP users. Connecting to the riders waist keeps the leash bungee further away during manoeuvres and is less fatiguing if continually letting go of the WASP.
It offers free arm movement which can be helpful when prone paddling with the WASP at your downwind side on the water.
Click here to learn how to ride The Wasp!
Features
Kite Wing for the water, land or snow
Easy to fly and handle
Stable with an efficient low-end grunt
The strong and lightweight single strut design
For more information on Ozone's Wasp, please click here.
For more information on Ozone products, please click here.
IKSURFMAG Web Editor, Jen Tyler, grew up in the chaos of Cairo, Egypt. It was on the beaches of the Red Sea where her love for the ocean, watersports and adventure grew.
Featured in this Post
Comments