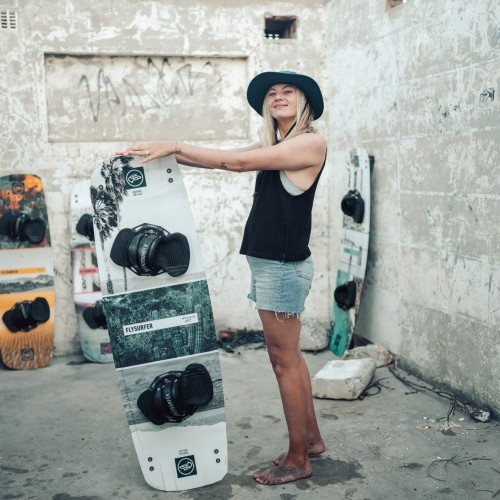 RADICAL. The artist collab. Out now.
Thu 31st Mar, 2022 @ 5:10 pm
Win a Custom Designed Ozone Twin Tip this issue in our FREE subscriber prize draw.
"The past two years have turned our world upside down. Our society has experienced a radical change. The pandemic has largely restricted the lifestyle sport of kitesurfing and tied kiters worldwide to their home spots. Nevertheless, there were professional groups who were able to travel to other countries. For the product launch of the RADICAL, we look back at touristic places from the perspective of four creative people. Their pictures document the changing times, immortalized on our all-round performance twintip boards." – Flysurfer
The RADICAL7 is the successor to our award-winning performance twin tip RADICAL6. We have received a lot of feedback throughout the three-year product cycle and improved its edge grip, control, and stability at high speed. We have achieved this by rethinking the double concave and tip channels to optimise the water flow from the edge to the tips. The RADICAL still absorbs blows, cuts easily through choppy water, and glides very early. It is easy to ride and gives the rider confidence in any given conditions. Accessible performance for everybody!
Features
Revised Double Concave: Improves directional guidance, increases smoothness and makes landings easier.
Redesigned Tip Channels: Helps push away from the water to take-off, improves tracking.
Added grab rails: Indentations on the toe and heel edge to make board offs easier.
Solid Fins: Available with our SOLID Fins in 55 mm or 45 mm, for maximum grip or more manoeuvre
For more on Flysurfer products, please click here.
Featured in this Post
Comments