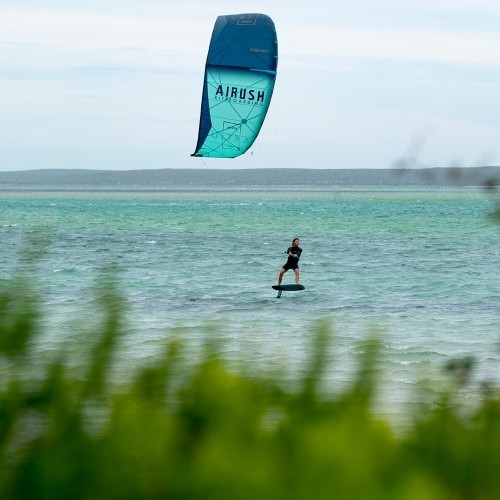 Airush – Behind the Scenes of the Ultra Shoot with Craig Kolesky
Tue 21st Apr, 2020 @ 5:00 pm
Light Years Ahead- As a brand, Airush enjoys delivering a unique creative expression, with the concept shot in mind, the perfect lightwind setup ready to go, they reached out to Craig Kolesky with the brief of "Light Years Ahead", and an idea of what they were looking for. What we got back was genuinely inspiring, check this out.
The brief was extremely challenging, as we looked to create something out of this world. Combining the technical challenges of shooting in near darkness for the correct mood along with the consideration of the final composition. Join us as we go behind the shot of the Ultra v3 Campaign ad.
Gijs Wassenaar is not who you would expect to see foiling, but when the wind isn't blowing 40kts, he does enjoy jumping on a foil and gliding. Craig was available, the team ready to go, and Cape Town switched on for one of the first big air days of the season, Gijs was not convinced.
"It was a real windy day in and around Cape Town with plenty of swell, and I was not too motivated to go to Langebaan when conditions are pumping like this to be honest. Although when you're riding the Ultra and the Team Foil in combination with the playful Freeride Foil, luckily, you forget anything around you and enjoy the moment! Also working with Craig and Kyle you just know the shot is going to come out how you planned it, or better!" – Gijs Wassenaar
Craig is not one to shy away from challenges (if you follow him on social media, you would see what we mean.) After a morning shoot with another client in the city, Craig drove through to Langebaan to meet up with Kyle and Gijs.
"Shooting an image when are you given artistic license is always going to be fun. We had limited time as I was travelling and had to fit the shoot into a very limited time frame. After throwing some ideas around with the Airush team and briefed Justin Leslie for the retouching and to be on standby for a very tight deadline. I had already sent some plate shots to Justin and a rough idea so the work was already in motion. On the day we had tough conditions with the tides not working out and the wind also not working out in our favour, but we pushed through till dark, added some flashes to the kite with some remote triggers and finally got the shot we were happy with.

Thanks to Gijs for not giving up and to Kyle for all the help. This shoot was totally a team effort." – Craig Kolesky
Working with a tight deadline is not always easy, and this was no exception. That evening we received a selection of shots from Craig and Justin got to work.
"Craig called me up and asked if I was available to work on a project that would be a challenging composition with limited time. Craig was travelling to Langebaan, on South Africa's West Coast, to capture Gijs Wassenaar kitesurfing at sunset. The catch was that he was leaving for Namibia in two days, the composition must have Gijs at night with a star-filled sky, and it needed to look out of this world and futuristic. We had a brief discussion on what shots were needed to create the final image, and I waited for the email to come through so I could get to work.
Craig's images landed in my inbox that evening, and I started working according to a scamp that was sent to me. I had mountains from Kenya, star-filled sky from the Cederberg, and a few different shots of Gijs in Langebaan to work with.
I started creating the first environment, a truly African composition with the Dutch Professional, Gijs and the Ultra V3 from Airush and sent it off for feedback. Once the composition was approved, we started to colour grade the image to get a balance between an evening shot and the materials used in the construction of the Ultra V3. We came to a good overall feeling of a futuristic image that works at different crops and sizes. The final image was made up of six, separately shot plates. (A2, 240dpi, Adobe RGB, 16 bit)
It was a pleasure working with such a professional team who was willing to push the limits and not stick to trends. I am looking forward to the next project!"- Justin Leslie
The outcome was the blend of Gijs on the Ultra, blasting through the night in another world.
Click here to watch the product video.
Featured in this Post
1,874
34,729
Comments