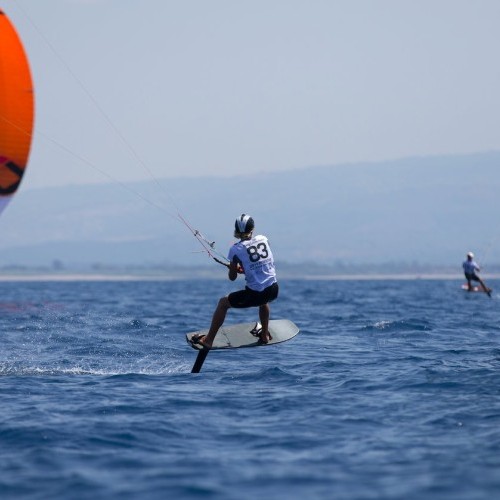 Vodisek Dominates Day One Of KiteFoil World Series
Fri 26th Jul, 2019 @ 12:00 pm
Vodisek Starts Strong in Record Fleet! Day one of the 2019 Porsche KiteFoil World Series belongs to young Slovenian Toni Vodisek. In what can only be described as perfect kitefoil conditions, Vodisek shot to the lead with three bullets in the opening three races.
Under the bright southern-Italian sun, a record 82 athletes took to the start line for race one of the 2019 KiteFoil World Series off Hang Loose Beach. In a 10-12 knot sea breeze and with all competitors choosing kites in the 18 to 21 square metre range, Toni Vodisek led the fleet to the favoured right-hand side of the course and never looked back.
"The day was pretty hectic. The wind was not so light for my 21m which I was using for the start, but yeah the legs are hurting. Hopefully, the other guys' are too because mine is wrecked! I am super happy I got three bullets but it's not over, this is just the first day so let's keep pushing to the end."
Ex-World Champion Axel Mazella finished the day in second place, leading the chasing pack including Connor Bainbridge, Florian Gruber and Maxime Nocher who are all separated by a mere five points. "I'm not the best rider today, Toni is super, super-fast," comments Mazella, "but I think in this competition, the winner is going to be the more consistent because the level is super high. The top ten is really tight and if you hit something or make a mistake you can lose five or six positions in click" [the click of his fingers].
The overwhelming consensus amongst the competitors is that consistency will be the key to winning events, and ultimately the World Championship. The KiteFoil World Series fleet has not only progressed in speed and tactics over the past few seasons but also seen a compression in the top twenty athletes. "Two years ago if you begin the competition first or second, you know you can finish near the top. Now, [if you compete as we did two years ago] I think you will finish about 15th."
Third-placed Connor Bainbridge shared Mazella's sentiment. "Everyone was super close, if you lose concentration for a second there was another person in front of you."
On a fairly one-sided race track, mistakes were costly and passing lanes proved difficult to find. With the sea breeze stronger and providing a lift up the shore side of the course, getting to the right quickly was key. "Most of the races the right was so strong that there was no way of tacking onto port and making the gain back," Bainbridge explains. "Maxime & Axel crashed in the last one and it's pretty hard to get back up [the fleet] from that. The start of the last race it shifted left, so a few people got the cross on the port."
Fifteen riders took advantage of the left shift prior to the start of race five and crossed the fleet on port tack, with eventual race winner Florian Gruber amongst the pack. "I started from the port with Nico [Parlier], it was the right decision. On the second lap, I risked it a bit to tack really early on the lay line, it worked out and it's really nice to cross the finish line first again after a while."
Daniela Moroz dominated the female division but finishing the day in 19th overall was below her expectations. "I think that I just wasn't very consistent today. I definitely want to try to finish within the top 20, ideally top 15. I felt like the first race I was able to get a really good start, and then the next few races I just couldn't quite find the window."
While second-placed female Ellie Aldridge knows she has plenty of work ahead of her to catch Moroz, a background in Olympic level sailing in the 49erFX class may stand to work in her favour on the windward-leeward race track. "A lot of people don't think it's really sailing, but it's a combination of speed and tactical decisions. We're racing up a racecourse, so you have to find the fastest way up there which quite often can make the difference between overtaking a couple of people and not."
Riders will have more than just their fellow competitors to deal with. "We're all going to crash at some point this week with the amount of plastic in the water," says Bainbridge, "but I think it's going to be all about how you come back from that."
While Bainbridge considered himself lucky today to not have any major issues, Mazella, Gruber and Nocher all fell victim to the adverse effect of large pieces of plastic on high-performance foils.
Race wins came from three separate kite manufacturers including the new brand from Maxime Nocher, FlyMaax, alongside regular race winners Flysurfer and Ozone, while Levitaz Hydrofoils notched up their first race win in recent years on a yet to be released foil under the feet of Gruber. Multiple top ten riders were seen changing from one foil to another between races, which the open nature of the KiteFoil class rules allows for. This freedom allows riders to pick and choose their kite, board and foil combinations depending on their preference for any given race.
Racing is scheduled for a 12:00 pm start on day two of the 2019 Porsche KiteFoil World Series Gizzeria. Full results are available right here.
Day One Results (5 races, 1 discard)
Overall
1st. Toni Vodisek (SLO) 5 pts
2nd. Axel Mazella (FRA) 10 pts
3rd. Connor Bainbridge (GBR) 13pts
4th. Florian Gruber (GER) 14pts
5th Maxime Nocher (FRA) 14pts
Women's division
1st. Daniela Moroz (USA) 72 pts
2nd. Ellie Aldridge (GBR) 143 pts
3rd. Elena Kalinina (RUS) 157 pts
Latest Video
Win a Commander Twin Tip by Eleveight, CORE's all-new Link harness, or an ultra-light board bag from Prolimit this issue in our FREE subscriber prize draw.
For more information on the Kite Foil World Series, please click here.
Featured in this Post
Comments