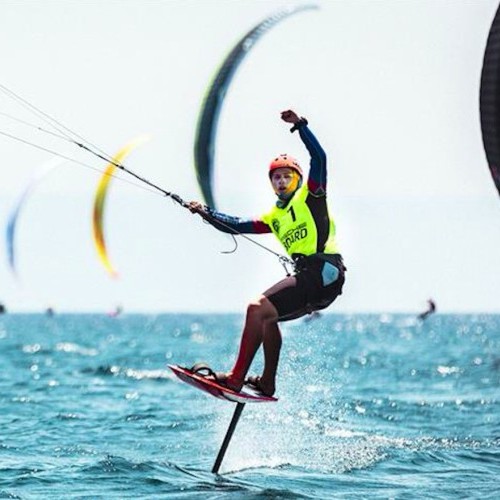 2019 KiteFoil World Series Gizzeria – Event Wrap Up!
Sun 28th Jul, 2019 @ 6:11 pm
Vodisek Victorious in Gizzeria – 19-year-old Slovenian Toni Vodisek has secured his first regatta win on the professional kite racing circuit with a commanding 25 point lead over second-placed Axel Mazella from France.
Vodisek secured the win with two races to spare in front of a growing beachside crowd "I feel amazing, never felt better" commented Vodisek shortly after coming ashore. "My first victory at a big event, I'm super happy. Thanks for everything everybody who helped me and it's great to have the best kites, Ozone, and I hope we can continue this year."
Vodisek sailed a flawless regatta with his final scoreline after discards consisting only of first and second places. It was this consistency which set him apart from the rest of the star-studded fleet which featured three past World Champions and seven individual race winners throughout the 20 race regatta.  When asked to what he attributes his performance, he knows, "It's not one thing. This is a sport where you win by filling up the little gaps. I'm a bit stronger than the other guys so at the beginning I thought it was that because usually, I train in the light wind. But then today when they put the shorter course, and it was strong wind, I honestly don't know why I was in front."
Second-placed Axel Mazella, a previous KiteFoil World Champion and a regular fixture on the podium at international events admit he was merely out sailing. "I think this was his event for sure. He came here a long time ago and trained a lot on this spot. He looked really confident and super fast. I think it is possible to catch him easier in the strong wind than the light wind because he likes light wind and I like a strong wind, just like Nico [Parlier] and all the French guys. But for sure, I need to train more."
Nico Parlier, Florian Gruber and Connor Bainbridge traded top-five finishes throughout the regatta with the overall results coming down to the final race. Despite two unlucky retirements due to incidents with other sailors, Frenchman Parlier held off Florian Gruber from Germany for third overall, with Great Britain's Bainbridge falling to fifth. Gruber revelled in the close battles, "It was just awesome to race against all of them. With Connor, I knew in the last race I had to beat him if I wanted to be in front of him. Nico got a bit unlucky with two tangles today, so I think it is fair that he was still in front of me."
Daniela Moroz from the U.S.A. once again showed why she is the four-time reigning World Champion, putting 19 sailors in the open fleet between herself and second place female Eleanor Aldridge from Great Britain. Moroz also took out the Under 19 division while in the ever-growing youth (U16) field Maximilian Maeder from Singapore secured victory. Ejder Ginyol from Turkey took out the top spot in the Masters ahead of James Johnsen of Denmark who came in second and also took the win in the Grand Masters.
The opening round of the 2019 KiteFoil World Series, hosted by Hang Loose Beach in the south of Italy, was sailed in perfect foiling conditions with light to moderate breezes for the four days of racing, with the final two races of the regatta being battled out in a punchy 20-22knot breeze and a larger sea state. In the open development class in which athletes and brands can openly change their equipment as they see fit, the podium was filled with Ozone Kites and Mikeslab foils, with race, wins also going to F-One, FlyMaax, Flysurfer, and Levitaz.
The 2019 KiteFoil World Series now heads to China for two back-to-back events at Weifang and Pingtan in September before returning to Europe for the series finale in Cagliari, Sardinia.
Overall
1st Toni Vodisek (SLO) 24pts
2nd Axel Mazella (FRA) 49pts
3rd Nico Parlier (FRA) 74pts
4th Connor Bainbridge (GBR) 77pts
5th Florian Gruber (GER) 79pts
Women
1st Daniela Moroz (USA)
2nd Eleanor Aldridge (GBR)
3rd Elena Kalinina (RUS)
Under 19
1st Daniela Moroz (USA)
2nd Oliver Hansen (DEN)
3rd Alexandar Ehlen (MON)
<h4
1st Maximilian Maeder (SIN)
2nd Andrea Principi (ITA)
3rd Mattia Maini  (GBR)
Masters
1st Ejder Ginyol (TUR)
2nd James Johnsen (DEN)
3rd Pierluigi Capozzi (ITA)
Grand Masters
1st James Johnsen (DEN)
2nd Pierluigi Capozzi (ITA)
3rd Benjamin Petit (FRA)
Latest Video
For more information on the KiteFoil World Series, please click here.
Sun 28th Jul, 2019 @ 6:11 pm
Featured in this Post
Comments