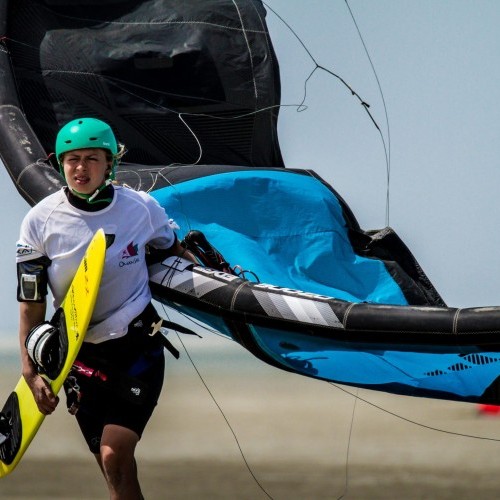 KiteSpeed World Championship in Oman
Sat 18th Aug, 2018 @ 9:00 am
Many of the world's best kitesurfers are gathering from 18th to 22nd August in Oman for the high-adrenaline 2018 Kite Speed World Championship.
A total of 12 of the kitesurf circuit's best-known riders are confirmed for the Masirah Island event where they will hope to reach speeds of over 40 knots – 74 kilometers an hour – or more in ideal kiteboarding conditions on the island's flat and shallow lagoon.
Oman first hosted the Kite Speed World Championship last year, and among those returning is the winner and defending world champion Alex Caizergues. The French racer described Masirah as "an amazing kiteboarding paradise" after the 2017 event when he set a new in-competition world speed record of 48.5 knots, almost 90 kilometers an hour.
Also attending the Oman Sail organized event is British kitesurfer Dave Williams, who took third place last year, and high-profile US racer Mandi Browning, a three-time cancer survivor and former Olympic-level synchronized swimmer. Other returning racers include Victor Bachichet, Luke Wigglesworth, Martin Carter and Swedish national record holder Roger Ornvang.
Kitesurfers from Italy and New Zealand will also be at the championship which will see racing from 18 to 22 August at the Masirah Beach Camp venue, with a prize-pot of €10,000 on offer.
"We are delighted to welcome back the Kite Speed World Championship for the second year in succession," said Salma Al Hashmi, Chief Marketing Officer at Oman Sail.
"Oman has shown that it can offer perfect conditions for this innovative and exciting sport, which is rapidly growing around the world, so we look forward to welcoming back old friends and making new ones on Masirah Island."
Oman also hosted the Formula Kite World Championships last November at Muscat's Al Hail Beach with great success and excellent competitor feedback.
Click here to view the previous event's recap.
For more information on the KiteSpeed World Championship in Oman, please click here.
Featured in this Post
Comments