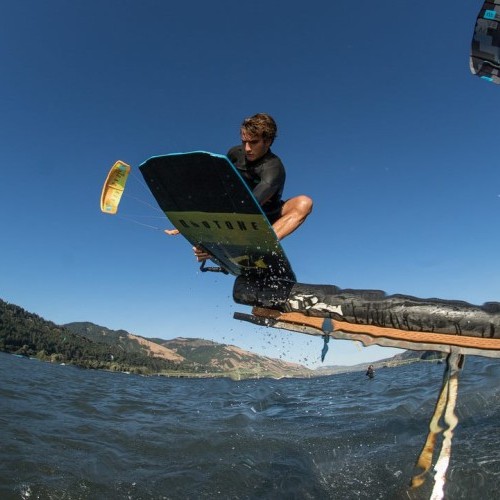 The Patagonia Hood Jam – Day Two
Tue 24th Jul, 2018 @ 7:00 pm
The winds returned late in the afternoon amongst typical Hood River thermal conditions
Men's heats one and two both completed two features each; the left kicker and the Duotone Rooftop to the right.
Men's heat 3 and Women's Heat 1 both did not start the event due to a drop in frequency of contestable conditions.
Both Mens Heat One and Mens Heat Two provided a high level of competition and were an interesting spectacle for both public and Homie-stream viewers alike. The standouts spread somewhat evenly across the two heats. Both Sam Light and Ewan Jaspan landed clean Heelside Backside 720s off the Slingshot Kicker and had a similar approach to gliding the Duotone Slider, even though they weren't in the same heats their similarity in approach couldn't go unnoticed.
Both Noe Font and Christophe Tack stomped big notable Frontside 720's whilst Sam Medysky and Alex Maes opted for a different approach; Sam stomping a clean tootsie on his third attempt and Alex sending big with Frontside 360 Stale Backside 180 off the Slingshot Kicker. It's clear that once again riders Kicker game will be a major deciding factor.
With Day Two wrapped up and conditions looking promising for the immediate future, competition could start again as early as Tuesday AM (Portland time), We'll keep you updated!
Don't miss a thing!
Click here to follow along with us all week on our facebook page and following our Instagram channel @KiteParkLeague
Featured in this Post
Comments