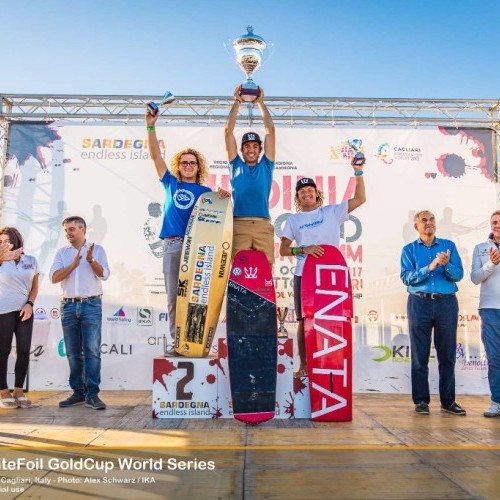 Parlier Takes 2017 IKA KiteFoil World Title While Mazella Grabs GoldCup World Series Crown
Mon 9th Oct, 2017 @ 12:00 am
Parlier Takes 2017 IKA KiteFoil World Title While Mazella Grabs GoldCup World Series Crown
Conditions were tricky and the mood was tense at the final stop of the 2017 Kite Foil Gold Cup in Cagliari, Italy. In the end, Nico Parlier won the IKA KiteFoil World Championship and Axel Mazella won the IKA KiteFoil Gold Cup series. On the women's side, Steph Bridge won the IKA KiteFoil World Championship and 16-year-old French racer Anaïs Mai Desjardins won the IKA KiteFoil GoldCup Women's series. Find out more about the final day by checking out the International Kiteboarding Association wrap-up, below.
France's Nico Parlier put on an imperious display to seize the International Kiteboarding Association (IKA) KiteFoil World Championship on the final day of racing on the Italian resort island of Sardinia.
Even before the last race of the Sardinia Kiteboard Grand Slam, Parlier's haul of bullets during the four days of competition meant he had the championship in the bag because of his vastly superior score.
But after adding two more bullets to his tally in the opening two races on the flat waters of the Gulf of Angels off Cagliari's Poetto Beach, Parlier looked like he would make it a perfect hat-trick in the day's final race after rounding the first top mark in the lead once again.
Uncharacteristically, he fell when he missed a gybe in the light, shifty breezes and had to watch much of the head of the fleet ride past as he tried to restart. Yet by the bottom mark Parlier was back up to sixth position and with his raw pace and finesse he managed to claw his way back to finish second, just behind countryman Axel Mazella.
"I could have stayed on the beach for that last race because I knew I had it won already," said Parlier. "Still, I had to stay concentrated for the whole regatta. As I expected, the level of competition was very high. So I'm really delighted to win."
Mazella's stellar performance earned him the second spot on the podium for the World title, but as the regatta doubled as the fourth stop of the 2017 IKA KiteFoil GoldCup series it was also enough to secure him the overall World Series title.
The 20-year-old Frenchman had been peerless at the GoldCup's previous back-to-back stops at Weifang and Pingtan, China, last month, when he won race after race in light conditions that left rivals awed by his speed and precision.
"I'm really, really happy to win the tour title," said a beaming Mazella. "But it's slightly bitter-sweet. I'd loved to have taken the World Championship title too. We've had all the top guys here, so it was very tight and very interesting. I hope it will be the same at the Formula Kite Worlds in Oman next month."
The intense competition at the top of the fleet left reigning IKA Formula Kite world champion and KiteFoil GoldCup title holder, Maxime Nocher (MON), in an unfamiliar third spot on the podium.
But after a four-month layoff and little training for the event, Nocher was pleased with his showing after a consistent series of top place finishes in the regatta's 12 races that have left him hungry to get back on top in the increasingly competitive environment.
"It was very tight and I'm quite happy for my comeback," said Nocher. "For sure I will go to Oman now. The level in foiling is really going up. Before, I was just leading. Now there's very little between the top 10 guys. The technology is advancing like crazy and I'm working on my own foil. So let's see."
With virtually all the leading men among the 39-strong fleet from 14 nations at the Sardinia Kiteboard Grand Slam—sponsored by the City of Cagliari and Tourism Sardinia, supported by Yacht Club Cagliari—the five-day event produced some of the fastest, tightest racing of the year.
But straight out of the gate, Team Enata's Mazella racked up two bullets on the first day of racing in light conditions that upset the form books that saw Parlier as the firm favourite after he had won nearly every race this year.
True to form, though, the wheels of the Parlier machine began to grind on the second day when the gusty Mistral winds hit 40kts. On his Mike's Lab foil and board, and Ozone R1V2 kites, he began racking up bullets and continued to do so right to close of racing, only faltering occasionally when he placed second, a record that made him untouchable.
For a time Britain's Guy Bridge, 18, on his Levitaz Bionic foil and Flysurfer Sonic Race kites, looked as if he could challenge for a podium spot. But despite his searing pace, a chequered last two days left him in fourth spot overall.
His mother, multiple world champion, Steph Bridge, among the three women racing in the competitive mixed fleet, won the women's title, but was nonetheless dismayed with her final day's outing that took the gloss of things a little.
"I had a bit of a disaster," said Bridge. "I don't think I've ever in my life been out in such tricky, gusty conditions. But it's the same for everyone. It's just that it's just not good to end a great event on sad note. I felt I should have done better."
French 16-year-old Anaïs Mai Desjardins, undoubtedly a rising star, took the second podium spot behind Bridge. But her win at the KiteFoil GoldCup in Korea and a third in Weifang, China, were enough for her to take the overall tour crown.
IKA KiteFoil World Championship (Men)
1 Nico Parlier (FRA)
2 Axel Mazella (FRA)
3 Maxime Nocher (MON)

IKA KiteFoil World Championship (Women)
1 Steph Bridge (GBR)
2 Anaïs Mai Desjardins (FRA)
3 Sabrina Schlossnikel (GER)

IKA KiteFoil World Championship (U21)
1 Axel Mazella (FRA)
2 Guy Bridge (GBR)
3 Theo de Ramecourt (FRA)

IKA KiteFoil World Championship Masters
1 Ivan Doronin (RUS)
2 Benjamin Petit (FRA)
3 Pier Luigi Capozzi (ITA)
IKA KiteFoil GoldCup Men
1 Axel Mazella (FRA)
2 Theo de Ramecourt (FRA)
3 Theo Lhostis (FRA)
IKA KiteFoil GoldCup Women
1 Anaïs Mai Desjardins (FRA)
2 Alexia Fancelli (FRA)
3 Elena Kalinina (RUS)
IKA KiteFoil GoldCup Masters
1 Benjamin Petit (FRA)
2 Ivan Doronin (RUS)
3 Amil Kabil (USA)
IKA KiteFoil GoldCup (U18)
1 Martin Dolenc (CRO)
2 Anaïs Mai Desjardins (FRA)
3 Toni Vodisek (SLO)
Day 3 Recap Video:
Win a Custom Designed Ozone Twin Tip this issue in our FREE subscriber prize draw.
Full results, LIVE video streaming and live results: kitefoilgoldcup.com
Featured in this Post
Comments