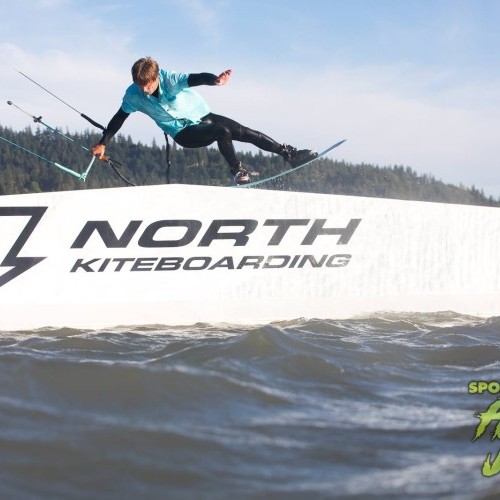 Spornado Hood Jam Day Two Update: Prelims
Mon 24th Jul, 2017 @ 9:00 pm
Mother nature reminded the riders in the 2017 Spornado Hood Jam that the road to the top won't be easy. On Day Two, competitors rode out the dramatic gusts and lulls as they battled through four out of five features that will make up the preliminary round. Thanks to the Kite Park League, who have provided a detailed update of the day, following. A special thanks to Toby Bromwich for the photos.
An unexpectedly strong wind filled the Columbia River corridor from early this morning until the evening sunset.  It was a classic, gusty Hood River day, with wind coming out of the southwest, making for challenging up and down conditions. Day two started the preliminary heats with massive gusts sending riders soaring higher and landing harder than anyone expected.  All this action made for a captivating scene for the spectators who watched from the three different beaches surrounding the Slider Project park.
After a watching the wind increase steadily throughout the morning, the first men's heat started in the early afternoon.  The hometown shredders, including Brandon Scheid, stood out by putting together strong hits.
The kicker hits were the best entertainment of the day as the riders made their way through the left and right kicker preliminaries in the late afternoon.  Rich Sabo gave a solid performance, landing a heelside backside 540, a toeside frontside 720 and a heelside frontside 720 to round out his day.
Answering back was Ewan Japan with a heelside backside 720 and a toeside frontside 720 of his own.  Executed with his kite low, he stayed powered throughout the tricks and rode away clean and controlled.  Without Sam Light in the contest, the riders are powering forward to fill the empty podium spot.
Annelous Lammerts was strong and consistent throughout the day, powered on her small kites.  She stomped a toeside frontside 540 and a heelside frontside 540 to close out the hectic afternoon of competition.
Monday's wind forecast is predicting light wind and hot temperatures.  The riders will meet with the race director, Alexander Lewis-Hughes, at 12:00 for a contest update and to make some adjustments to the park features.
Spornado, the title sponsor of the event, is a free, fitness-focused social networking app. If you want to get the latest, behind-the-scenes images and updates from the riders themselves, make sure you download the Spornado App, available via Playstore or Itunes.
Featured in this Post

6,529

United States
2,123

Australia
8,616
Comments