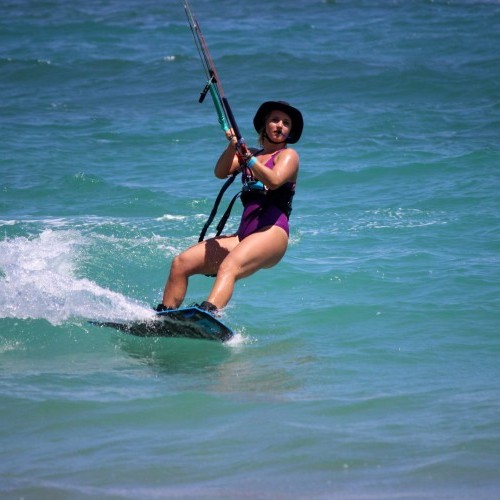 Uncharted Sessions Colleen Carroll And Paula Novotna Dominican Republic Camp
Thu 22nd Jun, 2017 @ 12:00 am
Jump in the front seat with Andreas Lagopoulos as he breaks down the Uncharted Kite Sessions Cabarete Women's Camp, featuring guest coaches Colleen Carroll and Paula Novotna. Check out this detailed recap from Uncharted Kite Sessions, complete with a day-by-day replay of the camp, photos and a highlight video.

Right from day one, it was blowing like stink. After a temperamental winter, the trade winds kicked in full force for our amazing week in Cabarete, Dominican Republic. With World Kiteboarding League star Paula Novotna, and Kite Park League champion Colleen Carroll leading the way, it was an epic week of kiteboarding and coaching. With a full group of eight enthusiastic kite chicas, we were set to have an amazing week of kitesurfing and creating unbelievable memories.
Day one got off to a bang with a perfect, twenty plus knots and blue bird skies. All the girls hit the water eager to improve their kiting abilities. Equipped with Bluetooth bbTalkin radios, Paula and Colleen were able to ride with the girls out on the water, giving feedback and instruction in real time. The pros kept their hats while the girls traded hats between each other when it was their time for coaching. Every rider was anxious for their turn with the headsets. It's not every day you have the opportunity to have the best riders in the world correct your style. Butterflies in the sky.
Our first day ended with smiles all around. Everyone kited until they could kite no more, and then they had a cold beer. With cold cervezas in hand, the girls hung out by the beach on the ocean side deck getting to know each other better and reminiscing on their successful first day. After a quick break, the girls rejoined under the soft lights of Tuva restaurant for a much-deserved dinner. Tuna tartar's, fresh ceviche, fresh grilled fish, delicious local vegetables, and a chilled glass of wine made for a fantastic first dinner.
Day two and the wind was blowing since before sunrise. Eager to ride, the girls almost skipped their video review. Patience was a virtue, but it paid off. EyeFly films worked tirelessly through the night to edit down all the previous day's footage to short edits of each rider slowed down to 50% speed. This allowed for Colleen & Paula to review each rider's technique with a precision that only comes through their own mastery of kite surfing. Paula & Colleen's trained eyes broke down the technique of each rider, pointing out weaknesses and strengths in their form, always tweaking their position. How you think you look riding, and how you really look are often not the same thing. In my head, I ride like Kelly Slater. In reality, maybe not so much…
Straight onto the water after video review, the girls were eager to put into practice exactly what they'd learned in the review. Right away the information had processed, and everyone was already riding better than the day before. It was a mad dash for the bbTalkin headsets. But as it was windy all day, there was more than enough time for everyone.
Another full day of kiting and all that was left were the standard cervezas, laughs and smiles. Crashed out on the beach deck, the girls unwound from a hard day of riding. Another quick break and we reunited on the drive to Natura Cabana for what is always a delicious meal. Like every restaurant we visit in Cabarete, the food was fresh and delicious.
On day three we began with video review. Right away we could see the difference in all the ladies riding from the previous day's video. Without proper stance and position, you'll never reach your kiteboarding goals. Now every rider had a good position.
A quick bite to eat after video review and we all hit the water for another 20+ knot day. The wind gods shone on us, and we took full advantage. The comradery amongst the ladies had, by now, reached full romance. All the women got along swimmingly and some are even making plans to visit each other after the trip is over. True friendships were made through their shared passion for wind and the ocean. Another day of amazing kiting followed by a fantastic dinner at Le Bistro with my favourite Frenchman, Stephan. The consummate host, Stephan treats the women like royalty and they all love the evening.
Day four and everyone is in love with Cabarete. The women settled into their routines and were feeling more confident than ever about their kite skills. They were eager to see their improvements on video this morning.
With lighter wind to begin the day, it was a perfect time to hold our advance kite flying lesson. This is a signature of Uncharted Kite Sessions kite camps, teaching you how to master your kite so that you can use 120% of the wind window, not just the top 20% by only doing top turns. In 12 knots I fly my 8m Slingshot Wave SST on the beach, showing the ladies all that is possible with kite control. I teach them how to loop, luff recovery, intentional backstall to land, self landing and launching, pivots, and so much more. By the time the lesson is don,e all the women know how to control their kite with much better manipulation and, more importantly, they know how to be kite independent on the beach. Then we had a quick snack and went back to kiting because the wind has filled in.
Dinner at Eze Bar never disappoints. Set right on the beach under swaying palms, the chef's signature handmade pasta astounded the taste buds. The low swinging dim lights illuminate only what they need and provide the perfect ambiance for our tired muscles. After dinner, the women decide it's time for dancing and overtake a local bar, turning what was a boring night for the locals into a fantastic evening of drinking and dancing for all who attended. There's nothing like having ten stunning kite women overtake your establishment to get everyone dancing. Those who made it out had a great night indeed.
On day five even Mother Nature needed a day off. The forecast didn't look fantastic, so we make other plans. Many of the ladies went for a morning surf session down at the local spot, Encuentro, which is always pumping. Post-surf, I made a quick call to Tommy's Ranch and we are all set for a day of horseback riding through the Dominican Jungle. After a short drive to Sabaneta we were briefed by Tommy about the adventure we were about to undertake as we chose our horses for the day. Like true Dominicano, we took the trail less traveled and made our way up into the mountains to see the real Hispaniola. Riding through small campos, we see the uncomplicated daily life of the average Dominican.
After a long day in the saddle, and an amazing week of kitesurfing, every person is exhausted and satisfied. On the final evening, we celebrated a successful week of kitesurfing and more with a brilliant dinner at the exquisite Bliss restaurant. Set under the stars, we enjoy a luxurious dinner at my favourite restaurant in Cabarete. The ladies reminisce about the fantastic week of kiting, and lifetime friendships are solidified over molten brownie desserts.
Over five days, eight women from Australia, America, The Virgin Islands, Germany and France descended on Cabarete to share their love for kiteboarding and the common bond of adventure on the high seas. They all improved their kiteboarding skills tremendously while making lifelong connections.
Join Uncharted Kite Sessions this year to improve your kite skills, and to have an adventure that you will remember for the rest of your life. Check out unchartedkitesessions.com and reserve your seat today.
Big thank you to:
EyeFly Films
Slingshot Sports
bbTalkin
Salt Slave Surf
Chickendick
Extreme Hotel
Dare2Fly Photo
Featured in this Post
Comments