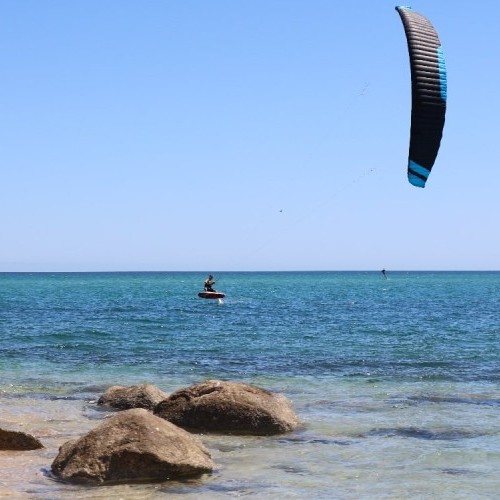 Flo Goes Flysurfer
Sat 19th Mar, 2016 @ 3:00 am
The speedy German, Florian Gruber has joined FLYSURFER Kiteboarding. Florian completes in race, slalom, freestyle, and foil. Keep a watch for him in the upcoming Hydrofoil Pro Tour in Mexico, beginning March 19. Read more about Florian's new deal with FLYSURFER, below.
A real blast at the start of the kiteboarding season: German's Florian Gruber is now riding for FLYSURFER Kiteboarding. The 22-year-old world champion in race strengthens the FLYSURFER team immediately and will be taking part in all relevant disciplines. Flo also wants to be increasingly at the forefront of kite hydrofoil racing.
With 15 years of kite experience Florian, despite his young age, has shown he is a force to be reckoned with. and his competition results speak for themselves: numerous German Championships, European Champion and the highlight of his career so far, 2013nWorld Champion in the race class. He has not only won titles in various disciplines, but also on different surfaces. FLYSURFER, the all-terrain brand fits him perfectly.
Florian about his new sponsor:
"FLYSURFER is a company with values that fit me perfectly. And we also have a regional link … we are both from Bavaria. I know part of the team for a long time from competitions and kite-events. The harmony was just right. I'm looking forward to the coming period with a great team where passion reigns for the sport!"
Together with Benni Bölli, Peter Müller and Armin Harich, Florian will of course also be involved in the (re-)development of our kite racing machine SONIC. Follow Florian on Facebook and fingers crossed for him for the next competition, the first stop of the Hydrofoil Pro Tour 2016 in Mexico.
The FLYSURFER team is enormously pleased and stoked that Flo Gruber, an absolute top rider comes on board. We welcome him in the FLYSURFER family and wish him many perfect seasons with great successes!
Featured in this Post
2,767
Germany
19,664
Comments