Alex Pastor Takes The Fight To Youri Zoon…
In the fifth and final day of competition, PKRA competitors turned up on the beach with the best-laid plans to make it to the podium. The wind began strong early in the morning and competition officially began just before 10am, with current World Champion Youri Zoon and the talented Dominican, Felix Antonio Martinez, initially battling for the first advancing position of the morning. As it turned out, all eyes were on Zoon today, as he faced a 10-heat climb after his surprising loss to the youngest competitor on tour – Liam Whaley. Zoon, therefore looked to a long day of competition in order to get back on the podium. To this end, his performance was quite remarkable, and he nearly reached his goal, before eventually losing on his 8th heat of the day to Alberto Rondina. All who were present on the beach could sense the determination on Zoon's part, as he knew his momentum had to remain sustained throughout the entire cold and blustery day. While this would be challenging for any competitor, Youri nearly made it seem effortless, powering through his biggest tricks and executing close to flawless maneuvers, such as a Blind Judge 5 scored at 8.13. Zoon put forth explosive energy, with his power and speed on complete lock-down. In fact, Youri Zoon achieved the highest score of the day at a 53.2 in his heat against Kevin Langeree, who did very well by comparison.
In his incredibly close match against top-ranked rider, Marc Jacobs, Zoon threw down an impressive Front Blind, along with other big maneuvers, while Jacobs impressed with a S-3 and 720 Back Mobe. Big scores of sevens and eights came in from the judge's tower as the wind averaged 17 knots and the spectators stood in awe.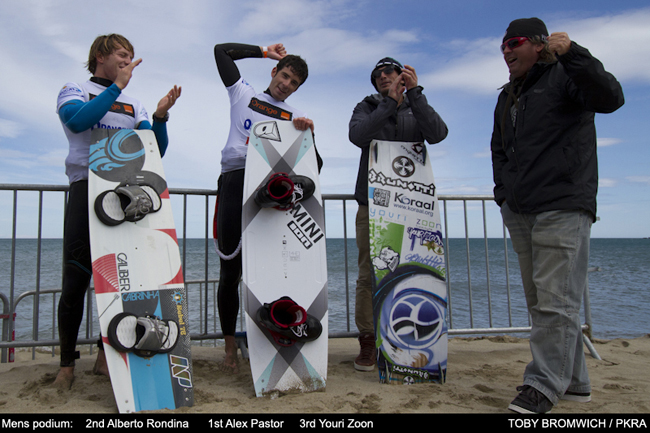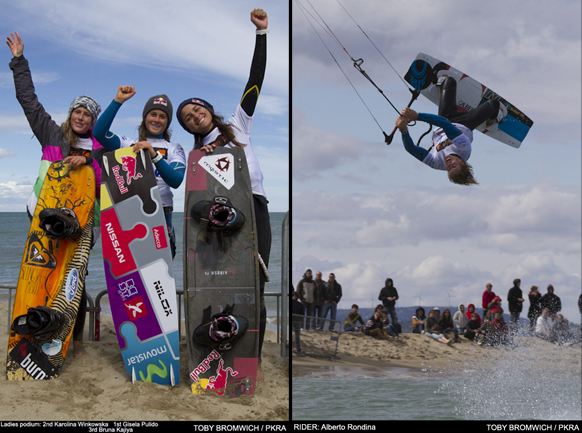 Unfortunately, the wind did provide some problems, as it was very unsteady – coming and going throughout the day. Several heats were canceled, only to be re-run once better conditions arrived. By the end of the day, gusts came in strong, measuring up to 35 knots and causing riders to sometimes second-guess their kite-size choice. Luckily, the conditions held, allowing for the completion of the competition on this fifth day of the event.
Another closely watched heat of the day took place between Eudazio Da Silva – the rising star out of Brazil – and the seasoned competitor, Kevin Langeree, who continues to make a strong impression after his return from knee surgery recovery. Both competitors rode big straight out of the gate with their larger kites, hitting big Back Mobes and KGBs. Langeree was victorious in this round, exhibiting amazing power and execution with a 313 grab, among other well-placed tricks. In the last men's heat of the day, Alex Pastor needed only one win to secure the first place podium finish, which he did with a total of 50.3 points over Alberto Rondina's 26.88 score. In reference to his big win, Pastor asserted that he is stoked to currently hold the 2012 first place ranking.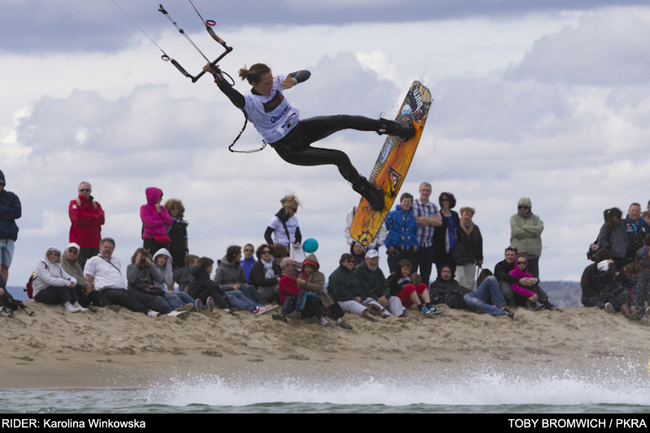 The women brought their game faces as well, as Clementine Bonsom and Marie Switala were the first females to enter the water. Manuela Jungo executed a nice Blind Judge to advance her forward in one heat, while Asia Litwin celebrated her 18th birthday with a solid Blind Judge as well, and strong raley maneuvers. Karolina ended up providing spectators with the biggest show, as she clearly pushed her limits and went big and powered at every opportunity. Many said she was on fire, while others simply marveled at her level of commitment in some of her most difficult moves, which earned her a second place finish. As expected, Gisela Pulido and Bruna Kajiya also did extremely well, earning first and third place, respectively. Gisela later commented that it was difficult to handle the changing conditions, but that her kite performed well and she was very happy to come out on top.
Throughout the day, the number of live webcast viewers slowly climbed, with a height of over 730 spectators that tuned in to watch the men's and women's final heats. By the time final eliminations came to a close, nearly 25,000 individuals had visited the PKRA live feed. Looking back on the event, the computerized iPad system combined with the new scoring methods allowed for an interesting an exciting competition, one which surely sets a precedent for the events to come. Riders now know where they stand in the new system, and exactly what they need to do to climb the PKRA rankings.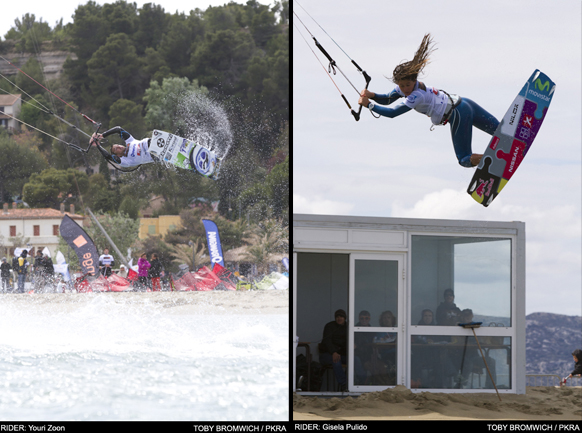 Tomorrow, competitors will take part in a special Big Air Freestyle event as part of the Mondial Du Vent festivities. $2,000 in cash will be distributed to the best and "biggest" riders, with $1,500 going to the men and $500 to the women. The event's awards will take place tomorrow as well, at 5pm. Mondial Du Vent has been made possible by various sponsors, including Orangina, Ride Sessions, Mystic, Orangina, and the City of Leucate.
The final results for the Mondial Du Vent main freestyle event are as follows:
Men:
1. Alex Pastor
2. Alberto Rondina
3. Youri Zoon
Women:
1. Gisela Pulido
2.Karonlina Winkowska
3.Bruna Kajiya
Thu 12th Apr, 2012 @ 10:00 am
Featured in this Post
Comments