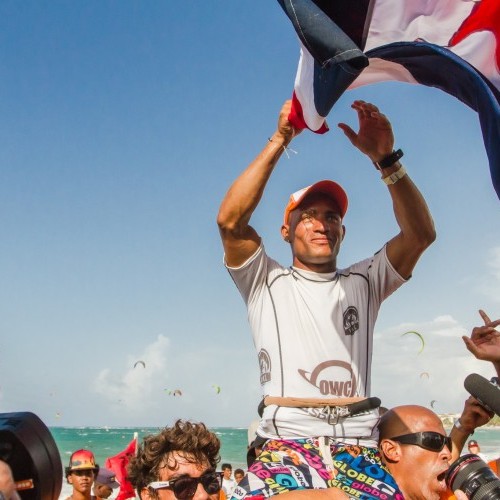 Who Is Luis Alberto Cruz?
Features / Mon 25th Jul, 2016 @ 12:27 pm
Who is Luis Alberto Cruz? Luis Alberto Cruz is the Dominican rider who mysteriously appeared out of nowhere on the top spot on the podium at the World Kiteboarding League's inaugural event in Cabarete. He ousted world champions Carlos Mario and Liam Whaley to claim that coveted first place position.
Who is he and why doesn't the international kiteboarding community know about him?
I'll tell you who he is. Luis was born and raised in Cabarete, Dominican Republic. He lives in a very small house in a very local community untouched by tourists and visitors. He spends every windy day at Cabarete Kite Beach and Bozo Beach doing what he loves, kiting. And he throws down. Hard.
I met Luis more than a year ago when I first arrived in Cabarete. I remember being so impressed by all of the Dominican kiters­. I'd never seen kiting at this level in my life. Luis hardly spoke English, so I asked a friend to ask him if I could stand in the water and film him jumping over me. I was stunned, and I will never forget it. Who was this guy, and how come I'd never heard of him?
Luis has made a few appearances in international events several years back, with his best result being a 3rd place finish at a PKRA event in Leucate, France in 2011 behind Youri Zoon and Alex Pastor. In 2014, he took 1st in the D.R. Open, above Robinson Hilario. In 2015, 1st in both the Big Air and Freestyle at the local D.R. Big Air Contest. In 2016, he came in 2nd behind fellow WKL competitor Adeuri Corniel in the hotly contested final of the D.R. Open.
Here's the big question: If he is that talented­- and if you saw his heats in the WKL, you know he is­- why haven't we seen him in any recent international events? To put it simply, it is incredibly difficult for a Dominican rider of any skill level to make it on the international stage. Money is a major factor. For a local rider to be able to buy a complete kite quiver, they would have to save for years. Sponsorship is difficult when your English skills aren't great. And, getting a visa on a Dominican Republic passport when you don't have money in the bank is a nightmare. There are a multitude of small issues that combine to create a massive mountain that's almost impossible to overcome for most local riders wishing to make it on the international scene. This is not an isolated issue. Kiting is not an easy or affordable sport to get into in any country.
So, how did Luis Alberto Cruz fight his way to the top? He started working as a kite assistant in 2004 alongside young Posito Martinez and Robinson Hilario, two names you might recognize from previous international competitions. They spent their days pumping up kites, cleaning gear, walking people's kites upwind, and stealing sneaky sessions whenever they could. These boys lived for every moment they could find on the water. They would practice handle passes with an old kite bar hanging from a coconut tree while waiting impatiently for their turn on the water on borrowed gear.
Eventually, Cruz managed to secure a sponsorship with Star Kites, which allowed him to get the gear he needed to launch his kiting career. Still, his career has been an uphill battle. Each attempt at attending an international competition was so costly that a less than perfect performance wasn't enough to justify continued attempts. Coming out on top at every local event still wasn't enough to catch the attention of the international kiteboarding community.
What would it take? 2016 marked the arrival of multiple world tours and a lot of confusion, but the tour that came to the kiteboarding mecca of Cabarete was the World Kiteboarding League, supported by MaiTai Global and the Clean Ocean Project. At his home spot, Luis' hopes of breaking out onto the world stage of freestyle kiting looked like they were finally within reach.
The weeks leading up to the event saw the local kiting community in Cabarete buzzing with excitement. Every Dominican kiter was training hard, planning heat strategies, and preparing for the arrival of the world's best freestyle kiters to descend upon the place they call home.
The World Kiteboarding League brought something special to Cabarete and the Dominican Republic: a kite competition with a beach full of spectators, a professional live stream with excellent commentating, and a scoring system that allowed everyone on the beach and online to share in the excitement in Cabarete.
Anyone who has seen Luis Alberto Cruz smashing double handle passes and hardcore freestlyle tricks had to have known that he had a chance to make it into the competition, maybe even into the finals. But, it would be a tough battle.
His performance in the trials granted him the 1st Wildcard spot in the main event and threw him right into the midst of kiteboarding's best. His first heat of the main event, Luis was stacked against some of the contest's toughest riders: Carlos Mario, Liam Whaley, and Jerome Cloetens. He ended with a 3rd place finish in Round 1 and had to fight for his spot in the next elimination round, meeting Cloetens, Paul Serin, and local rider and friend Ariel Corniel. Taking 1st place in Round 2 just ahead of Cloetens, Luis Alberto Cruz proved that he was a rider to fear in this competition.
Round 3 saw edge-of-your-seat action as Luis was pitted once more against Mario, Whaley, Cloetens, Joselito, and David Tonijuan. Cruz would need to place in the top three to make it into the finals, and the competition was tough. Luis finished off his heat with a Hinterberger Mobe 7, scoring an astonishing 9.57­, the highest scored trick in the entire competition. The beach erupted, the commentators were stoked, and all those following the live stream must have been happy to see this underdog and local favorite earn a 2nd place spot in Round 3 and a ticket to the final.
On Sunday, July 19th the riders, judges, sponsors, commentators, spectators and hundreds of fans watching from around the world waited with bated breath to see the spectacular Men's Final play out. Cruz opened up his heat with a huge double handle pass (Flat 7), earning cheers from his friends on the beach. As the heat continued, the Brazilian champ Carlos Mario took a commanding lead with a series of well-executed doubles. Well­-planned heats with consistently high scoring tricks from Alex Pastor and Alex Neto pushed Cruz into the 4th place position. With a few low scoring tricks, including a Back Mobe and KGB, and only 2 attempts left to get back onto the podium, the pressure was on.
On the 6th of 7 trick rounds, Cruz delivered a flawless trick that looked something like a one­ handed Front Blind Mobe and was classified by the judges as a Whirly Dick, scoring a strong 8.2. This left him with an overall round score of 30.76, but still unsafe in 4th place from the increasing strength and power of Liam Whaley (30.97), Carlos Mario (31.57), and young Dominican rider Adeuri Corniel (31.06) who impressed the crowd with a mind­blowingly huge Heart Attack 7. Cruz was fighting for a podium spot with only 1 trick left to go.
These are the moments that make heroes. Cabarete's locals were crowded on the beach and fans of Cruz following the live stream were holding their breath. Could he do it? The virtually unknown local rider Luis Alberto Cruz had only one chance left.
On the final round of tricks, Whaley scored huge on a Backside 317 followed by Neto who dropped an impressive Slim 7. Cruz's chances looked tight. When his first tack out resulted in a skipped attempt due to heavy chop, the podium looked even further away. But on his next tack he nailed another massive Hinterberger Mobe 7 and everybody lost it. Youri Zoon, who was delivering an incredible narration in the commentary box couldn't hold back his cheer. When the score dropped, Luis had jumped straight into 1st place with a 9.17 and round score of 33. Attempts to catch up by Pastor with a KGB5, Mario with a Heart Attack 5, and Corniel with an unfortunate crash left Luis Alberto Cruz standing strong and proud in the hard­won top spot.
Like a hero, Luis was carried up the beach on the shoulders of his friends and fans while waving the flag of the Dominican Republic. It was an emotional moment. This local rider fought for this victory and earned it without a shred of doubt.
On a personal note, I don't think anyone deserved that win as much as Luis. He has been a fixture in the Cabarete kiting community, he has worked hard and built up his skill over the past decade of kiting, and he is one of the kindest and most authentic people I know. In only a year in Cabarete, I've seen him rescue downed kiters and equipment in the water, share trick tips for those pushing their level, and work hard to support himself and his family while still being able to focus on his passion-­ freestyle kiteboarding.
Luis Alberto Cruz is a hero in Cabarete, and I hope his story and his epic win at the World Kiteboarding League was seen by everyone. Could this event mark the beginning of a successful World Tour? With all of the uncertainty over the past year, I hope that this is the World Tour we've been looking for.
I look forward to seeing what the unexpectedly fierce competition from the kiters of the Dominican Republic does to push the sport of freestyle kiting, and I hope to see El Campeón Luis Alberto Cruz continue to push it as the WKL tour continues.
Editor at IKSURFMAG, Crystal Veness hails from Canada but is based in South Africa. When she isn't busy kitesurfing or reporting on the latest industry news for the mag, she is kicking back somewhere at a windy kite beach or working on creative media projects.
Featured in this Post
Dominican Republic
713
Martinique
166
Dominican Republic
Comments