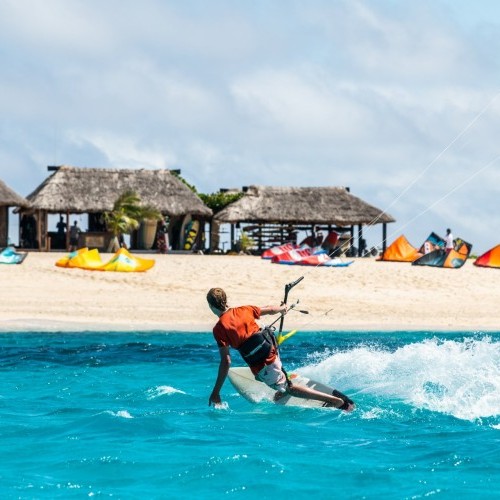 Progression Tools – Professional Coaching at Namotu Island, Fiji
Features / Wed 25th Aug, 2021 @ 12:00 pm
We're all different. We think differently, we like different things, and we learn in different ways. So when it comes to injecting some energy into our kitesurfing progression, it comes as no surprise that some progression tools will suit some of us better than others.
Let's compare it to exercising as an example. Some people prefer going for a run and tracking their performance with tech, others like to follow online coaching programs, and others absolutely need a personal trainer to keep them on task. You've got to go with what works best for you!
In kiting, one-on-one coaching and progression camps are one of the best tools to push your progression into hyperdrive. Investing time and money into your kiting leaves no room for faffing around! That's a real commitment, and the kiting coaches that you enlist for help are taking your progression seriously.
We get some more insight from one such kite retreat, located in one of the best locations for wave riding progression in the world. Ben Wilson and the coaching team at Namotu Kite Week, based in Fiji, gives us the inside scoop on how a kite retreat works!
Namotu Island in Fiji is one of the world's premier surf resorts. It has direct access to world-class waves like Cloudbreak, Restaurants, Namotu Lefts and Swimming Pools with an all-inclusive surfboat. It's a highly sought after spot for surfers, kitesurfers, paddleboarders and more recently, foilers.
Namotu Lefts is situated directly in front of Namotu's restaurant, and it's this wave that first hooked Ben on the sport and has attracted many kitesurfers. Ben has been running Kite Weeks on Namotu Island for over 12 years, during which time they've grown from a dozen intermediate wave kiters to 7 sold-out weeks each winter (June-August). These trips draw a range of guests from around the world, including beginners, intermediate and advanced kiters, plus surfers, foilers, partners and friends who come for the atmosphere and fun.
Ben brings an elite coaching team from around the world, plus special chefs, a photographer and a yoga instructor. It's an immersive experience that delivers from the moment guests step off the boat, and hopefully, one that sends them home with new skills and friends.
Win a Commander Twin Tip by Eleveight, CORE's all-new Link harness, or an ultra-light board bag from Prolimit this issue in our FREE subscriber prize draw.
How does an environment like Namotu Kite Week, with ideal conditions and an experienced pro team, help speed up rider progression?
Namotu Island's location is perfect for complete beginners all the way to experienced riders who are just looking to rip and meet new friends. The natural environment is a huge drawcard; on one side of the Island is flat water that goes for miles and on the other is a world-class kiting (and surfing and foiling) wave. There's also plenty of space and boat/jet-ski support to get beginners up and riding or going upwind. It's easy to get in and out of the water because it's right there. People can just show up on the beach and get in the water, which is warm and super safe.
Namotu Lefts has got to be the perfect wave for kiting. The South Easterly Trade winds hit it at the perfect angle for down-the-line kiting so you can really work on your turns. When you get tired, it's really easy to come back in for a cold drink or a break.
The location is incredible, but the other crucial thing is our team; we have a world-class crew of coaches who aren't just amazing kiters, but they're incredible surfers and foilers too. No matter what the conditions are doing, they can maximise time on the water with their students. When there's no wind, we don't just wait; we surf, foil, explore the islands, SUP or even fish.
"A guest who gets to ride with experienced kite coaches in one of the best places on earth can't help but take their riding up to the next level just being around the vibe and inspiration. Ben will share his daily class on land, then us coaches take you out and put it into place while riding alongside and coaching with headsets. When you're riding with jet-ski support and the eyes of us coaches on you at all times, you can push your limits, knowing we will come to the rescue if anything goes wrong. Many have told me they'd try things they wouldn't normally. – Brett Sheerin, Maui True North
Why do you think an immersive/all-inclusive coaching experience is the best way to invest in your progression?
It's amazing what you can learn in a week, and it's not all because of time in the water. Guests are completely immersed from the minute they arrive. We all dine together and really just hang out as a big group all week, so you can absorb information the whole time.
Our coaches are experienced in all disciplines (kite, prone foil, tow foil, sup foil, wing, surf, longboard, sup, surf, etc.), and Namotu has direct access to the best spots for all these sports. And of course, they're all complementary skills, so if you have an open mind to learn some or all of these disciplines, then you can go as hard as you want each day with your coach and get a huge amount out of the trip.
"As a coach, ideally, we need to see someone riding in a variety of conditions so we can work on their strengths and weaknesses and get to know how their learning style, which takes at least a week. On the Namotu Kite weeks, we work on individual kitesurf and surf techniques and manoeuvres for varying conditions, equipment set up, reading and riding in waves of all sizes, methodology, mindset, and of course, fun and the experience of a lifetime! It's also nice for guests to feel that even when they just want to cruise, do an around the island ride, get some nice kitesurf photos, or have a pina colada, we are there as kitesurf buddies as well as a professional coach!" – Kirsty Jones, 3x World Wave Champion
What is it like for the coaches to work with guests one-on-one throughout their week in Fiji?
I think it's the best part about the week; the people you get to meet and the coaching program is an incredible way to connect and share an experience that you'll remember forever. The coaches enjoy this, plus the fact they are working in one of the best water sports locations in the world.
We asked the coaches what they thought, and they've shared what it's like for them to work with Namotu Kite Week guests!
"Working with one person allows us to save our energy for that one person; working in a group may spread us a little thin. Plus, when we aren't on the water, we hang out on land and become better friends and get to better understand the client's fears, concerns, wants, needs and desires." – Brett Sheerin

"The lasting friendships and memories I've made working with guests have got to be one of my favourite parts of coaching for Ben's Kite Weeks. A one-on-one coaching ratio creates unique learning opportunities for guests as their coach can specifically tailor each day's instruction and coaching styles to ensure the guest's daily growth and progression. It's pretty special for me to see someone learn a new skill, a new trick, or even an entirely new watersport and for the opportunity to share that joy with them in such an incredible location as Namotu Island, Fiji." – Danny Barnette, Instructor & Duotone Team Rider.
"Personally, as a Namotu Kite week coach, my goal is to make sure guests have the ultimate kitesurf and ocean experience, and quite possibly one of the best weeks of their life as we've heard more than a few times, and also felt it ourselves from this very special place, team and Fijian energy!" – Kirsty Jones
If you've been struggling with your progression, perhaps it's time to enlist the help of the pros! Whether it's hourly coaching at your home spot or jet setting away for a week in paradise, it's worth investing in a sport that you love. When you see yourself getting stuck, even on something simple like staying upwind, an hour of coaching can make all the difference.
If a windy holiday is what will feed your kitesurfing soul, check out some of the excellent kite retreats out there. There's trips to suit every level and style of riding, from freestyle to freeride, and even female-focused trips. If it's waves and Fijian perfection you want, wave board or twintip, check out Namotu Kite Week!
All photos by Stu Gibson.
Editor at IKSURFMAG, Crystal Veness hails from Canada but is based in South Africa. When she isn't busy kitesurfing or reporting on the latest industry news for the mag, she is kicking back somewhere at a windy kite beach or working on creative media projects.
Featured in this Post
Comments