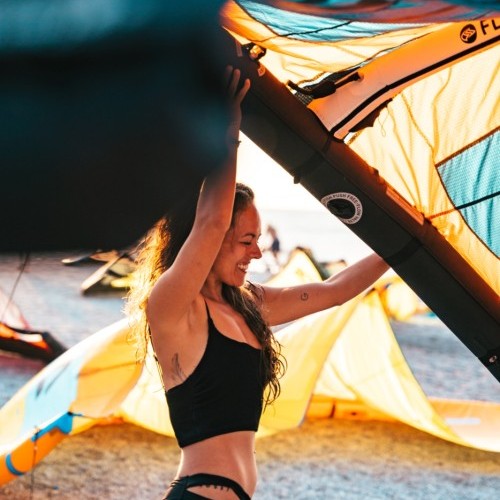 My Salty Sisters: Empowerment & Kite Retreats for Women
Features / Thu 15th Jul, 2021 @ 9:00 am
Ready for a life-changing experience? With My Salty Sisters, you are never alone on the water! The Empowerment & Kite Retreats show that you don't have to be a champion to be a fierce rider. Your level doesn't matter – your passion does! Join My Salty Sister's kitesurfing retreats to unlock and nurture your female energies in a safe and open environment, live a mindful and healthy lifestyle and kite every day with your newfound Salty Sisters.
Win a Custom Designed Ozone Twin Tip this issue in our FREE subscriber prize draw.
"Kiteboarding is our passion. In our years on the water, we have found that our richest and most memorable experiences come from those sessions shared with other like-minded women. Riding together unlocks very special energy and unforgettable connection. The goal of our retreats is to share this energy with women from all over the world, empower them on the water as well as in their lifestyle, and build a community that unites all the stranded mermaids out there." – My Salty Sisters
M Y S A L T Y S I S T E R S R E T R E A T
Kitesurfing is so much more than just big jumps and kite loops. It's about a simple but beautiful way of life, the people you meet, the places you visit. It's about playing with the wind, being connected with mother nature, and the feeling you have the moment you get out of the water – with a big smile on your face.
We genuinely believe that a shared kite session makes the experience even richer. During the last years, we've learned that riding with like-minded women unlocks extraordinary energy. Our retreats are more than a kitesurfing camp. We will show everyone that the female spirit is as free as the ocean, and we want to celebrate it with love, support and respect for each other.
When girls support girls, they make the impossible possible. We are not just sharing the beauty of the simple kite lifestyle; together, we want to embrace, empower and celebrate femininity – on and off the water. While uniting women who share their passions, dreams and some life-long memories, we will build a strong community of kite girls, a solid and reliable sisterhood for all beach lovers and ocean souls. We believe that we can change something within our lives, society, and this sport by supporting each other.
J O I N T H E N E X T T R I P
Kite Trip to Rhodes, Greece from 28th August until 4th September and 11th September until 18th September
A full week of kitesurfing with like-minded women on one of the most beautiful islands of Greece. Good food, a relaxing time for your body & soul and a lot of kiting – the perfect holiday for you!
The retreat includes:
Seven nights in a shared room at an accommodation next to the spot
Breakfast
Guided kite sessions every day
Healthy lifestyle
Daily body & mind workouts (yoga, pain-free fascia, stretching, breathing exercises, meditation)
Plant-based cooking class
Open spaces for open minds
100% support
*Spots are limited for the most personal experience.
For more information on My Salty Sisters, please visit their website here or check out their Instagram or Facebook page.
Italian/Egyptian Jen Tyler grew up on the sandy beaches of the Red Sea and has been on the IKSURFMAG & Tonic Mag team since 2017.
Featured in this Post
Comments