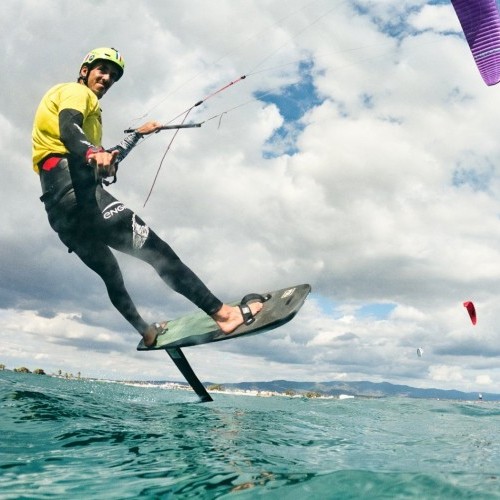 Looking back at the 2021 Sardinia Grand Slam!
Features / Thu 9th Dec, 2021 @ 12:00 pm
Poetto Bay is looking just a little bit different without the hubbub of the iconic Sardinia Grand Slam event. It's been a few weeks since this IKA KiteFoil World Series event brought us fast-paced action on one of the most beautiful beaches in Europe. If you missed out on the event, we're here to tell you all about it!
Win a Custom Designed Ozone Twin Tip this issue in our FREE subscriber prize draw.
First, a moment to pay homage to the magnificent location that has immediately shot to the top of our MUST VISIT list! Cagliari is the capital of Sardinia, which is an autonomous region of Italy. The ancient city decorates the southern shores of the island, making it a prime tourist destination with a perfect blend of history, culture, and – you guessed it – windy beaches! For the kiteboarder wanting to experience just as much off the water as on, a visit to Sardinia is well worth it!
The unique geography of the island means that there are suitable kitesurf conditions year-round, with the most consistent wind being in the summer months. There are spots all over the island, from north to south, and at least one spot that will work in any wind direction! The two best-known beaches on the island are the stunning flatwater beaches of Punta Trettu and Porto Botte, but when it comes to a foil racing event, the mistral winds of Poetto Bay are ideal!
In summer, the wind at Poetto Bay blows primarily offshore, making it the perfect setting for the action-packed 2021 Sardinia Grand Slam, returning after two long years! This event was an open format event, which, unlike Formula Kite, allowed more flexibility in gear choice and more riders to participate. Riders were able to use this event to refine their strategy and prepare for the Formula Kite World Championship, which happened the following week in Torre Grande, Sardinia.
With four days of racing and 44 riders participating from 21 countries, Sardinia Grand Slam spectators on the beach and watching online were in for a treat! For the viewers that were only able to tune in to the livestream or stay up to date with the daily recaps, the event organisers put together a high-quality media package, so there was no risk of missing out on the action!
On Day 1, all eyes were on defending champion Axel Mazella. However, it was Connor Bainbridge who came out on top on the opening day of racing. In the women's field, it was Poema Newland who finished the first day in the lead! With five races completed in wind up to 33 knots, the event was off to a literally strong start!
Win a Custom Designed Ozone Twin Tip this issue in our FREE subscriber prize draw.
There were five more races on the 2nd day of the event, which allowed Axel Mazella to take the lead. Connor Bainbridge got knocked down to the 3rd place position by Russian competitor Denis Taradin.
Win a Custom Designed Ozone Twin Tip this issue in our FREE subscriber prize draw.
On Day 3, the wind crept in a bit later in the day, with a sea breeze arriving in mid-afternoon and wind strong enough that riders could compete on 15m kites. However, the wind came and left quickly, with racers struggling in the tricky conditions in the last race of the day. Lauriane Nolot fought her way into the 1st place position in the Women's category, and Axel Mazella extended his lead to 14 points. Bainbridge claimed back his 2nd place position, and after four races, Theo de Ramecourt was able to secure a provisional podium position in 3rd.
Win a Custom Designed Ozone Twin Tip this issue in our FREE subscriber prize draw.
There were only three races left on the final day of the Sardinia Grand Slam, and Lauriane Nolot was able to hold onto her lead, finishing in 1st place. In the U19 category, it was Riccardo Pianosi who took 1st, while finishing in an impressive 6th place overall. Pianosi was proud to represent Italy and stand atop the podium in his home country! In the men's event, Axel Mazella was unbeatable, finishing well ahead of the pack in 1st place. Theo de Ramecourt snuck ahead of Connor Bainbridge, and they finished in 2nd and 3rd.
Win a Custom Designed Ozone Twin Tip this issue in our FREE subscriber prize draw.
From our perspective at IKSURFMAG, where foil racing has become a recent addiction, this event was an incredible display of skill. With conditions ranging from super strong to gusty to super light, it was certainly a test of the rider's skills. It's clear that supreme balance and technique is required to manage the changing conditions. We were on the edge of our seats watching the athletes make high-stakes manoeuvres around the buoys in close proximity to other racers. With the final results only being cemented on the final day of racing, the scenes at the finish line, strategically placed right next to the beach, were exciting to see!
Final Results
MEN
1) Axel Mazella (FRA) points 30
2) Theo De Ramecourt (FRA) p. 42
3) Connor Bainbridge (UK) p. 47
4) Denis Taradin (RYF) p. 49
5) Benoit Gomez (FRA) p. 56
WOMEN
1) Lauriane Nolot (FRA) points 232
2) Poema Newland (FRA) p. 249
3) Jessie Kampman (FRA) p. 300
Thanks to the team and organisers behind the Sardinia Grand Slam for putting together such an exciting and informative event. For the novice foil racing fans, it was a great introduction to the epic action that happens on a race weekend! We're looking forward to the 2022 event and perhaps our very own kite trip to stunning Sardinia!
Editor at IKSURFMAG, Crystal Veness hails from Canada but is based in South Africa. When she isn't busy kitesurfing or reporting on the latest industry news for the mag, she is kicking back somewhere at a windy kite beach or working on creative media projects.
Featured in this Post
Comments