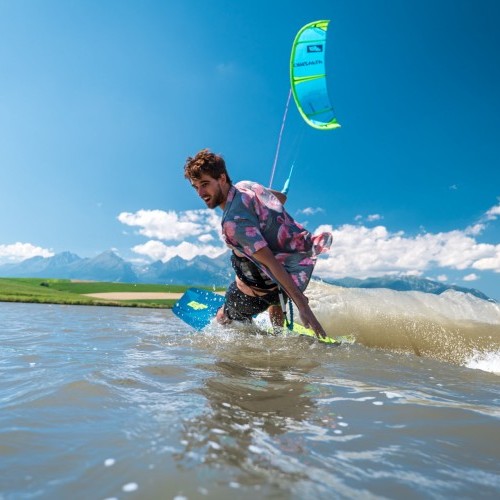 In Focus: CrazyFly 2021 Product Overview
Features / Tue 25th Aug, 2020 @ 10:00 am
What a year it's been, so far! Yet, this European family-run company managed to release an impressive line up for the 2021 season. Check out what's new at CrazyFly.
2021 Kites
The Hyper
With the 2021 Hyper, we continued improving what has been a trend in kites in recent years: the strength to weight ratio. The 2021 Hyper 12m kite is 0,4 kg lighter than in 2020, yet the strength and rigidity of the airframe and canopy the same. The 2021 Hyper 12m weights 4 kgs or 0,33 kg per square meter, which is very light for a five strut kite. This year, we also bring a light wind version of the Hyper in 15m size. Incredibly, the 2021 Hyper 15m weights 4,2 kgs only, which is less than a 2020 Hyper 12m (4,4 kgs). The reduced weight and same strength were achieved by:
A new bridle system which reinforces the kite better and adds to the strength of the airframe.
Reduced number of panels on the kite. Again, we joined more panels together.
New lighter trailing edge with two layers of Ripstop instead of heavyweight material.
Also, we moved the back lines attachments directly to the leading edge, which puts less pressure on the canopy and creates a much more direct response and faster turning of the kite. The leading edge seam was reinforced with an additional layer of Dacron, but at the same time, we reduced Dacron covering the struts on the canopy, as there is now less pressure on the canopy. As a cherry on the top, we introduced a new Airlock valve which is simple, quick and secure to use. The reduced weight of the kite, new bridle and new backline attachment point position results in the much better relaunch, better low end, less bar pressure and faster turning. These aspects were all improved, while the hangtime and lift of the Hyper stayed untouched, and we all know how amazing it is.
For more information on CrazyFly's 2021 Hyper, please click here.
The Sculp
The new 2021 Sculp is an accessible do-it-all kite with a sporty feel. A true all-round performer across all disciplines. Whether you like old school, freestyle, kite loops, big air or foil, the new Sculp will deliver.
Brand new Hybrid Delta Bow shape takes advantage of both worlds and results in the most versatile and easy to use kite we ever made. Light at the bar with a very intuitive feel, gradual pull and large depower.
With a brand new eight-point short fixed bridle the Sculp is fine-tuned for kite loops. It turns quickly with a small turning radius, good tension in the lines, and a nice catch after a kite loop. Combining the new shape and bridle, the Sculp offers good amounts of pop, drift, and slack in the lines for unhooking.
Ever-evolving lighter and stronger construction with hi-tech European manufacturing results in breathtaking performance and long-lasting durability.
The 2021 Sculp – One world, one kite.
New Hybrid Delta Bow shape
Versatile all-around performer
New short eight-point fixed bridle
Fine-tuned for kiteloops
Extremely stable and predictable
Direct & responsive steering
Easy relaunch
For more information on CrazyFly's 2021 Sculp, please click here.
2021 Twin Tip Boards
The Legend – Posito Martinez's Signature Model
The brand new Legend has been designed and developed with Posito Martinez for the Freestyle World Tour. It is shaped and constructed to be pushed hard, and delivers impressive power on the water. This freestyle weapon is aimed at intermediate to advanced riders who like to push their limits and ride aggressively.
The shape features a squared outline for more surface area on the tips for the biggest pop possible. An edge control track runs along almost the full length of the board and gives the edge more bite for takeoffs. With a mid to flat rocker and no concave in the centre, the Legend generates a lot of speed for massive takeoffs. The tips have a big V shape for better load 'n' pop and improved upwind tracking.
Construction-wise the Legend is seriously packed. The board is on the stiffer side, but rewards with huge amounts of pop. Adding to more pop, the Legend has a full carbon layup and thicker 3D shapes wood core with carbon fibre reinforcements in critical areas. You can push the gas pedal with this board, and for flatwater unhooked freestyle session, this board is merely legendary.
Unhooked freestyle machine
Explosive pop
Very fast
Handles extreme landings
Compatible with straps and wake bindings
For more information on CrazyFly's 2021 Legend, please click here.
The Action – Ultimate Freeride
The 2021 Acton is a brand new addition to the board range. It is replacing the Allround board, and the Acton brings new and improved features. If you are looking for a high-quality kiteboard which performs well, looks cool, and has an attractive price tag, then the Acton is the board for you.
Brand new outline and improved 3D pattern on the wood core allow for even better upwind, and medium flex pattern for the smoothest possible freeride. The Acton has a step cap deck technology for better edging and upwind tracking. Coupled with a proven single concave bottom, the Acton is a dream to ride.
Another new addition is one extra footpad insert position on the deck. With the new wood core and improved pop, the Acton is no longer just a beginner board, but a much more refined and serious board to ride.
Construction comes second to none with a full 3D CNC shaped wood core, multiaxial fibreglass layup and Fusion sidewalls. These three high quality elements enable the board to deliver fantastic performance on the water, designed to fit a wide range of riders from beginners through to intermediates.
Very comfortable
Easy to ride
Great upwind
Good in chop
For more information on CrazyFly's 2021 Action, please click here.
The Raptor Diva – What a Girl Wants
Raptor Diva is another brand new addition to our board range. It is a girl specific board created with the legendary Raptor shape but optimized for female riders in both flex and stance. Comfort, style and performance are the building blocks for a functional girl specific board, and the Raptor Diva offers just that.
The shape features an edge control track on the bottom for added grip and a subtle centre Vee for more speed under control. Brand new Triaxial 45-degree E-glass layup ensures higher heel to toe stiffness for increased pop and more flex along the length of the board for added comfort and softer landings. The Step Cap deck technology allows for thinner rails for ultimate edging and amazing upwind.
The Raptor Diva board is a very comfortable freeride board customized for the ladies. Not only the graphics but also the construction, insert positions and straps are all customized for girls. Construction-wise, we source the finest selection of tip-to-tip CNC Shaped Wood Core, Multi Axial Fiber Glass and Fusion side walls to create a great balance of flex, stiffness and pop. A slightly softer flex pattern provides smooth and comfortable riding, soft landings and eats up chop very well.
The Raptor Diva is designed for intermediate to advanced riders looking for a comfortable freeride board with great amounts of pop to nail tricks.
The Raptor Diva works best with Binary S-size bindings but is also compatible with wake bindings.
For more information on CrazyFly's 2021 Raptor Diva, please click here.
Hexa Bindings II
The Hexa Binding II provides unlimited adjustability to accommodate all foot shapes and sizes while offering unmatched comfort and board feel.  All the adjustments on the Hexa Binding II can be quickly and easily made for the ultimate rider-board connection.
The Hexa II footpad has a 3D ergonomic shape and dual-density EVA for the best possible comfort and fit. The 3D shape includes arch support, toe grip and heel support. The Hexa footpad can be moved in six directions: up and down, left and right, and also angled clockwise and counterclockwise.  The Hexa II footstrap offers a wide range of adjustments of the footstrap size, which can be easily and quickly made. The footstrap position can also be adjusted via the Quattro Stix, which allow the footstrap to be moved towards the heel or the toes.
In addition to all the adjustments, there is also a Heel Suspension Infix with triple density EVA foam.
Our designers were hard at work to create the best possible ergonomic fit and hand-picked premium materials for long-lasting durability and luxurious comfort. The outdoor performance leather from Italy on Hexa II footstraps is extremely resistant to abrasion, sun rays and saltwater. On top of premium materials, the Hexa Binding is made in Europe, in the CrazyFly factory.
The Hexa II Binding – Unlimited adjustments and luxurious comfort.
For more information on CrazyFly's 2021 Hexa Bindings, please click here.
2021 Foilboards
The Pure – Unique Pocket Foil Deck
Pure is a pocket foil board, unlike any other. Ultra-small with a simple minimalist design and extremely lightweight full carbon layup without any sacrifice to the performance. In its mid-size, 88 x 43 cm, the Pure board with full deck pad weighs an incredible 1,58 kg, making it the lightest foil board in the world. The Pure is a masterpiece of extreme lightweight engineering with air inside core technology and demonstrates outstanding expertise of CrazyFly in all areas of carbon fibre technology.
The Pure is designed for upper-intermediate riders, who know how to stay up on a foil, to expert riders looking for the smallest and lightest foil board possible. It has a mid-height nose not to push water and slow down when touching down, but requires advanced skill to recover a touchdown. Experienced riders will appreciate the low weight when jumping and pocket-size when riding and travelling. Works perfectly with and without straps and also with a back foot hook. The Pure is effortless to tip on the side for quick and easy water starts. Flex remains stiff thanks to high strength carbon fibres, concave deck shape and less leverage on such shortboard. Stiff flex results in quick and dynamic response to the rider's input and feels very solid under feet.  The Pure fits everywhere, so it is a perfect travel companion.
The Pure has only one position to mount a foil and fits foils with 165×90 mm masthead.
The lightest foil board in the world
Ultra-small minimalist design
Air Inside Core technology
High-end carbon construction
Precision handcrafted in CrazyFly factory.
For more information on CrazyFly's 2021 Pure, please click here.
Cruz 1000
Building on our extensive knowledge and over twenty years of experience in working with carbon and stainless steel components, we are proud to introduce a brand new Cruz foil.
The Cruz 1000 is an easy to use free wave foil with the smoothest possible carving and surprisingly high cruise speed for its size. It offers a wide speed range with predictable acceleration and gradual lift. With just the right amount of roll stability, the Cruz 1000 inspires confidence and is ideal for intermediate riders to experts. A very versatile wing with great manoeuvrability that feels stable and in control at all times under your feet.
Smooth carving and great manoeuvrability
Fast cruise speed for its size
Full carbon front wing
Injected carbon rear wing
Aircraft-grade aluminium alloys
Easy and quick to mount
Completely silent in all speeds
For more information on CrazyFly's 2021 Cruz 1000, please click here.
To view CrazyFly's complete product range, please click here.
Jen Tyler grew up in the chaos of Cairo, Egypt. It was on the beaches of the Red Sea where her love for the ocean, water sports and adventure grew.
Featured in this Post
Dominican Republic
4,025
Slovakia
41,705
Comments