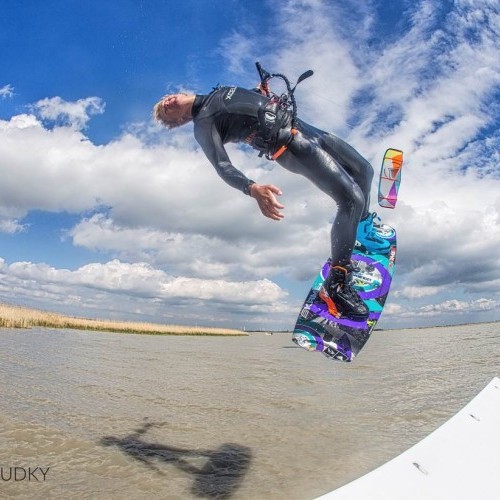 Why Visit?
With more than 300 sunny days a year and the mild Pannonian climate, Lake Neusiedl is more than just a kite, windsurf and sailing hotspot, it is an enchanting place to relax and recharge your batteries from your daily routines.
The Lake Neusiedl is a steppe lake situated between the eastern parts of the Alps and the western part of the small Hungarian plain, named the "Seewinkel" – it is a steppe-national park. The national border between Austria and Hungary cuts right through the lake making it possible to kite in two different countries at the same time. The lake and its reed belt cover in total about 320 km², of which 4/5 are on Austrian, and 1/5 is on Hungarian territory.
Kitesurfing at Lake Neusiedl requires to be aware of the prevailing and forecasted wind conditions as well as to adapt and keep safe kitesurfing habits, leading to happy faces instead of injured bodies! If you are unsure about anything, have a chat with the locals or the schools and ask for any information you need before riding instead of not knowing what you might be getting yourself into.
Lake Neusiedl is known as a challenge, and it is said that if you can kite this lake, you can kite anywhere! So it is fantastic to go there and kite, to challenge your skills and learn; make sure you are ready for it and have taken all necessary measures to keep you and others safe. And hey, there are plenty of schools there to support any skill level or kitesurf style – freeride, racing, foiling, freestyle etc. Never be too shy to ask for help, the locals and anyone at the spot will thank you and appreciate you as a responsible kitesurfer.
The region around the lake is home to many vineyards as the Pannonian climate is ideal for producing some tasty wines. One of the most famous ones being the "Grüner Veltliner" which is mostly known in pubs and throughout the world under "Weißer Spritzer". The Austrian local food specialities make this region as a must to visit!
Wind and Weather
The main wind directions at Lake Neusiedl are north-west and south-east. The lake is shallow enough throughout the whole area to walk back to the shore in an emergency. Nevertheless, this is tiring as reed restricts the exit from the water at any point. All the kite schools have boats and cruise around the lake between 09:00 and 18:00 which offers safety. This is not an official service though for individual kitesurfers which is why connecting with the local is a smart thing to do to ensure safety at all times. The schools will let you know about the emergency procedures and also the costs that you shall encounter should you require rescue.
The climate is quite volatile making every summer different and unique. Temperatures can rise above 30 degrees in June, and reach up to 40 degrees during the high summer. Heavy rain and thunderstorm is also part of the climate at the lake, never lasting for too long though.
When the weather gets rough, kitesurfers are adviced to be cautious and make sure their kitesurfing skills match the current weather conditions and the appropriate equipment.
Lake Neusiedl is home to the gusty wind when the high winds kick in; causing unnecessary accidents due to unsafe and careless decisions taken by riders in the past. According to this, kitesurfers entering the water at the kitespot Podersdorf require carrying a BIB (a vest) allowing to initiate legal prosecution in case of severe negligence and unsporty behaviour.
All spots around the lake offer anything from low wind to extreme winds. You can find foil kiters starting to cruise at like 6 – 9kts and see "regular" kitesurfers in strong winds riding up to 30kts in safe conditions, provided they possess the necessary riding skills of course. Any conditions above 30 kts are only advisable for very experienced, and pro riders as strong winds usually come with the unstable wind making it necessary to possess strong launching and landing skills.
Getting Around
You can get around the lake by bike, but if you are thinking of moving with your kitesurfing equipment from one spot to the other around the lake, it is advisable to rent a car or to check with the local bus transport.
In case you wish to move outside of Podersdorf or Breitenbrunn to explore the region the car is the best possible and is best to rent a car when you arrive at the airport or to check rental availabilities from Vienna if this is also part of your journey. If you do not want to hire a car, there is a local bus service connecting the surrounding villages.
Food and Drink
The lake is located in a wine region, so there are plenty of winemakers in and around the kitesurf spots Podersdorf and Breitenbrunn offering a wide range of local food and wine specialities. One of the most famous Austrian wines is the "Grüner Veltliner". A very renowned winery situated around the lake is the name of Hillinger - some of you might have seen or even tasted wine from this winery somewhere around the world while kitesurfing. The owner of Hillinger himself knows a lot about kitesurfing; probably why he is also found in Cape Town!
There are many picturesque villages to explore around the lake, each of them offering traditional Austrian cuisine, wine as well as coffee and cake.
Nightlife
Podersdorf, as well as Breitenbrunn, are far from being a hot spot for nightlife action - You'll probably end up hanging out with some other kitesurfers and end up chilling with locals in the wine bars.
If you are looking for a "wild" and exciting nightlife; Vienna will be the best spot to go! Depending on where you are at the lake will take you 1-2 hours to get to Vienna by car or train.
No Wind?
When there is no wind around the lake, there are loads of options to keep you occupied! You should check out FlipLap in Vienna; it's a parkour and freestyle park, about 30 min away from the lake. You can also explore the lake by SUP, boat or bike. You can visit St. Martins Therme for a relaxed day at the spa. You could also explore Vienna or go shopping at the nearby designer outlet in Parndorf.
Internet
The Internet is available as a resident guest in hotels and most B&Bs. If you are staying in a small B&B, make sure to check if they have internet available before you book it. Apart from that, Podersdorf now also offers free wifi to all visitors, but as this feature is new this year, I cannot make any comment on how reliable this new public available wifi is!
In any case, internet connection is stable in the region, so roaming is possible at any time.
Accommodation
There are plenty of hotels, B&Bs as well as private booking possibilities available as well as the local camping site. Some kitesurfers sleep in their vans around the lake but keep in mind that this is officially forbidden and can end in a fine!
As the lake is a preferred holiday and weekend destination for Austrians as well as for travellers from Europe and the world seeking peace and a nice glass of wine with local specialities, the booking situation can be quite tight. According to this, it is always advisable to check availability in advance if you are restricted to a specific time window for your kite holiday or be prepared to find accommodation outside of Podersdorf and Breitenbrunn.
Featured
Hamata is a kitesurf playground with crystal-clear water, a huge waist deep area for beginners and lots of space for the advanced ones to practice new tricks. Unlike other Egyptian spots, it is pretty green and diverse on the water with a scenic mangrove forest upwind of you and three beautiful islands with reefs a little bit further out. The…
Coconut Bay is located just minutes from the international airport on a pristine stretch of sandy beach, along the exotic southern coast of St. Lucia. The resort's exclusive watersports complex, Surf Shack, is so well situated that you can be on the beach and getting ready to surf just 45 minutes after landing! The spot itself is suitable for all…
Westward Ho! is a picturesque seaside village near Bideford on the North Devon coast in England. The name Westward Ho! derives from the Victorian novel by Charles Kingsley, and is unique as its the only place in Britain with an exclamation mark is in its name. Renowned for its miles of golden sandy beach and backed by a pebble ridge,…
Nadja is the founder and owner of kite2connect. She is constantly looking for opportunities to explore her limits. This makes her feel alive and creates her gates to growth. Kitesurfing is her fuel keeping her heart and passion burning for new adventures!
Been to Lake Neusiedl? What did you think?
Where are the Best Kitesurfing Beaches in Lake Neusiedl?
Podersdorf is safest during onshore wind coming from north to south-west as there is no official rescue service at the lake unless you are currently visiting a kite school or have agreed with a kite school to use their upwind service. This does not mean that no one will assist you when in trouble or organise for help in case of an emergency. It is just important to know that kitesurfing at Lake Neusiedl cannot be compared to other spots around the world.
Kitesurfing at the lake is open to anyone as far as the local beach entry fee is paid to keep the spot clean and tidy making kitesurfing at the lake at one's own risk. There are showers and toilets available as well as all the schools are there.
Should you feel uncomfortable or unsafe to launch and land your kite on the confined space consult with the various kite schools at the spots giving you advice, offering their spot introduction services or to also use their upwind service which shall smoothly take you out onto the lake and you can cruise or freestyle around as much as you want.
Once your session is done they will pick you up again, bring you back to shore avoiding the possible challenge of entering and leaving the water by yourself. It's always better to be safe than sorry!
To ensure all rules are followed and to provide a safe kitesurf environment kitesurfers need to wear a BIB when entering the water in Podersdorf. This BIB is to be obtained by the public kitesurf entrance "Podersdorf Nord Nord" or if staying at the camping site, at the camping site office directly.
People staying at the camping site enter the water from there and are free also to use the public entrance. Public kitesurf spot users are not allowed to enter the water from the camping site.
The official season for "Podersdorf Nord Nord" starts from 25th March until 10th November and the opening hours are 07:00 – 20:00.
During the off-season, the water can be entered not only from the official kite beach but from any area usually destined to beach users only. You will find the dry suit kiters during this time, and once the lake is frozen, snowkiting becomes the winter activity at the lake.
Wind: north-west is the safest
Waves: Choppy (if the wind blows onto a reed island; you can get flat water)
Shorebreak: None
Breitenbrunn is safest during onshore wind coming from the south, south-east, south-west and west. Another aspect to consider is that the spot does not leave a lot of room for launching and landing and therefore does not allow for insecure behaviors as they mostly will lead to unwanted scenarios.
In case you are not sure, feel unsafe due to the close surroundings (trees, obstacle etc.) consult with the local kite schools for assistance, to give you an introduction of the spot and also to offer you the possibility of an upwind service out onto the lake. This upwind service will keep you from the strain of launching and landing the kite in tricky conditions and keep you and others safe while enjoying an excellent kite session!
This spot does not require you to wear a BIB.
The official season starts from 1st May until 15th September, and the opening hours are 08:00 – 18:00. During this period and the opening hours, an entrance fee is to be paid. Other than these times; the beach access is for free. As this spot is connected to a camping site, showers, toilets, and many coffee shops are available.
Wind: South-east is the safest
Waves: Choppy
Shorebreak: None
Jois can only be entered by the local kite school as there is no other way to enter from the beach due to the reed around. It is necessary to use the kite school boat service out onto the water. As they are based near the harbor and surrounded by reed, they will take you out with a boat and drop you off where the wind is best and protect you from the reed. They will pick you up once you are done with your session and take you back to Jois.
Wind: Possible in all direction
Waves: Choppy
Shorebreak: None
When is the Best Time to go Kitesurfing in Lake Neusiedl?
The windy months to go kitesurfing in Lake Neusiedl are July, August
Statistics
Do you know a good kitesurfing school here?