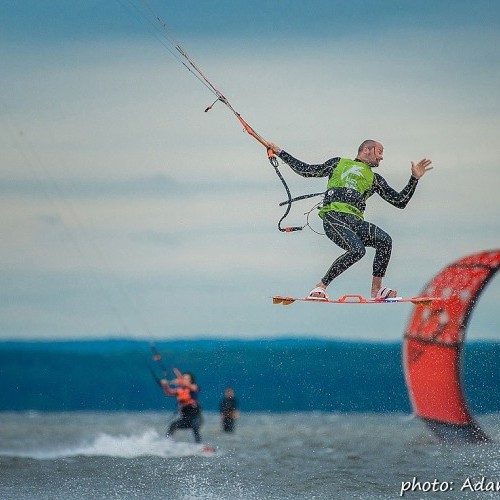 Why Visit?
Hel Peninsula consists of one of the biggest beginner-friendly lagoons around Poland. The shallow (waist deep) lagoon stretches from 500 to 1000m across the entire Peninsula. Clearwater, sandy bottom, no reefs, no significant tides changes, no sharks spottings and lot of space make this place perfect for beginners and intermediate riders.
Additionally, the positive, laid-back vibe and nearby accommodation at Chalupy's campsite (located directly on the kite spot) makes this place mecca of polish kitesurfing and windsurfing scene. This spot works in all wind directions – with North and North-east winds you need to cross the street and go to the second beach, located at the open sea. It's perfect!
Wind and Weather
The season last all year long, some locals even kite in the wintertime in minus temperatures. Summer season starts from May until the end of September, and during those months all the campsites are open. It is hard to predict the wind at the polish seaside because it is strictly dependant on the weather – there are no regular winds like trade or thermal winds.
Generally winter, spring, and autumn are windier than summer, but we've had seasons whereby there are 20 windy days in a row. At Chalupy 6, the best and most common wind direction is west, and this is clear side-shore wind from the left side.
This spot also works with NW, S, SE (which is perfect, super steady and clean wind). In north and east wind direction you need to cross the street and kite on the other side of the peninsula at Baltic Sea, or take a car and go to other, southern side of the bay.
There is also a beautiful sandbar called "Mewie Rewy" (translates to seagull's sandbank) that works in offshore and side-offshore winds. It is located in the middle of the bay with shallow and super flat water. You can get there by speedboat from Kuźnica village – ask the people from the local school at the end of this village (direction to the city of Hel).
We have your typical eastern Europe weather! Bring along 4/3 mm wetsuit; sometimes you can use shorty wetsuit but not very often. Summer temperatures between 20-30C.
Getting Around
If you stay at the campsite, you have the best spot just a few steps from your caravan or tent. You can rent a bicycle and discover the peninsula by bike or take a walk to go shopping. Walking around is usually much quicker than taking a car, we get some nasty traffic jams in the high season and weekends during the summer holidays.
There is also a train station in front of the Chałupy 6. During the summer holidays, there are direct trains from all big cities plus there are lots of trains from Gdynia, Gdańsk, and Sopot to Hel. If you need to rent a car, you can arrange that in Gdynia or Gdańsk.
Food and Drink
There is a restaurant on each campsite plus there are a few excellent restaurants in Chalupy village or Jastarnia. The restaurants we usually recommend are; Surf Karma at Chałupy 6, Surf Tawerna at Chalupy 3, the restaurant in Meridian Hotel in Chałupy, Surf Messa in Chalupy Village, "U bąbli" in Jastarnia, "Łóżko" in Jastarnia and "Urwis house" in Jastarnia.
There are lots of fish restaurants around, and there are also some small grocery shops are available at every campsite plus you have some big supermarkets in Władysławowo.
Nightlife
If you want to party hard, you need to visit the "Solar" club in Władysławowo – usually, the best party takes place every Monday. On weekends, there are live bands at campsite Chalupy 6.
No Wind?
No problem! There is always something to do. You can rent a stand-up paddleboard or go wakeboarding; there is a system 2.0 cable park in Sławutówko, about 20 min by car from Chalupy. You can also walk to another side of the peninsula (Baltic seaside) where the beach is gorgeous. Another option is to rent a bicycle and go to the end of Hel Penisula.
Internet
Mobile data can be slow during the high season due to a high number of tourists. Within the European Union, data roaming is cheap and widely available; therefore connection can be affected. You'll find WiFi at campsites and restaurants.
Accommodation
The best option for kite surfers is to stay at the campsite – you'll always be just a few steps away from the water, which is very comfortable. We highly recommend campground Chalupy 6, because of the best infrastructure and surf vibe and great location (closest campground to Chalupy village and just a few steps from the train station).
You can rent a caravan, or you can come with your camper or tent (only at the beginning of the season in May, later all campsites are almost full, and it is hard to find a place). When you rent a caravan, then you don't need to worry about the area.
The Meridian or Hotel 77 in Chałupy are also walking distance to Chałupy 6 spot. You can also rent a room in one of the local private homes in Chałupy (there is a lot of them, but during the summer holidays you need to book in advance).
Staying in Władysławowo is another option but be ready for some traffic jams on the way back to your hotel every day. Also, check out Jastarnia (you can even kite there).
Featured
The Cayman Islands, a British Overseas Territory, is made up of 3 islands in the western Caribbean Sea. It is famous for its tax havens to many global businesses, but recently kiteboarding has prospered due to the warm Caribbean waters and steady trade winds. Located south of Cuba it is a relatively close hop from Miami, so there are lots…
Nirvana Blue is a spectacularly remote off-grid boutique villa on a private 10-mile beach with world-class kitesurfing. Catch some of the best thermal winds of the Gulf of Mexico without having to share the breeze. Shallow waters, gentle waves, and high winds make for ideal conditions for experts and beginners alike. Nestled deep within the lush and vibrant Biosphere Reserve…
Lo Stagnone of Marsala in Sicily is known all over Europe as the "gym" for kitesurfers. Ultra flat and shallow waters make it a unique place in Italy for beginners to quickly learn and for freestylers to make the most of the flat waters. With more than 300 windy days a year, you'll be surfing through windmills and white mountains of…
Kitesurf IKO instructor, traveller, surfer, owner of EASY SURF.
Been to Hel Peninsula? What did you think?
Where are the Best Kitesurfing Beaches in Hel Peninsula?
The best camping at Hel Penisula with a great set up (restaurant, shower, toilets, and shop) Shallow and flat water at the "bayside" plus deep water and chop/waves on the Baltic Sea side of the peninsula.
Wind: From all directions, but mainly Western, side shore from left
Waves: No
Shorebreak: No
Small city after Chalupy towards Hel. Kite beach is a "wild" beach on the right side of the big pier, after a windsurfing school. Jastarnia does not have surf vibe like in Chalupy, but conditions are similar.
Wind: From all directions, but mainly Western, side shore from left
Waves: No
Shorebreak: No
Sandbar in the middle of Pucka Bay, the perfect place when the wind at Penisula is offshore. Local school and jet ski rental organise boat transfer there. Flat and shallow water; around 300m from the sandbar, only at western part of the sandbar
Wind: From all directions
Waves: No
Shorebreak: No
When is the Best Time to go Kitesurfing in Hel Peninsula?
The windy months to go kitesurfing in Hel Peninsula are May, June, July, August, September
Statistics
Do you know a good kitesurfing school here?