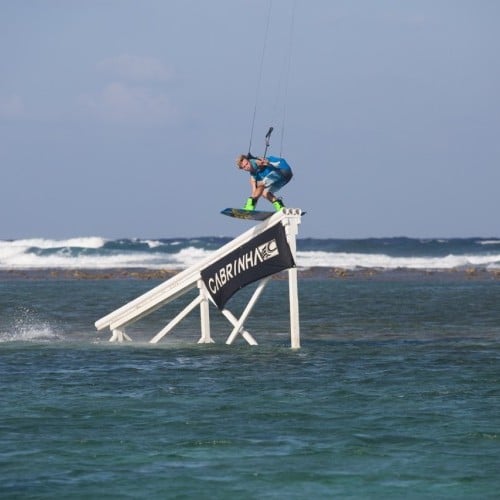 Grand Cayman
Cayman Islands
Why Visit?
The Cayman Islands, a British Overseas Territory, is made up of 3 islands in the western Caribbean Sea. It is famous for its tax havens to many global businesses, but recently kiteboarding has prospered due to the warm Caribbean waters and steady trade winds. Located south of Cuba it is a relatively close hop from Miami, so there are lots of flights in from the U.S which makes it accessible to American tourism. It is also a famous stop for many cruise liners on their Caribbean holidays. Grand Cayman in the Cayman Islands has some of the best kiteboarding conditions in the world. Clear, protected bays with lots of room to cruise and learn. Barrier reefs provide glassy flat water inside and breaking waves in the channels.
Wind and Weather
The trade winds in Cayman are from November - April. From May - October the summer temperatures are hot, and winds usually are too light to kitesurf. Standard conditions are typically big kite weather with occasional weather fronts bringing frontal stronger winds through. Ideal for learning and also foiling is popular. Temperature wise, it is delightful, only on a cold front day is some form of neoprene necessary, most of the time boardshorts is enough. Bring your big kites to avoid disappointment. During the less frequent high wind days, you will need a small kite.
Food and Drink
The Cayman Islands has a heavy Jamaican influence to go alongside the usual American style eateries. Fish is the
big thing on the island and is hard to beat. Conch is a pretty traditional offering alongside Mahi-Mahi, snapper, tuna and turtle. Supermarkets almost identical to ones in the US can be found all over the place although prices in these are much higher than the mainland US.
No Wind?
Diving is spectacular as the seas around Cayman are some of the clearest on the planet. Fishing trips are popular as well as golf courses, yoga studios and malls. One must do activity is Bioluminescence tours. On the north side of Grand Cayman, there is a small protected bay that is one of the best Bio Bays in the world. Millions of glowing micro-organisms put on a fantastic light show in the dark water. Rays are also very frequent and often seen, stingray city is a favourite activity. Worth noting on a day when one or more cruise ships are docked it is heaving with people, best to go outside these times.
Internet
High-speed. American amenities and British-run make connecting to the internet worry free.
Accommodation
A massive range of hotels, most rather pricey on offer as well as self-catered apartments. Accommodation, in general, is quite expensive so it's worth looking around for something that suits your price bracket. The Reef Resort is right on the beach by one of the best kite locations, the Sweet Spot, self-catered apartments as well as fully catered rooms are available and are right on the beach. Barkers Beach is the other kite spot on the island and is close to the famous 7-mile beach crammed with hotels, so the choice is up to you.
Cayman Islands
Cayman Islands dollar (KYD)
Featured


It's no secret that Antigua has been a significant kiteboarding destination for over a decade now. The island is renowned for being the birthplace of kite legends like Andre Phillip and his protégé Jake Kelsick. Ever since the release of the hit kite film Autofocus, all eyes have been on Dre and the local crew, who consistently pump out high-quality…


The region around Greifswald is beautiful, wide and still not very touristy. The Greifswalder Bay is a huge bay with no currents and home to several great kitesurfing spots. It's perfect for training and also good for foiling (if you stay out of shallow water) and not too crowded. The kitesurfing is not tide-dependant, and in the summertime, you'll have…


Constant trade winds, a choice of sandbars, five kilometres of powder white sand beaches and large summer swells make Watamu a wonderful playground for kiters of all levels. A world heritage site, Watamu is also a protected area of outstanding natural beauty with safari game reserves as well as a stack of other activities and sights close by. Wind and…
James Boulding has been a professional kiter for a number of years now; he's travelled all over the globe and ridden in some of the best locations on the planet. An accomplished rider who features regularly at the wake style contests around the globe. James likes nothing more than a cup of tea and a biscuit, and, of course, the chance to explore new destinations with his camera and kite gear!
Been to Grand Cayman? What did you think?
Where are the Best Kitesurfing Beaches in Grand Cayman?
The Sweet Spot is located at the West end of Cayman, it's much less touristy and a real gem, away from the schmalz of the west end and seven-mile beach and if it's merely kiteboarding and Caribbean relaxation you are after this is the place to spend your time. The school has wifi and rescue boat support as well as some sliders for the advanced wakestyle rider. They also offer Bio tours and SUP rental as well as diving and surfing at the only surfable spot located on the east side. The wind blows cross-onshore with the outer reef providing protection and butter flat water. Outside the reef (via a gap in the reef) there are waves, but this is for the more advanced rider.
Wind: Cross On-Shore
Waves: On Reef
Shorebreak: None
Barkers Beach is located at the north tip of Grand Cayman; it offers shallow flat water conditions enclosed by the reef. There is a kite school on site as well, and the spot provides cross-shore conditions, wind from the right.
Wind: Cross On-Shore
Waves: On Reef
Shorebreak: None
When is the Best Time to go Kitesurfing in Grand Cayman?
The windy months to go kitesurfing in Grand Cayman are January, February, March, April, November, December
Statistics
Do you know a good kitesurfing school here?
Kitesurfing Videos and News in Grand Cayman
5 years ago
This POV edit is very entertaining! Jumping over a jetties, doing hand slides, and pulling grabs in Grand Cayman. Just some good ole fashion fun! Insta @brandonbowe…